MyMajors for Advisors
Did you know students with a declared major have higher graduation and retention rates compared to undeclared freshmen? (CSU)
MyMajors addresses the national crisis in college completion by providing students with a better tool for choosing the right Major, College and Careers. The free assessment software surveys academic aptitude, grades, achievement tests, course enjoyment, interests and personality and is free to students and their counselors. The National Science Foundation has awarded our program continued research and development grants to continue our mission for student success and completion.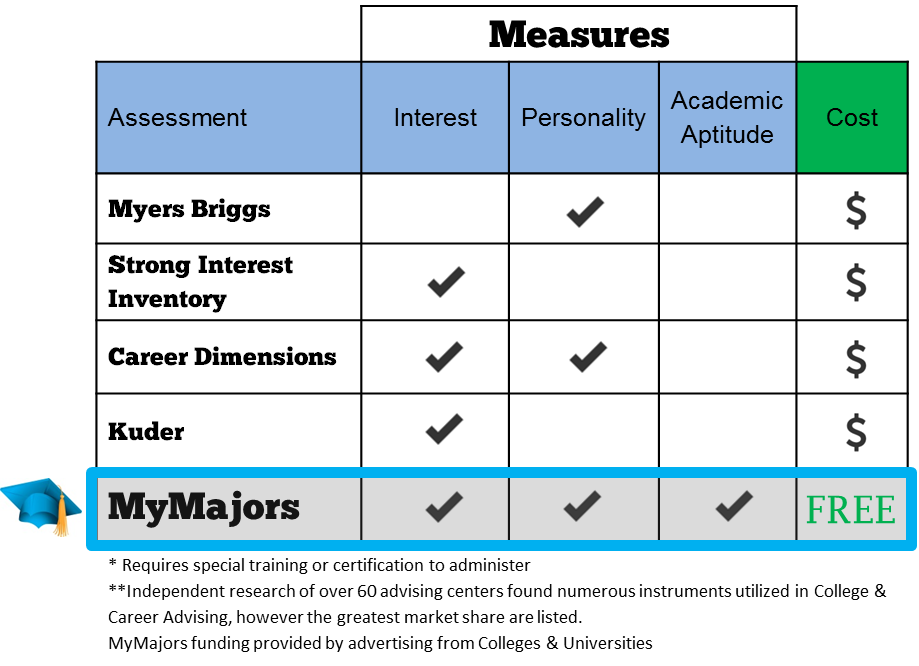 The webinar above explains the challenges in college and career planning and how MyMajors can be integrated to help your staff save time, resources, money and energy. By utilizing the program in your college and career curriculum, students take a 15 minute assessment and receive recommendations for a future Major, College and Career.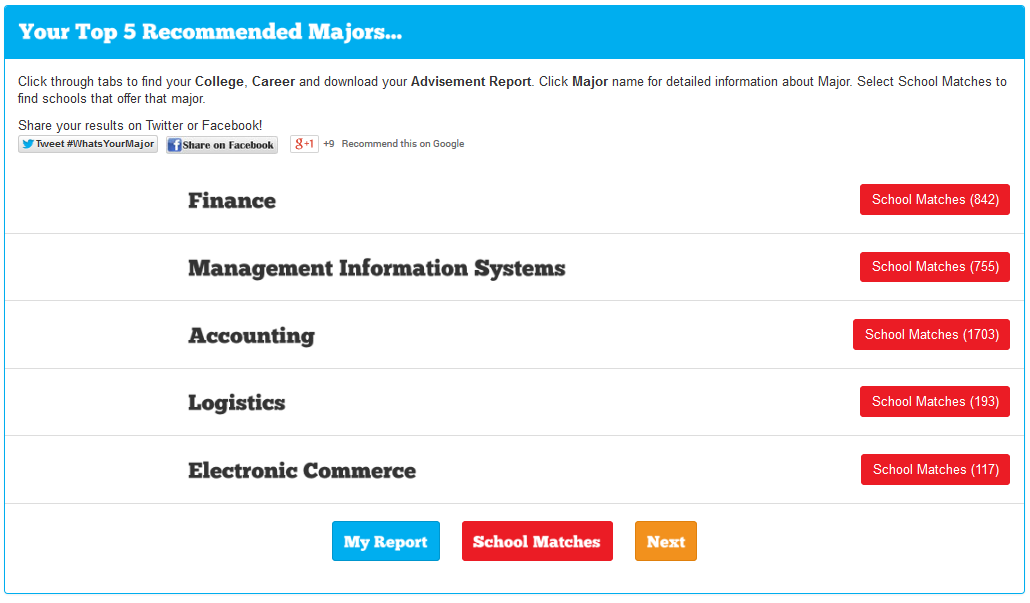 Creating your own free account is easy, and we recommend you sign up to create your own customized College Major Quiz for your students. You give students access to the program and they can receive their Advisement Report.You their advisor have admin privileges to review all your students results: www.mymajors.com/subscribe.
"I love the option of being able to access the results myself in order to have more effective conversations with my students."
-Connie Litzsinger, Wentzville-Holt High School
"MyMajors.com is the most effective on-line assessment available for undecided college students! The recommendations are based on valid and reliable data collected on a full range of academic options.  Students find MyMajors.com easy to use and highly accurate and their academic advisors rely on the results to guide their students through the most important decision they will make in college." 
-Kathleen Shea Smith, Ph.D., Florida State University

"If I could only have one piece of technology in our Career Center, I would probably pick MyMajors."
-Joanne Kraning, UC Denver
To watch a video on how to login and download your students results: visit here.  If you have any questions contact us at 816-361-0616 or info@mymajors.com.
*If YouTube is blocked at your institution, try viewing on Vimeo.  If still unable to view, please email info@mymajors.com and we can send the video to you.