High School Counselor Login
MyMajors is for High School counselors who sign up for a counselor account through MyMajors.com/subscribe. Here's how to login:
1) Go to the homepage www.mymajors.com
2) Click "Log in" (Upper right hand corner)


3) Enter your Login and Password provided.  Click View Account.
4) Click "View Usage Details" – all students will be listed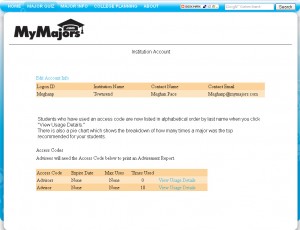 5) Click on "View Report" to see student's Advisement Report.  Or you can click Download CSV file to export all students in a CSV document for reviewing or adding to your CRM system.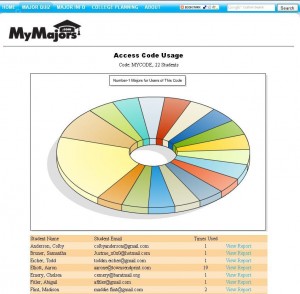 Here you will find a list of your students who used the free access code and their advisement reports including their assessment results.
Sign up for your free counselor account and access code today!
Related Topics:
What is MyMajors.com?
How to Link to MyMajors
How to Re-Take the MyMajors quiz
MyMajors.com Network Publications