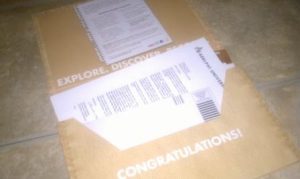 The Rejections
So far, I've experienced college rejections in two ways.
The first way:
Last week, I lugged my book bag through my apartment door after my five year old brother. It was six pm (musical theater rehearsal ended at five thirty) and I was tired, but hungry. I shrugged off my black double breasted coat, washed my hands, and served myself some boiled pumpkin (my favorite), avocado and asparagus with salt and pepper. I sat down and began to eat while my little brother played around (mom said he already ate dinner). I got up to get something to drink, and that's when I noticed it. It was on the counter: an opened letter from Ithaca. I didn't think anything of it. I picked it up to read.
Dear Ariana,
Thank you for your interest in Ithaca College. We have completed our review of your application and I am sorry that we are not able to include you among the accepted students for fall 2012.
We cannot accommodate all interested students and so the selection process is a difficult one. Each component of your application was carefully weighed, with primary emphasis on your audition.
Ariana, we appreciate your patience as we thoroughly considered your candidacy. I encourage you to work with your college advisor as you continue to pursue your goals. Please know that you have our best wishes.
Sincerely,
__________________.
Director of Admission
Shock. The first feeling was shock. This was not what I was expecting to read when I picked up the folded paper.
Pain. The second feeling was a tightening in my throat, a pang in my chest, like I'd been struck. Tears slowly started to roll from my eyes, without my mind processing anything but empty space.
Fear. The third feeling was fear. These theater programs only accept twenty students of hundreds, sometimes thousands. What will happen if I don't get in anywhere?
Anger. I regretted every mistake, every moment wasted, everything about my high school career that could have contributed to this present failure.
Shame. I wasn't accepted somewhere.
Then I started sobbing.

The second way:
Two days later, my dad's doing dishes in the kitchen when I get home.
"A letter from Carnegie Mellon came."
"What??"
"I left the mail at the store."
I slipped my coat back on, snatched my mother's keys, and ran to the apartment building's store. I grabbed the mail from behind the register and ran back home, my heart racing, a little hope fluttering in my chest. I so wanted something positive to counteract that rejection from Ithaca. When I unwound the role of mail I found that the letter wasn't from Carnegie Mellon. It was a thin envelope from Adelphi.
Apparently, the number of applicants to Adelphi seems to increase exponentially each year. And, apparently, my kin does not therein lie. I felt the sob rise in my throat, the tears in my eyes, and pulled it all back, as much as I could. My family was watching. When my parents left for the evening shift and my brothers disappeared into the realm of video games, I ran three miles in half an hour, expounding my anger on the belt of the treadmill.
The Reflections
Probably needless to say, I was an unholy mess of tears and negativity for about three days. Everyone in school and at home was really nice to me, telling me to hang in there and not to worry, that the schools don't know who they've said 'no' to, etc.
The funny thing is, I understand the logic of the whole situation. I knew from the get-go that I was going to get rejected to some places and accepted to others. I also knew that schools weren't going to necessarily 'deny' me, but acknowledge that we were not matches. I knew that rejections and acceptances would in no way be branding my person and scholarly efforts as either infinitely invaluable or infinitely unimportant. But I was angry and sad anyway. So what's up?
As it turns out, it is nearly impossible to control one's emotions (or it was for me in those moments). I realized (with some help from adults that I deeply love and admire) that it was okay to cry, to grieve the loss, and that I needed those three days to be illogical and then rise from the dead. I ended up deep cleaning my room, giving tons of things away, emptying my backpack, and taking up journal writing again, to therein release any negativity and remind myself to stay positive, to write down the things I am grateful for and to try and make sense of things I didn't understand. I prayed. I exercised. I'm doing my best to maintain this routine, despite my continuously rigorous academic and activity filled schedule. I can almost say that I feel like Jesus on Easter morning. But I won't say that…That would probably be blasphemous. (Especially since I still feel kind of tired – Jesus probably felt rejuvenated.)
The Acceptances
So, so far, I've been accepted to Rutgers, though no word yet from Mason Gross School of the Arts, to The King's College in the Empire State building, to Kean, which is right by my school and where a couple of my friends are going, and, believe it or not, to Adelphi University. My counselor called the school to ask about my candidacy, really for my closure, and we received word back that I had not in fact been denied by the university, just by the theater program. I got a nice package in the mail talking about my acceptance just two days ago. It was a pleasant surprise. They suggested I enroll and audition for Theater again next year, but I don't think I want to jump into a five year program – and who's to say that they'll accept me next year, you know? I don't think I'm willing to take that chance.
So I'll play the waiting game a little longer. I've got about eight more schools to hear from. There's bound to be at least one envelope with positive news in it regarding a theater program.
A Thank You
I just want to say thank you to everyone who's been really supportive of all of us going through this crazy period right now. We've probably been extremely busy, moody, annoying, etc, and you've all put up with us in the kindest of ways =)
A special thanks goes out to my family, all of my friends, and all of the adults I know in and out of school and state that have believed in me from the get go. Also, MyMajors for picking me to be a featured student blogger.
I am forever grateful.
Good luck and best wishes to everyone going through the college process! Remember to stay positive.  If you are good to the world, the world will be good to you.