[blockquote]Graphic Design: A program that prepares individuals to apply artistic and computer techniques to the interpretation of technical and commercial concepts. Includes instruction in computer-assisted art and design, printmaking, concepts sketching, technical drawing, color theory, imaging, studio technique, still and life modeling, multimedia applications, communication skills and commercial art business operations.[/blockquote]
Look around the world. See the art in the menu or packaging in the grocery store. Graphic designers create visual concepts, by hand or using computer software, to communicate ideas that inspire, inform, or charm consumers. They develop the overall layout and production design for advertisements, brochures, magazines, and corporate reports. Employment of graphic designers is projected to grow 7 percent from 2012 to 2022.
Digital Media Arts College (DMAC) is a boutique art school in Boca Raton, Fla. Specializing purely in the digital arts, DMAC offers students online and residential programs in the following degrees: Bachelor of Fine Arts in Computer Animation (available with a concentration in Game Art) and Graphic Design (available with a concentration in Advertising Design), Bachelor of Science in Mobile Game Design, Associate of Science degrees in Graphic Design and Multimedia Design as well as Professional Certificates. At the graduate-level, DMAC offers Master of Fine Arts in Graphic & Web Design as well as Master of Science in Web Design & Technology.
Mike Arsenault serves as the department chair for Graphic Design. He has been with the college for almost 10 years. "My job is to create visual problem solvers," he explains. "This might be on a website, logo, billboard or other collateral. The end result is to produce a clear image. That image might be used to sell a product. The end result fundamentally is to have a functionally and artistically sound design."
Arsenault says the faculty strives to remain current on technological advancements. "Staying current on the industry standards is important. The big push is to make web design mobile for tablets and phones. There are always challenges."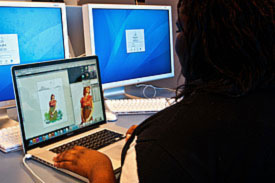 Students who are successful in the program are those who are first and foremost creative. "I drew on everything I could as a child. I doodled on notebook margins. We look for those folks. Almost anyone can be taught computer programs, but that spark is a bit tougher to come by." Students start creating art from day one in the program. "Besides the obvious affinity for art-related classes, high school students should, of course, pay attention to computer classes. English is important. Good grammar and spelling count. Public speaking and communication classes are critical too. The ability to present ideas in front of others is vital. Plus we also have deadlines so time management too."
The other part of success for Arsenault comes with students who go above and beyond. "These are students who do extra research. The students who might receive a passing grade rework a project to improve it. They may not get a better grade, but they want to make the project better after the comments are made. It is that drive for self-improvement that will carry them far."
All students are required to find an internship that runs for 15 weeks and 180 hours. "We have a strong relationship with the college's career services department. As a matter of fact, part of our accreditation as an institution is tied to employment in the industry. With that said, I am proud of our graduates who are finding gainful employment in the field."
Students find jobs as animators in Hollywood, game developers, creative directors, web designers, photographers, marketing and advertising specialists, designers in print shops, teachers and more. "Our students are all over the gamut of the industry," he explains. Arsenault also promises that graduates will walk out of DMAC with at least one complete portfolio, if not more. "They will have a website or a printed book to show off and help land that first job."
Digital Media Arts College is a unique higher education institute in Arsenault's eyes. "Our campus is open 24 hours a day so students can work on projects at 2 a.m. if inspiration strikes." The faculty at DMAC are all industry professionals, an important requirement Arsenault points out. "With the ever changing technology and trends in digital arts, it is vital that our students learn the most cutting edge curriculum by faculty who have their hand on the pulse of the industry."
[well]

At Digital Media Arts College (DMAC), digital arts is all we do! Our immersive environment prepares you for an exciting career in graphic design, computer animation, web design, or visual effects animation, supported by innovative technology and uniquely qualified professors.
To learn more about the Graphic Design program at Digital media Arts College, visit their website. If you are interested in attending Digital Media Arts College, visit their school page to learn more about their campus and degree options.[/well]