Stress Relievers: Films, Food, & Music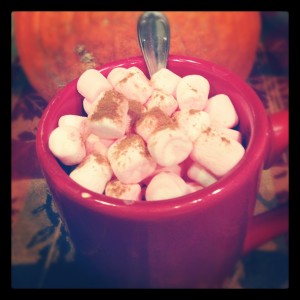 If you're a senior like I am, you're probably extremely stressed out right about now. Figuring out future plans, completing college applications, doing essays (and essays and essays and essays..), homework assignments, preparing for quizzes and tests, working multiple jobs, volunteering, taking part in after school activities, registering for spring semester classes, upholding family responsibilities and trying to fit in social events; it goes on and on. Plus, being distracted with apps like Tiny Tower and Cut the Rope is just no good for my focus on anything. I'm thinking that we all could use some stress relievers, so I'm going to include some films to watch, recipes to make, and music to listen to. Three of the best things in the world! 🙂
Films To Watch Over Winter Break
It's hard to find unique, unseen holiday/winter films.. but what's wrong with seeing the classics every year? I re-watch many of these movies each holiday season, from the start of December to New Year's! Looking at holiday lights from my windows while watching one of these films, complete with a fire, blankets, hot tea, and cookies… it's definitely one of my favorite parts about the winter season.
Holiday/Winter-themed Films:
If you're into classic animated films: Rudolph, the Red-Nosed Reindeer (1964), A Charlie Brown Christmas (1965), How the Grinch Stole Christmas (1966), Frosty the Snowman (1969), The Year Without a Santa Clause (1974)
If you're into modern animated films: Ice Age (2002), The Polar Express (2004), Ice Age: The Meltdown (2006), Happy Feet (2006), Arthur Christmas (2011)
If you're into comedy films: National Lampoon's Christmas Vacation (1989), When Harry Met Sally (1989), Home Alone (1990), The Santa Clause (1994), Bridget Jone's Diary (2001), Love Actually (2003), Elf (2003), The Holiday (2006), Fred Claus (2007), Four Christmases (2008), New Year's Eve (2011)
If you're just into classic films: It's a Wonderful Life (1946), Miracle on 34th Street (1947), All That Heaven Allows (1955), A Christmas Story (1983)
If you're into fantasy films: The Nightmare Before Christmas (1993), How the Grinch Stole Christmas (2000), The Chronicles of Narnia: The Lion, the Witch, and the Wardrobe (2005)
If you're into horrors/thrillers: Black Christmas (1974), The Shining (1980), The Children (2008)
If you're into dramas: Scrooged (1988), Edward Scissorhands (1990)
Maybe you're not into the holiday/winter-themed movie options. If so, try watching a few of these films instead. Many of these are very well-known, but they're some of my favorites!
Entertaining Films to See if You Haven't Already:
One Flew Over the Cuckoo's Nest (1975)
The Jerk (1979)
The Blues Brothers (1980)
¡Three Amigos! (1986)
Planes, Trains, and Automobiles (1987)
Big (1988)
L.A. Story (1991)
Groundhog Day (1993)
Pulp Fiction (1994)
Shawshank Redemption (1994)
Good Will Hunting (1997)
As Good as it Gets (1997)
Face/Off (1997)
The Truman Show (1998)
Sleepy Hollow (1999)
October Sky (1999)
The Iron Giant (1999)
Analyze This (1999)
Pay it Forward (2000)
O Brother, Where Art Thou? (2000)
Spirited Away (2001)
Ocean's Eleven (2001)
About Schmidt (2002)
Something's Gotta Give (2003)
Radio (2003)
Big Fish (2003)
Anchorman: The Legend of Ron Burgundy (2004)
Stranger Than Fiction (2006)
Seven Pounds (2008)
21 (2008)
Up (2009)
TRON: Legacy (2010)
Despicable Me (2010)
Shutter Island (2010)
Bridesmaids (2011)
Crazy, Stupid, Love. (2011)
The Avengers (2012)
Skyfall (2012)
Argo (2012)
Don't forget about the movies coming out in theaters! During winter break, I'm looking forward to going to see Django Unchained and The Hobbit: An Unexpected Journey.
Quick, Easy Recipes to Try Out
Crock-pot Apples
These are wonderful for the cold weather, and taste even better with ice cream.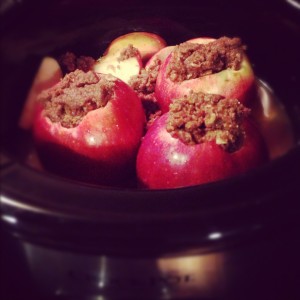 What You Need:
1/4 Cup Brown Sugar
1/4 Cup Chopped Walnuts
2 Tablespoons Butter
1 Teaspoon Cinnamon
4-6 Cored Apples (I used Gala apples, bigger apples seem to work better!)
1/2 Cup Apple Juice or Apple Cider (I used cider)
Vanilla or Cinnamon Ice Cream (optional)
What to Do:
1. In a large bowl, mix the brown sugar, butter, walnuts, and cinnamon.
2. Fill the apples with the brown sugar filling and place them in the crock-pot standing up.
3. Pour in the apple juice/cider into the pot, surrounding the apples.
4. Set the slow cooker on high for 3 hours, then cover and cook the apples for 2 and a half to 3 hours. After 2 hours, you may want to check how they're doing. When they're soft and about to fall apart, that's when they're good to go.
5. Turn off the slow cooker, take out the apples, and serve them in bowls. I recommend to serve them with ice cream!
White Hot Chocolate
This is incredibly easy, and incredibly tasty!
What You Need:
White Chocolate (chocolate bar or chips)
Milk
Cinnamon, Marshmallows, and/or Whipped Cream (all optional)
What to Do:
1. Put however much white chocolate you want in a cup
2. Heat it up the microwave, and as it gets soft, pour some milk ¾ up to the top of the cup.
3. Heat the cup up until it's hot (about a minute), mix it up to distribute the chocolate, and then top with whipped cream and marshmallows. I added cinnamon to mine, so feel free to add extra spices and whatnot if you're feeling experimental.
Everything Cookies
It was my last real year to trick-or-treat as a kid. So yes… I took advantage of that opportunity and I went as a zombie Dorothy. I ended up having a lot of leftover candy, and decided to make some cookies!
What you need:
One Cup of Butter (softened)
1/4 Cup White Sugar
3/4 Cup Brown Sugar
3 1/2 Ounces of Instant Vanilla Pudding Mix
2 Eggs
1 Teaspoon Vanilla Extract
2 1/4 Cups Flour
1 Teaspoon Baking Soda
1 Cup Chocolate Chips
½ Cup Each of Various Candies (whatever you want to add; I used white chocolate, Snickers, Reese's, Kit Kats, and M&M's)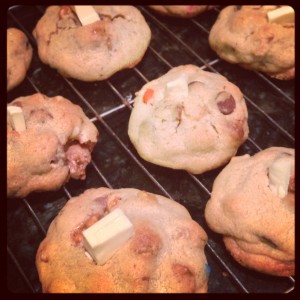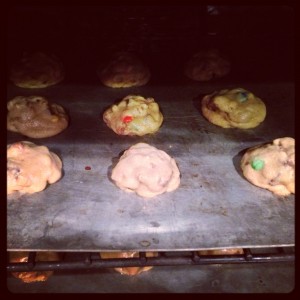 What to Do:
1. Preheat the oven to 375 degrees F.
2. Mix together the butter, white sugar, and brown sugar in a large bowl.
3. Then add the pudding mix, eggs, and vanilla, and stir well.
4. Add the flour and baking soda to the mixture, and stir well.
5. Mix in the chocolate chips and candy (a little at a time) and stir well.
6. Drop spoonfuls of the dough onto ungreased baking sheets.
7. Bake the dough for 10 to 15 minutes or until the cookies are golden brown (mine were quite large globs, so it took a bit longer)
8. Remove and cool on a wire rack for a few minutes, then eat!
Crockpot Mac n Cheese:
When I get home from school, work, or wherever I am, I'm always very hungry. I check the fridge and cupboards over and over again, only to be left unsatisfied. The other day before I went to school, I put on a pot of mac n cheese. When I got home four hours later, it was done, hot, and ready to eat! It was fantastic, and gave me something to look forward to during the morning. Just so you know, this mac n cheese is more like a southern-style, baked mac n cheese; not your usual Kraft!
What You Need:
Cooking Spray
2 Cups Milk
1 12 oz. Can Evaporated Milk
1 Egg
1 Teaspoon Salt
1/4 Teaspoon Pepper
1 1/2 Cups Shredded Cheddar Cheese (feel free to add a variety of cheeses)
2 Cups Uncooked Elbow Macaroni
What to Do:
1. Spray the pot of the slow cooker (get the bottom & sides!)
2. In a medium-sized bowl, whisk together the milk, evaporated milk, egg, salt, and pepper. Pour that mixture into the crockpot.
3. Add the cheese and uncooked macaroni into the pot, then stir.
4. Turn the slow cooker on low and cook the mixture for 3 to 4 hours. Make sure to watch over it, or the sides will become crispy.
And that's it! When it looks good, turn the pot off & serve right away.
Some Tunes to Check Out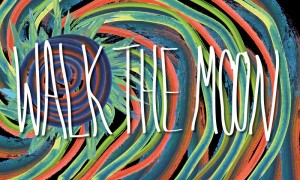 Over the last few months I started listening to the band Walk the Moon. They're now one of my favorites, and that means a lot coming from me; I only say I have a favorite band if I actually enjoy all of their music. They're coming to Minneapolis in January, and I made sure to get tickets the minute they went on sale! If you don't already know of The Black Keys, you should definitely look into their music. I've seen them twice live and they're amazing; another one of my favorite bands!
Soundtrack to the End: Communist Daughter
Link to song: http://www.youtube.com/watch?v=qVZdkFyiszY
Ghosts: Communist Daughter
Link to song: http://www.youtube.com/watch?v=-fpUVaAzkH0
Itchin on a Photograph: Grouplove
Link to song: http://www.youtube.com/watch?v=7lx6qW4O0Ko
Lisa Baby: Walk the Moon
Link to song: http://www.youtube.com/watch?v=4cqCpPSaY-I

Shiver Shiver: Walk the Moon
Link to song: http://www.youtube.com/watch?v=ilvkiDA4Vvk
Radioactive: Imagine Dragons
Link to song: http://www.youtube.com/watch?v=eu-xFvLaE68

Ocean Breathes Salty: Modest Mouse
Link to song: http://www.youtube.com/watch?v=4Y7c3qzHET8
Where I Come From: Passion Pit
Link to song: http://www.youtube.com/watch?v=2qxaLqJmW50
Constant Conversations: Passion Pit
Link to song: http://www.youtube.com/watch?v=8Ja5rhsCJ6U

Soul Meets Body: Death Cab for Cutie
Link to song: http://www.youtube.com/watch?v=pEVS1KY-exY
You Are A Tourist: Death Cab for Cutie
Link to song: http://www.youtube.com/watch?v=p8lwAJJpyt4
Don't Gotta Work It Out: Fitz and the Tantrums
Link to song: http://www.youtube.com/watch?v=8h-rwXG8zWs
R U Mine?: Arctic Monkeys
Link to song: http://www.youtube.com/watch?v=cHPyYjr0oaA
Forever: Walter Meego
Link to song: http://www.youtube.com/watch?v=dnwFtJ9MN3c
Alive: Kid Cudi feat. Ratatat
Link to song: http://www.youtube.com/watch?v=6wac8fZ1HVs
Junk of the Heart: The Kooks
Link to song: http://www.youtube.com/watch?v=AxLkySqNScs
Naïve: The Kooks
Link to song: http://www.youtube.com/watch?v=3UIYasZ_F3w
The Valley: Eisley
Link to song: http://www.youtube.com/watch?v=fujDWS9WE7s
Float: KO KO
Link to song: http://www.youtube.com/watch?v=5QBN6InuI_E
Chop and Change: The Black Keys
Link to song: http://www.youtube.com/watch?v=dyN69CO4Ex8
Lykke Li: Love Out of Lust
Link to song: http://www.youtube.com/watch?v=i00_qTtyxWM
Photo Credits:
Elf Photo: http://www.imdb.com/title/tt0319343/
Walk the Moon Photo: http://www.drewsykes.com/?portfolio=stage-banner-design-for-the-band-walk-the-moon