Here are a few things that we have been working on (and I have lost sleep over) for the MyMajors website.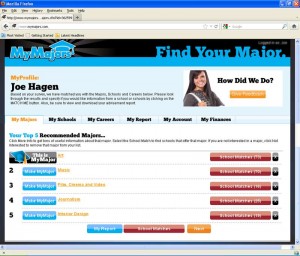 NEW Profile pages:
If you have logged into MyMajors recently, you may have noticed that we have done a "major" overhaul of our profile pages. A slick sub-navigation bar now delivers your top 5 majors as well as a list of schools & careers that match those majors, access to your advisement report, your account preferences and an opportunity to find student loans through SimpleTuition. Login now to see your results!
We have a LOT more ideas on the way, but with these updates MyMajors has takes another big step toward being the trusted resource students and counselors NEED as they make some of the most important decisions of their lives … If you have any ideas or concerns, please click on the headline above and leave a comment or email me at joeh@mymajors.com! We would love to know what kinds of improvements you would like to see on the site!
SimpleTuition Partnership:
In our efforts to be a one-stop shop for all things "college," we have teamed up with the industry leader in student loan resources, SimpleTuition. Partnered with a range of lenders to share more than 100 different loan options, SimpleTuition works with many well-known colleges and universities to provide custom loan application solutions.
You will find a form on the Financial Aid Help page as well as your profile page, and one of the hundreds of school pages across the site.
The 2012 Creative Outlook Contest:
Each year, Creative Outlook Magazine features the art of top high school and college students from across the country. Again this year we are offering YOU a chance to have YOUR art on the cover of our nationally circulated magazine! The big difference this year? The winner is in YOUR hands! Vote for your favorites by clicking on an image, post to Facebook, tweet them, share them, scream them from the top of a mountain and make your favorite the winner! Submit early and give your art enough time to get tons of votes!
First Place – Your art on the cover, an article about you in the magazine & $250.00
Second Place – Your art in the magazine & an article about you in the magazine
Third Place – Your art in the magazine
Enter Now: http://www.creative-outlook.com
Pinterest:
You may or may not have heard of Pinterest… The social media picture pin-board is BLOWING UP the Internet as well at the MyMajors office! Instead of changing our name to MyPinterestMajors, we have decided to use the mega-pinning of our office for the forces of good… We are excited to announce that we have created a Creative-Outlook account and will be posting entries from our cover contest, inspiring art and other cool stuff.

Match Me:
Don't forget to click the "Match Me" button to get more information from a school and best of luck with your college search!