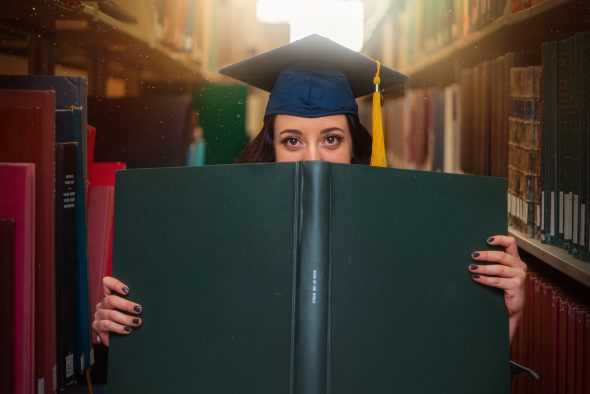 Making School Affordable
Excited for art school but have concerns about the price tag?
It's time to put that bottled up creativity to work for you in finding ways to pay for college.
Loans and grants help cover expenses. And, there are simple options for lessening your financial burden like getting a job, buying used textbooks instead of new and sticking to a strict budget for living.
But don't overlook a prime opportunity to pay for college – scholarships. Scholarships are money awarded to help pay for your education that you don't have to pay back. And they aren't just given to students with perfect grades.
Colleges, universities and art institutes offer scholarships to students based on grades, portfolio work, community engagement, areas of study and the list goes on. There are also a number of nationwide scholarships available for students who meet a wide variety of criteria.
If you counted yourself out for a scholarship, think again. You could be missing out on money that will make paying for college a lot easier.
While filling out more forms after you've already spent hours applying to colleges might seem daunting, the payoff could be huge. So, grab your favorite beverage and dive into the wonderful world of schol"art"ships.
Don't forget that most colleges require students to fill out the Free Application For Federal Student Aid (FAFSA) at fafsa.ed.gov/ in order to qualify for student financial assistance – such as loans, grants or scholarships.
---
You can find out more about available scholarships by:
Contacting the admissions office of the school you want to attend
Visiting the U.S. Department of Labor's scholarship search tool: www.careeronestop.org/toolkit/training/find-scholarships
Talking to organizations (including professional associations) related to your field of interestt
You can find more information about grants by visiting: studentaid.gov/understand-aid/types/scholarships.
Here, we've provided you with a list of a few college specific and national scholarships that might be of interest. However, this isn't a complete list by any means, so make sure to do some of your own research to find what works best for you.
---
College Specific Scholarship Programs:
Academy of Art University
www.academyart.edu/finances
Alfred University
www.alfred.edu/admissions/financial-aid/types/scholarships.cfm
Belmont University
www.belmont.edu/sfs/scholarships/
California College of the Arts
www.cca.edu/admissions/financialaid/all-scholarships
Cornish College of the Arts
www.cornish.edu/tuition-financial-aid/scholarships/
Delaware College of Art and Design
www.dcad.edu/financial-aid/dcad-scholarships/
Drexel University – Westphal College of Media Arts & Design
drexel.edu/part-time/financing/overview/
Illinois State University School of Art
finearts.illinoisstate.edu/art/scholarships/
Indiana State University
indstate.academicworks.com/
Kansas City Art Institute
kcai.edu/financial-aid-scholarships/
Kean University
kean.edu/offices/financial-aid
Los Angeles Film School
www.lafilm.edu/admissions/financial-aid/
Louisiana State University
design.lsu.edu/student-life/scholarships/
Massachusetts College of Art & Design
http://massart.edu/Admissions/Financial_Aid.html
Millikin University
millikin.edu/scholarships
Minneapolis College of Art & Design
mcad.edu/admissions-and-aid/undergraduate/types-of-aid
Montana State University-Bozeman
www.montana.edu/admissions/scholarships/
Parsons The New School of Design
www.newschool.edu/student-financial-services/scholarships-and-grants/
Pennsylvania College of Art & Design
pcad.edu/admissions/financial-aid/
San Francisco Art Institute
sfai.edu/admissions/tuition-and-financial-aid/scholarships-grants-and-fellowships
School of the Art Institute of Chicago
www.saic.edu/admissions/freshmen/scholarships-grants
School of the Museum of Fine Arts
smfa.tufts.edu/admissions-aid/financial-tuition
School of Visual Arts
www.sva.edu/students/financial-aid
Syracuse University, College of VPA
financialaid.syr.edu/
University of Massachusetts Dartmouth
www.umassd.edu/financialaid/scholarships/
Wentworth Institute of Technology
wit.edu/admissions/undergraduate/scholarships
National Scholarship Programs:
The Academy of Motion Picture Arts & Sciences Student Academy Awards were established in 1972 to support and encourage excellence in filmmaking at the collegiate level.
www.oscars.org/saa
The Atlas Shrugged Essay Contest is open to undergraduate and graduate students. To enter, students must read Ayn Rand's novel Atlas Shrugged and write an essay (800 to 1600 words) on one of the topics provided on the website.
www.aynrand.org/students/essay-contests#atlasshrugged-1
The Elizabeth Greenshields Foundation Grant is available to emerging figurative artists with a representational style of painting, drawing, sculpture or printmaking. Offers additional renewal awards to selected applicants.
www.elizabethgreenshieldsfoundation.org
The Randy Pausch Scholarship Fund has been established to support students who are pursuing careers specializing in the development of interactive entertainment. Possible career paths include (but are not limited to) art, animation, programming, engineering, game direction, game design, sound design and music composition.
www.interactive.org/foundation/scholarships.asp