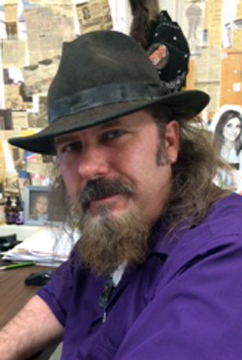 Senior Kagen Dunn nominated her art teacher, Chris Mayfield for the 2014 Creative Outlook Magazine's Art Teacher of the Year. He has been an art teacher for the past six years. She says, "Chris Mayfield is one of those teachers who influences his students to think outside the box and really further their boundaries. Along with guiding us in our own artistic journeys, Chris still works on his artistic abilities as well. You will find him often broadening his portfolio and teaching us along the way," she says.
He teaches Art I, Art II, Art III, Art IV, Photography, and AP Studio Art at Wichita Falls High School, Wichita Falls, Texas.
For Dunn, Mayfield's impact is difficult to describe:
"The impact Mr. Mayfield leaves on his students is something like no one else has been able to achieve. He makes the art room seem like a second home for his students. He gives us a place where we can be ourselves and just create whatever our little minds desire. Chris Mayfield truly deserves this award."

For Mayfield, defining his impact is a little tougher. "I think that my relationships with my students are unique. I do teach them about how the creation of art translates into every aspect of their lives. I make sure that by the end of their time in my class, they know that I have given them my best and that I care about each one of them and want them to be their best and succeed in any path they choose, whether it's art or not," he says.