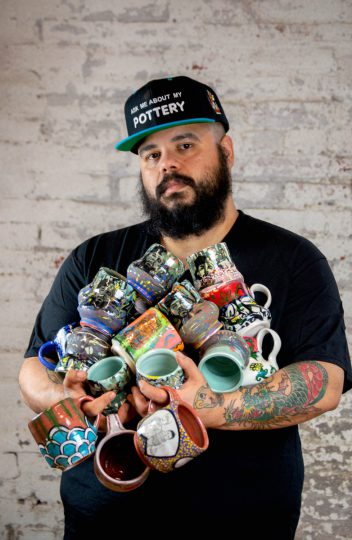 Alumni Roberto Lugo returns to KCAI to inspire students
Urban potter and social activist Roberto Lugo ('12 Ceramics) is having a moment.
He's been featured on CBS This Morning and PBS News Hour, in The New York Times and through other national news outlets.
He also has 26 pieces in Before Yesterday We Could Fly: An Afrofuturist Period Room at the Metropolitan Museum of Art. He's crazy busy, but he still spent two days meeting with KCAI students and sharing his ideas about life as an artist.
"When else in my career am I going to be in a show at the Met and coming off of being in the New York Times? These students will actually listen to me right now. I want them to know that what they are doing is significant and important," Roberto said.
During his visit, he led a roundtable with Ceramics students and faculty and spoke about his life experiences at an evening lecture in Epperson Auditorium. Students were inspired to hear from an alumnus who is receiving national recognition for his work and understands what it's like to be an art student.
"A falsehood that we're taught as artists is that you work your way up, you develop skill and then you create great art. Your life is a form of research. Your lived experience is a valid form of research. The work these students make today is going to be some of the most important work they will ever make," he said.
Roberto conducted 10 studio visits with students across disciplines and spent time getting to know their motivation and process. The visit was pivotal for Carlos Heredia (Senior, Ceramics). "I felt like I was a little bit stuck before he came. He asked me some deep questions that I had to think about. Now, I'm reprocessing why I am working with clay and work the way I do. He made me take a big picture view, and it helped me," he said.
According to Career Readiness Coordinator Cory Imig, giving students a chance to interact with alumni and hear how they navigate their career paths is important.
"It can be the difference between a student thinking their goals and dreams are unattainable versus a student who becomes determined to achieve what they thought was impossible. The energy coming from the student body after Roberto's visit was invigorating and inspiring. The stronger we can make the KCAI network, the more successful our students will be," she said.
Roberto describes himself as "a potter, activist, culture-maker, rapper, poet and educator." In 2015, he was named an emerging artist by the National Council on Education for the Ceramic Arts (NCECA) and a United States Artists Fellow in 2016. He's the recipient of numerous awards including the Pew Fellowship and the Rome Prize. He is currently an assistant professor at the Tyler School of Art and Architecture. Follow him on Instagram, @robertolugowithoutwax, and Facebook or visit his website at www.robertolugostudio.com.
Watch a video about Roberto's visit to KCAI: