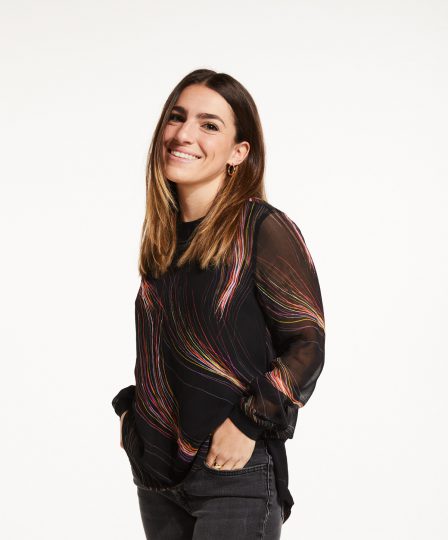 Megan Forbes has a design on life that combines creativity and blue-sky thinking to play an influential role in people's lives. As a 2020 graduate of the communications design program in Syracuse University's College of Visual and Performing Arts, Forbes wants to be involved in projects that make a difference.
"I believe designers have an opportunity to make a positive impact," says Forbes, who lives in Manhattan Beach, California. "They're able to persuade a large audience, especially if they have the right outlook and the right way to disperse their view. I plan to use my abilities to bring insights to important causes and create ways to help others. I want to make an impact."
Forbes traces her passion for creativity to her childhood. Whether taking art classes, shooting photography or making films (she has produced several for her mother's real estate business), Forbes enjoys expressing herself. She cites her communications design classes for expanding her knowledge and says working independently on class projects—such as creating logos, advertisements and 3D models for a fictional restaurant in her sophomore year—helped build her confidence.
"I've always had an eye for design," she says. "These projects inspired me for years to come."
Internships and student activities also made a difference for Forbes. She did design work for a few campus magazines, served as a social media coordinator for her sorority, Kappa Alpha Theta, and created the 2018 Mayfest poster as a member of the University Union design team. She held internships with a production company—which included going on a shoot for an Apple commercial—and with Los Angeles fashion company James Perse, where she assisted the head of branding, learned about furniture and gained insights into promoting new products and business ventures. She also interned with the Executionists, a design firm in Marina del Rey, handling tasks in web design, branding and graphic design.
So what attracted someone from the beaches of the West Coast to Syracuse?
"I realized Syracuse had everything I could have wanted in a school," she says. "It has the rah-rah spirit, the sports, the great academics, a beautiful campus, and different weather obviously from L.A., which was something I wanted to experience."
Now back on the West Coast, Forbes is a graphic designer at HERE Studio, a branding agency in L.A. that collaborates with a diverse range of clients, helps bring brands to market and owns and operates its own consumer brands. And what Forbes learned at Syracuse University has proven invaluable. She likens her day-to-day work to her design classes.
"My design courses were pretty much what I now do every day in the real world," says Forbes. "I feel so lucky that I found my path and learned so much at Syracuse University."
This article was excerpted from the story "Design Is Her Passion." Read the full article at www.syracuse.edu/stories/beorange-megan-forbes-designer/.