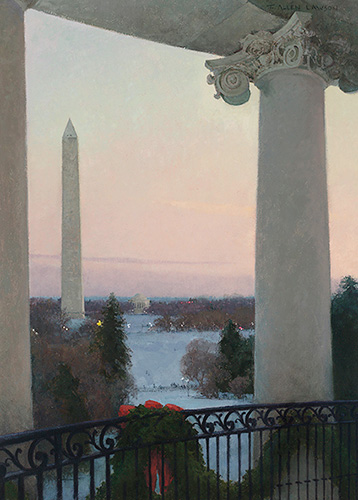 T. Allen Lawson might be the consummate tree-hugger. Not in a pejorative sense, but in the sense that he intimately knows a tree's lines and curves, colors and predilections. And he painstakingly commits his observations to canvas.
"I've always loved trees. I've done very little figurative work, but I will do a portrait of a tree like someone would do a portrait of a figure," said the nationally renowned landscape painter, who spent time in the late 1980s developing his painting technique and artistic vision at the Lyme Academy College of Fine Arts, now part of the University of New Haven.
Nearly 30 years later, with his vision and reputation firmly established, he returned to the Academy last summer to lead a five-day intensive en plein air, or open-air painting, workshop titled "Painting with a Purpose." The session was fully subscribed within 24 hours, drawing 14 seasoned and relatively new painters from the region and from as far away as California, Kentucky and Colorado.
Lawson spoke about the importance of doing thumbnail sketches of their subject to establish a hierarchy prior to laying down color on canvas.
They then visited multiple sites in and around Old Lyme, witnessing the same natural beauty artists living in Miss Florence Griswold's boarding house had discovered at the turn of the century. These predecessors became known as the Lyme Art Colony, a leading center of American Impressionism in this country, a stirring legacy to follow.
Born in and raised in Sheridan, Wyo., Lawson first came to the Academy in 1986, where he studied for a year and a half. He encountered a strong sense of community at the school and within the town itself. With no formal housing as there is today, he lived in a house at White Sands Beach, where freshly baked pies would regularly appear on the stoop. Invitations to dinner with local families were also commonplace. He has also studied at the College of Santa Fe (now Santa Fe University of Art and Design), and the American Academy of Art in Chicago.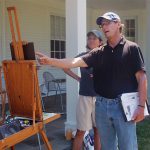 "All of my studies over the last 30 years have led me to believe there's a big difference between an artist and a painter, regardless of the subject matter, the style it's painted in or level of finish," Lawson said. "What all artists have is an emotional connection with the subject matter, whether a still life, a landscape, a figurative or an industrial scene."
After Lyme, Lawson joined longtime friend and fellow artist Geoff Parker in a three-year project, during which the pair retraced the route of Lewis and Clark depicting sites along the trail as they appear today. In July 2005, he shared the results of that undertaking with Lyme Academy in a show titled "Capturing the Missouri: Lewis and Clark Revisited."
His work is in many permanent collections, including the Denver Art Museum; the Farnsworth Art Museum and the Portland Museum of Art, both in Maine; and the Yale University Art Gallery.
Lawson's distinctions also include creating the White House holiday card in 2008. It depicts a view from the Truman Balcony and shows the Washington Monument and Jefferson Memorial in the distance.
Although he's been at his craft for more than three decades, the work, he says, doesn't get easier. "Painting to me is very difficult, and continues to get more challenging, not easier," he said. "I would like to think it's because I continue to attempt different approaches and different subject matter."
"We are the worst judges of our own work in our own time," he continued. "It takes 40, 50 or 60 years for things to settle. The next generation will decide what's art and what's not."
by Suzanne Zack