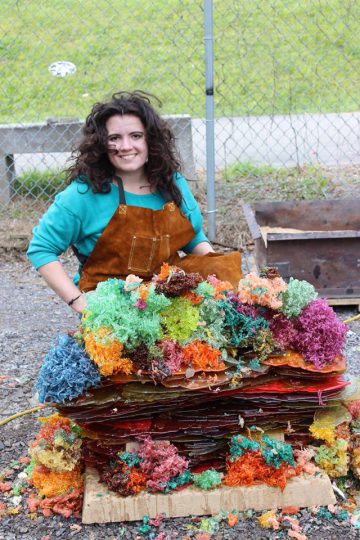 Rosemarie Oakman hails from New York's Hudson Valley. With a concentration in metal arts and social practice, she graduated Alfred University in 2014 (BFA major/ Gerontology minor) as winner of the prestigious Student Innovator of The Year Award for the groundbreaking Alzheimer's Glass and Iron Project. The project's focus is to use art to raise awareness about Alzheimer's disease and act compassionately to those touched by it. Certified in the Alzheimer's Association "Memories in the Making" class, trained artist facilitators lead painting workshops with the elderly, and those paintings are interpreted by glass and metal artists who create art in response or homage. The finished sculptures are donated along with the paintings back to the nursing homes or to the families of the elderly artists.
When did you realize you wanted to be an artist / were an artist?
Growing up, I was always scribbling and doodling, mainly drawings of different dogs. I would proudly give cards with my drawings to family members and they were always enthusiastic about the character in the drawings and would encourage me to continue to create. From that early age, I always thought of myself as an artist. When I was in High School, I knew that I wanted to fulfill my passion for art by pursing a BFA.
What attracted you to Alfred University?
One day early on in my senior year of high school, I met with an admissions counselor from Alfred University and we talked for an hour about the school, the degree program and the small town of Alfred, NY. I remember being so excited to visit the University later that fall. When I toured the School of Art and Design as a high school student I was mesmerized by the college students who were blowing glass in the hot shop and throwing pots on the ceramic wheels. All of the studios are so impressive and state of the art and it makes for experimentation and collaboration at a grand level. Overall it was the facilities and the faculty to student ratio that really attracted me to Alfred University.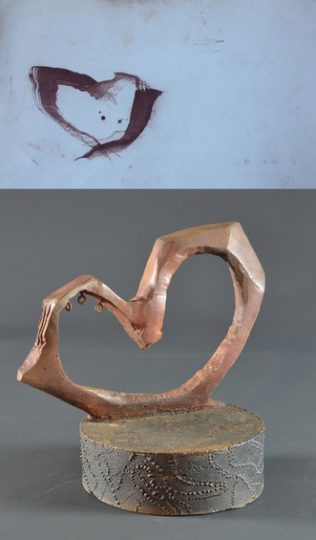 What surprised you most about your undergraduate experience?
The friendships I formed and the mentorship I received at Alfred University really impressed me. The bonds I have will fellow classmates, professors and others at Alfred University are still strong and I expect them to continue my entire life. So many faculty members are truly invested in their students as individuals and will work with you to ensure you achieve your goals. Several of the professors I studied with at Alfred our now close friends that I continue to learn from and collaborate with inside and outside of the art world. I think so many of us are working at a practicing artist level because of the quality of our education and the amount of professional development we received from the university.
How did you transition from student to a practicing artist?
I left Alfred University with a fully formed and flushed out community arts initiatives "The Alzheimer's Glass and Iron Project." My best friends and I all went to an International Conference on Contemporary Cast Iron Art in Latvia to present what we had been working on as undergrads at Alfred. Presenting our work at an International level was such an accomplishment right after graduating.
What other advice would you give to those hoping to be a professional artist?
I think if you have a passion to make and create you are already on the path to being a professional artist. My greatest advice would be to take every opportunity life offers you. Push yourself outside of your comfort zone and your art and you as an artist will grow because of that.