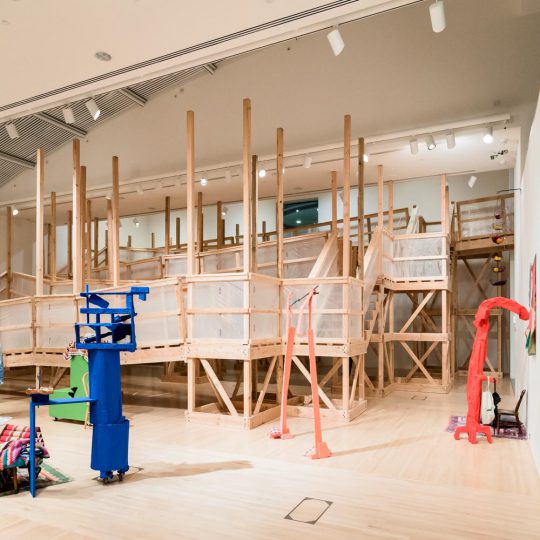 By Rosemary Jones, Cornish College of the Arts
Cornish College of the Arts has fostered many famous collaborations. Painter Mark Tobey founded the Art Department, which led to a collection of artists settling in Seattle, Washington. Musician John Cage and dancer/choreographer Merce Cunningham met while at Cornish and formed a lifelong partnership.
The tradition carries on with Cornish College artists still collaborating in the visual and performing arts. In 2017, the exhibition Fun. No Fun. at the Henry Art Gallery was three-quarters Cornish alumni. The collaboration of the artist/architect team of David Lipe, Matt Sellars '93, Dan Webb '91, and Dawn Cerny '02 began a few years ago.
"It came about in a very organic way. Dawn and I were co-curating a show at the Greg Kucera Gallery, and we decided that what we really wanted to do was to alter the space of the gallery itself," said Webb. "Dawn suggested that we ask Dave to help us with that, because he is an architect. At that point, we realized that asking Matt to join us was the logical next step, because both Dave and I had worked with Matt in one capacity or another for years."
The success of that show led to an invitation from the Henry asking them to expand on the idea. The title Fun. No Fun. "refers to the series of the good and bad choices we are confronted with in life that can and do determine paths taken throughout," said Sellars. "We wanted this to reflect both life in the greater sense but also within the museum experience/institution itself. This manifests itself in the ramps being a conveyance to different but similar conclusions, the domestic chaos and generosity of Dawn's sculptures, and the way that each of the spaces refers to the next but also contrasts with the previous ones."
For all three alumni, their Cornish experience keeps them collaborating with other artists in Seattle. "I'm still in connection with many of the friends and teachers that I went through my Cornish experience with," said Sellars. "They provided my base and an introduction to the art scene in Seattle. I look back on my college experience as it being a very high-energy place because of all of the creative energy of fellow students and young, good teachers who were working artists brought in from the community."