[blockquote]
Architecture prepares individuals for the independent professional practice of architecture and to conduct research in various aspects of the field. Includes instruction in architectural design, history, and theory; building structures and environmental systems; project and site planning; construction; professional responsibilities and standards; and related cultural, social, economic, and environmental issues.
[/blockquote]
Employment of architects is projected to grow 17 percent from 2012 to 2022, faster than the average for all occupations, according to the U.S. Bureau of Labor Statistics. So junior Alicia Eggleston's future look bright as she starts the school year at Wentworth Institute of Technology, Boston, Mass.
The Portland, Maine native toured Wentworth and found instant interest in the cooperative education program. According to the college, the architecture curriculum at Wentworth includes two terms of cooperative education where students work and learn in a professional setting. The co-op experience offers an invaluable introduction to professional practice during a student's education.
"I liked the idea of the co-op as part of the curriculum," she says. "Then being in a city is a huge plus as well." The idea to major in architecture came during her sophomore year of high school. "I took accelerated math and art programs and after working with my guidance counselor, architecture seemed the right fit," she explains. "I wanted to pursue a career that used math, but I also wanted to be creative. Architecture fulfills this need."
Eggleston received a substantial scholarship. "I have also been given a lot of opportunities. The first semester you take studio along with core classes. I was in the studio the second day of classes," she says. "I wasn't waiting to step into my major."
Wentworth's architecture major is a four-year program with the first three semesters providing a broad introduction to the field of architecture and serving as the common core. Lecture courses convey an overview of the discipline (history, theory, technology and practice) while studio courses are based on a model of experiential learning focusing on design fundamentals, graphic skills and a conceptual understanding of building tectonics. The department's emphasis on both the art and the science of architecture is stressed throughout this introductory curriculum.
The next five semesters build on the skills and knowledge of the first three semesters, while introducing students to more complex and varied studio topics. These topics include tectonics, site and environment, comprehensive design and community design. In addition students study topics such as structures, environmental systems and professional practice. Studio content is closely coordinated with co-requisite courses, encouraging students to make connections between subjects and to develop a well-synthesized approach to design.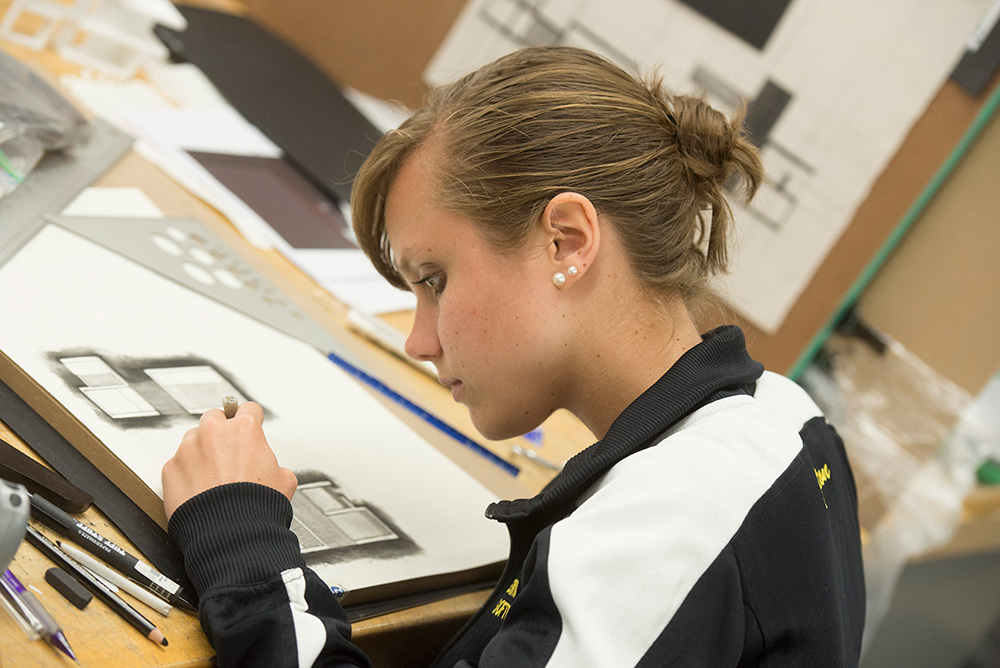 Eggleston's concentration is Adaptive Interventions. This concentration focuses on sustainability, renewal and re-use. The other concentrations are Emerging Technologies and Urbanism. "I decided on this concentration because there is only so much available land. I would rather find new ways to use materials and an existing structure than tear it down and rebuild."
For students thinking about architecture, Eggleston suggests exploring options like those found at Wentworth. "I know I am analytical and enjoy spatial and conceptual lessons. If a student likes brain teasers, architecture might be for them. It's really like one big puzzle."
Eggleston's first co-op experience came in the spring with Port City Architecture in her hometown. She visited job sites, watched development, client interaction and photographed a completed project. "It was a taste of the real world. Next summer will be another co-op," she says. "During my senior year, I will study abroad in either the south of France or Berlin."
Along with classes, Eggleston has an on-campus job and participates in the architecture club. "I am part of an honors organization that aids the community and an admissions ambassador who gives campus tours during Accepted Student Days, preview days and other events."
As a child, Eggleston wanted to be a teacher, but once she entered college, that career idea shifted to being an architectural professor. "College is different because students want to be there. I also love being creative and I can pass that along. We have professors who work at architectural firms so clearly they are fulfilling that balance. First though, I have to maintain a high GPA and get into the master's program. It's one extra year at Wentworth. I truly believe we gain so much because we get into studio right away through our major and from the first week on, we are pursuing our degree that much faster."
Michael MacPhail has been with Wentworth for 10 years and serves as the chair of the architecture department. He explains a few of the misconceptions about going into the field of architecture.
"We seek students who are obviously strong academically when they come to us as freshmen. We would want them to have a passion for architecture, but we want them to be creative. One of the myths is that students need lots of math because the degree is a bachelor in science. They don't need to be a math whiz. We would like them to have algebra, geometry and some trigonometry. The other plus is the strong intuitive sense to think through problems."
Wentworth offers three concentrations within architecture: urbanism, emerging technologies and adaptive intervention. MacPhail explains that urbanism is the lens which students look at architecture such as scale and the urban fabric. Emerging technologies look not only at the building, but all the digital fabrication. Adaptive intervention explores the use of existing building stocks. "We are in Boston and not far from New York. We can look at reuse and preservation in our own town and the region."
He says the students who strive are those who like studio and work creatively in problem solving. "Those who succeed are passionately committed to this environment. This sinks in early on as students learn there is not much classroom time, but rather they are in the studio, creating and designing." A little more than 600 students are in undergraduate and graduate programming for architecture.
Boston is a big draw. "It is a city that mixes the old with contemporary architecture. The second is the availability of companies for the co-op program. The students get paid and must take two co-op semesters in their four-year degree," he says. "We have high job placement with the aid of a strong career services department and job boards."
About 15 to 20 percent of the Architecture students at Wentworth are part of the American Institute of Architecture club. "It's a great organization with mentorships and competitions. We also have a study abroad program in Berlin or Barcelona. About 50 percent of our Architecture students take advantage of this."
[well]

Open your mind to new ideas at Wentworth. Enrich your life, prepare for a rewarding career, build lifelong friendships, and experience living and learning in one of the world's great college towns.
To learn more about the Architecture program at Wentworth Institute of Technology, visit their website. If you are interested in attending Wentworth, visit their school page to learn more about their campus and degree options.
[/well]