HELLO ALL!!
Remember how the last time I blogged I was on my way to London? Well, I went to London, I went to Paris. I came back to the United States and then went to Washington DC for three days. Then all this other stuff happened. April has been an extremely busy month, but not an un-fun one! It's just been another time for me to reflect on how blessed I really am. Check it out:
I've wanted to go to London since I was ten. I knew that that was the land of Harry Potter. The UK was the birth of the author, the books, the movies, everything. I remember watching the red carpet Grand Opening of the Studio Tour on March 31st. I remember finally walking into the great hall on April 9th.
No, readers. Not a duplicate. THE Great Hall of Hogwarts castle. The great hall where Harry was sorted into his house of bravery and loyalty. Where Ron looked at an imaginary floating, screaming letter in his second year. Where Hermione constantly whispered her nearly perfect understanding of most of the situations they found themselves in. I sat on a bench I'm sure Daniel Radcliffe touched once.
I got to see all of the props that amazing crew worked on. My goodness, that crew. I wish I could hug every single one of them for bringing Harry's world to life. The countless hours it must have taken to hand write the labels on all those potion bottles! That scale model of Hogwarts castle! That was when I lost it. The music was playing and that castle was lit up and my flood gates opened to expel the river Thames – which, by the way, I also got to see on my little escapade to the UK =)
The trip was generally really fast paced. Our tour guide (the brilliant actor, writer, director, producer and history expert) Paul (I pronounce this PA-OOHL), walked really fast, and so we got to see a whole lot of London in very little time. We saw Big Ben, the London Eye, St. Paul's Cathedral, Tower Bridge, the Crown Jewels, and Piccadilly Circus among others. Watching the show 'The 39 Steps' was also extremely fun! I laughed so much it was ridiculous. I mean, the movement director must be a genius >.>
UHHH, PARIS! OH my goodness! I got to see the Eiffel Tower lit up at night from a boat on my 18th birthday. It was magnificent. And there's chocolate EVERYWHERE there. I mean, EVERYWHERE. Seriously, I walked into so many chocolate shops….If it weren't for all of the walking, I'd say I gained a pound or two. Oh, I bought a scarf :3 A French scarf~~~~
My next post will have something to do with my trip to DC, and also college. Now that the May 1st deadline's past…oh boy. Oh boy have I got thoughts to share.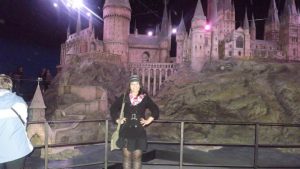 Until next time!
@ArianaTaveras