Official College Decision & Dorm Room Checklist!
While waiting for my delayed flight at the San Francisco International Airport, I confirmed my enrollment at the UNIVERSITY OF MINNESOTA: TWIN CITIES! Wow, what a RELIEF! I'm very happy with my decision and so glad that I visited UC-Berkeley; I definitely would've regretted it if I didn't seek this opportunity out. Visiting Berkeley reinforced my original decision to go to the U, and made me realize that I really don't want to leave Minnesota quite yet. The minute I arrived on the UC-Berkeley campus, I thought to myself, "I'm not coming here." I'm unbelievably glad that I had one of those moments. I was worried that I would just end up being stuck between two equally likeable universities. While Berkeley is an amazing school with insane prestige and opportunities, it just wasn't the right fit for me. I couldn't imagine myself actually going to Berkeley, while on the other hand, the U was instantaneously enjoyable. Besides the campus itself, I didn't like the area of Berkeley that much. The campus had its pretty areas, but I would argue that the U's campus is even better. It was very difficult to get around (I would have to go from a shuttle to the BART to a taxi to a shuttle again..) and there wasn't much to do (especially compared to Minneapolis!).
Now after a month of being asked the question, "Where are you going to college?" I've gotten the frequent reaction, "Oh, the U? That's lame. Why wouldn't you choose Berkeley!?" It's extremely frustrating because I know the U can offer me a lot and it really is a great place to be. Just because many people go there (I mean it IS the largest college in Minnesota) and it's not an out-of-state school doesn't mean it's any less of an amazing opportunity! Going to an out-of-state school is tempting, but don't do it just because you think it's more impressive, do it because you actually love the school! I'm definitely looking forward to the next few years. I'll be double-majoring in professional strategic communication and environmental policy, planning, law, and society, with a sustainability minor (and possibly an animal science minor; these are subject to change, but I'm feeling pretty confident about them now!). I'm volunteering at the Wildlife Rehabilitation Center until October, so I hope to get more exposure to the animal science world.
I'm officially planning to live ON campus, hopefully in the 17th Avenue Residence Hall (I've been watching it be built all year!). After confirming my enrollment, I decided that getting an apartment would be the best thing. I mean, my own kitchen, bedroom, and private bathroom? Heck yeah! Sounds great right? Well, my friends and I toured for a few days and found a place we really liked. We had to make the decision within a day so we decided to go for it. Immediately after signing a lease, I realized that I made a huge mistake! I didn't want to be sequestered half a mile off campus my first actual college year! I wanted to experience the community feel of a residence hall and meet a ton of new people and great friends. Plus, you don't have to worry about groceries, utilities, cleaning, bills, being responsible for your own place, finding people to rent out your apartment when you go home, and more. My advice to you: DON'T do what I did! Even though dorms might not be the most appealing living arrangement, I truly believe that it's an experience everybody should have. Whether it's a good or bad experience, it'll always be a story to tell. You have your whole life to live in an apartment/house on your own, but the dorms and dining halls are where you will meet people; you most likely won't socialize over in an apartment like you will in the halls, especially when most people aren't first-year students. Fortunately, I was able to get out of the lease, have a guaranteed place in one of the residence halls, and found a roommate from Massachusetts!
*For those of you interested in UC-Berkeley, here is an album of photos to browse: https://picasaweb.google.com/101280551858533567850/UCBerkeleyAndSanFran
And now, onto my dorm room checklist!
I didn't realize how much stuff I need to pack until I started thinking about it. When you find out who your roommate is, make sure to talk to them and check which items they're planning to bring. You don't need two mini fridges! There's also an iPhone App that may be helpful called the College Packing List. It provides an easy way to add and check off items that you're bringing!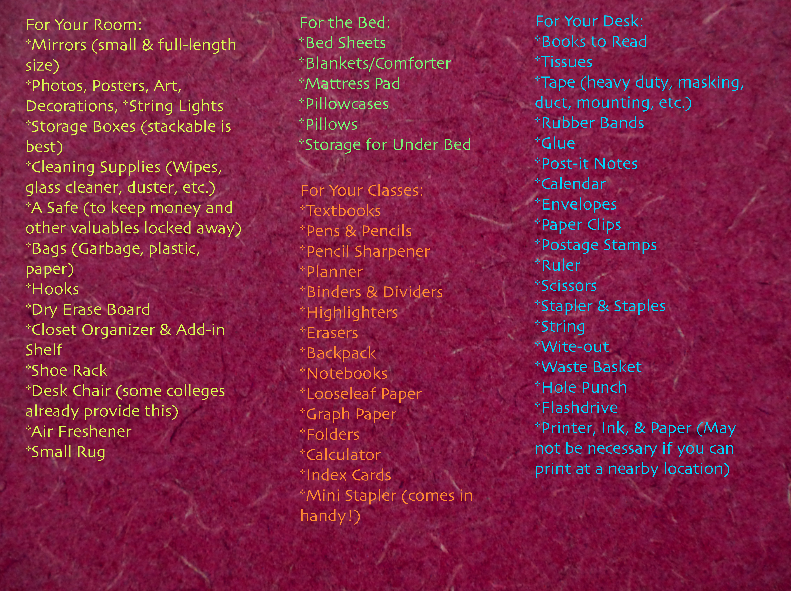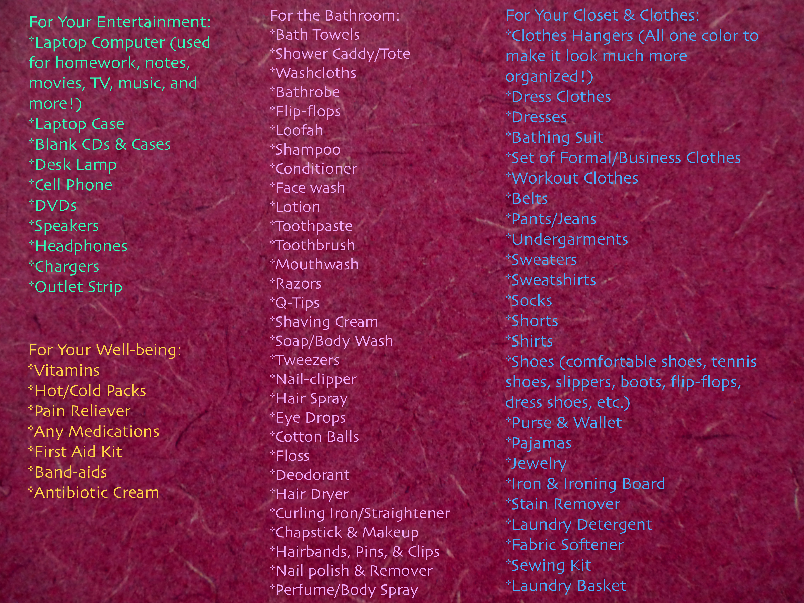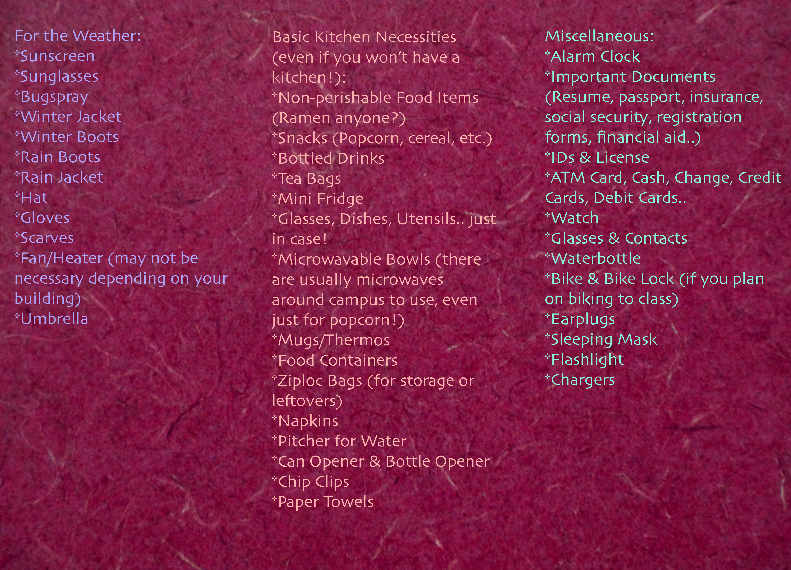 Until Next Time,
Anna 🙂