Declared is
Not Decided
Using knowledge-based research,
we help education leaders
guide their students towards their
future on campus.
Learn More
Engage to Commit

Empowering leaders with a tool to engage prospective and current students that creates conversation and higher commitment. Results from clients show students apply and enroll at higher rates than other sources.
Recruit to Retain
Helping incoming students early in their academic and career exploration creates efficiencies in orientation and advising. Students are proactively prepared for clear pathways and increase engagement on campus.
Informed to Complete
Create conversations around academics and career placement. By helping students explore and see all opportunities they can find the right path and be prepared to enter the workforce. Finding the right major will improve completion.
"MyMajors often introduces new options which encourages the student to explore new areas that they may never have considered or even knew existed. Students find MyMajors easy to use and high accurate, and their advisors rely on the results to guide their students through the most important decision they will make in college."

Dr. Kathleen Shea Smith

The University of Oklahoma
Proactive Data,
Personalized Results
What motivates a student to enroll and complete their degree? 50% of students are not confident in their major selection when applying to college (ACT).

For too many students, finding the right major on campus can be difficult and hinder their ability to succeed and persist to graduation.
MyMajors is backed by the National Science Foundation as a sole source provider to improve degree selection, college access, student success, retention, and graduation rates.
Request a Demo
A National Science Foundation project to find a smarter way for students to select a major. Based on knowledge-based research, this expert system was built by Advisors for Advisors. The 15-minute expert system is the only program that measures academic achievement, aptitude, work interests, and personal preferences. Students are recommended a list of majors only offered on your campus, so they can make better decisions and talk with their advisors about their degree plan.

Sample Report
Sample Assessment
Recording: Conference Session
Recording from NACADA National Conference

Session Description:
Uninformed decisions about academic pathways adds unnecessary courses and negatively impacts retention and completion. Early major exploration can increase advising efficiency, access to data, and helps students cross the bridge to college. See how institutions have created sustainable bridges to onboard high school students into college with informed decisions.
Watch Now
Where can we help?
Helping students find a major and career plan is not just for undecided students. Look through some examples of best practices from clients and how proactive exploration can create collaboration across campus.
Admissions Enrollment
Engaging your prospective students by helping them find a major and career pathway on campus.
"MyMajors is very useful as a recruitment tool, as the data supports. Students who engage with the assessment progress to enrollment at a higher rate compared to all prospective students. We also use the program to convert prospects and inquiries from other sources, thereby increasing the value of those investments, too."
Convert stealth visitors from your website to inquiries and applications. One institution generates 300 new inquiries per month.
Utilize the more than 300 data points to connect with students about their concerns, interests, and future opportunities on your campus.
Improve Yield - One partner institution has seen 18% higher yield than other sources.
Increase awareness of your majors - A small private institution in Illinois (250 incoming freshmen) found that no students were interested in a Data Science program after registering, yet MyMajors recommended it to 17 students to consider and explore with admissions.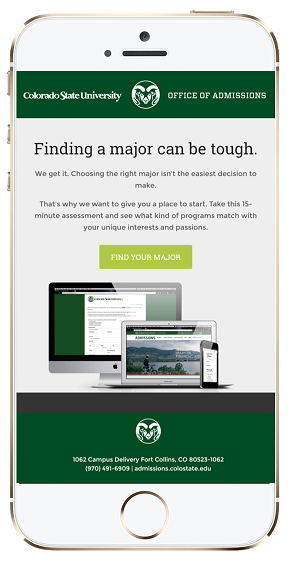 Marketing Communications
Create awareness and convert interest to activity.
Partner colleges utilize their program across their website, social media, press releases to news agencies, viewbooks, texting, and email marketing.
Utilize on key strategic pages to increase conversions, decrease summer melt, and improve communication.
Create New Calls to Action on Marketing Materials "Find Your Major".
One institution generates 4,900 visits to their program each month and converts 1,300 registrations from visits. Google Analytics tracking reports included.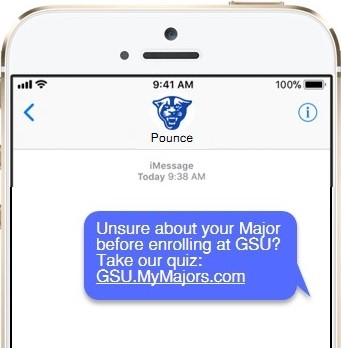 Orientation FYE
Proactively help all incoming students create their plan on campus. Reassure students current major and help those that are still confused.
Place the program in your viewbook, LMS or orientation portal, schedule for NSO, and FYE curriculum activities.
Collect data on each incoming student about their concerns and help explore options on campus. A partner in Georgia had every incoming student complete their program in the first 4 weeks of orientation (more than 4,000 students).
Assist FYE and conditionally admitted students with intrusive major advising.
One institution identified 54% of incoming students were not confident on their major choice before coming to orientation.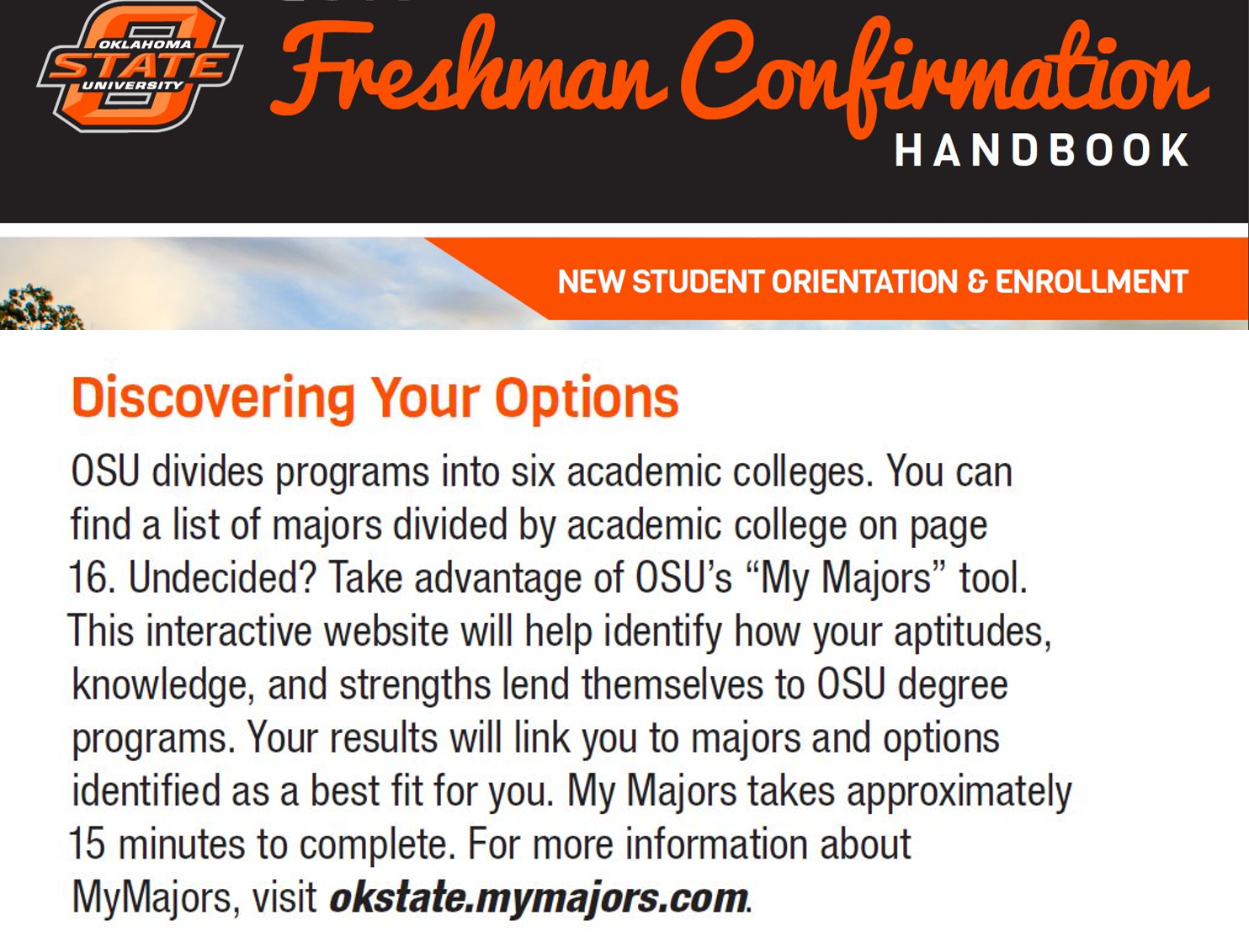 Academic Advising
Built by Advisors for Advisors
MyMajors was designed with feedback from advisors to ask the right questions and to create conversation with students and their advisors. Students can complete the program with an advisor, or if a student completes from your website advisors will be alerted via email.
Skyline College integrated the program in their Meta Majors roll out and with their Promise Scholars program to ensure students were on the right track to complete.
Create an intentional purpose for incoming students, first-generation, students changing majors, undecided students, students on academic probation, or general exploration. UCLA has more than 140 advisors who access their dashboard and reach out directly to students about their results.
"It will be a conversation starter for advising and will reduce the time spent probing and trying to get information from students during sessions."
"The fact that it only takes 15-minutes and provides immediate results is a huge benefit. Students can become frustrated by the wait time required to obtain results from other programs."
Career Services
Having a career plan starts with students finding the right major and completing their degree.
By connecting students to majors you have on your campus that are the right fit, we can start the conversations about career plans and outcomes.
Customizations include job data, salary, companies hiring interns and graduates. Baker College embeds alumni videos on major recommendations to showcase employment post-graduation.
Linking to third parties: BLS, O*Net, Handshake, or other services. We integrate data that is most important to your team.
Notifications sent to career services team if students indicates a need for career guidance or advice.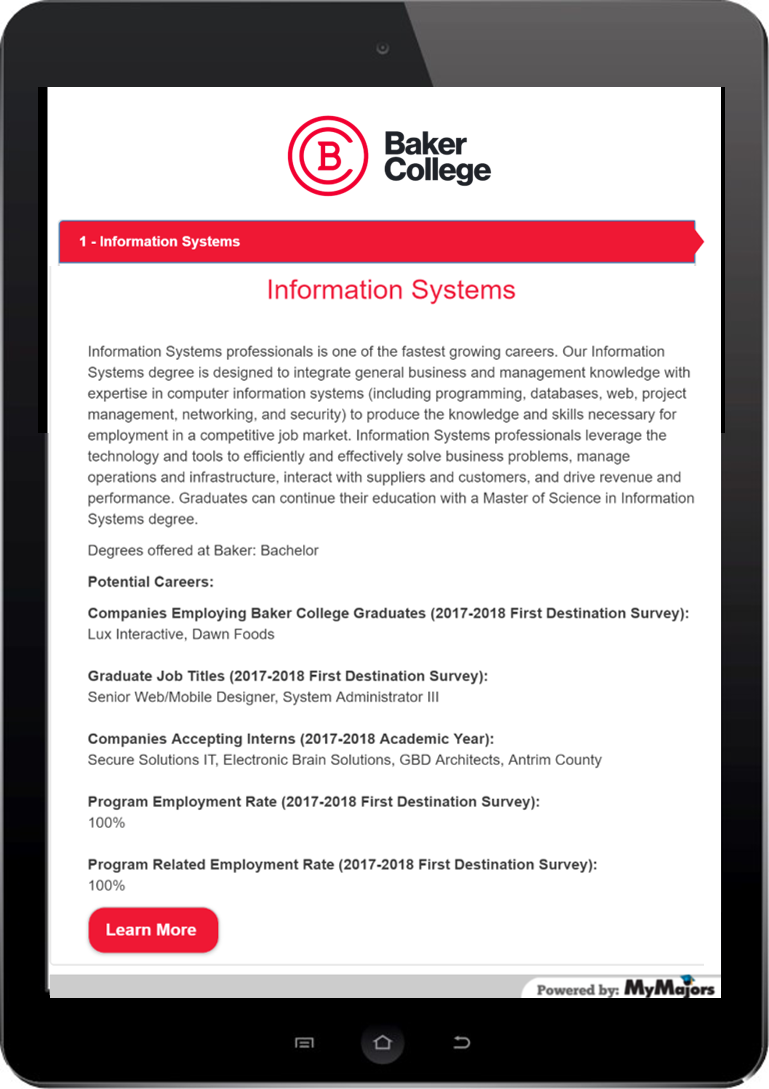 Student Success
We can help identify student concerns or goals for completing their degree on campus.
Proactive student success means we ask students the right questions and connect them to resources on campus. By helping students find a major, talk about their challenges, and connect them with resources, we can close the achievement gap.
Identifying and helping unique student populations: students with dependents, first-generation students, ESOL, etc.
With MyMajors training and our Advisor's Guide, we can help your team create conversations around life challenges and overcoming obstacles to complete degrees and create awareness on impacted and competitive majors.
Alert other departments on campus to increase student engagement and success. 68% of students were not fully "Confident" in their current major selection and Skyline College was able to identify and set up appointments with each student.
Proactive Survey Data for Departments on Campus
MyPurpose implements strategies and best practices to easily collect proactive survey data and help your faculty and staff increase your students' sense of belonging on campus.
Visit MyPurpose
Case Studies and
Outcomes
"More than an assessment" - MyMajors engages and guides students and their support team on campus to increasing college access and completion. See a few of our stories below or contact us to find a more specific use case.
MyMajors Solutions
Colleges face three major challenges: recruiting best-fit students, improving persistence on campus, and graduating students on time. MyMajors in conjuction with the National Science Foundation is tasked to improving these areas through an expert system to help each student complete their degree.
Increasing College Completion
Students who complete the MyMajors assessment have higher graduation and retention rates than the national average.

Students with the right academic plan will select the right college and complete their degree on time. A study conducted through the National Student Clearinghouse found that MyMajors students had a 13.8% higher retention rate than the national average. Students completed their degree in four years at an 11.3% higher rate.
Research Study
In the News