There's a solution.
The secret to student success
is helping them find the right major.

Try the program for yourself.


Help Your Students Today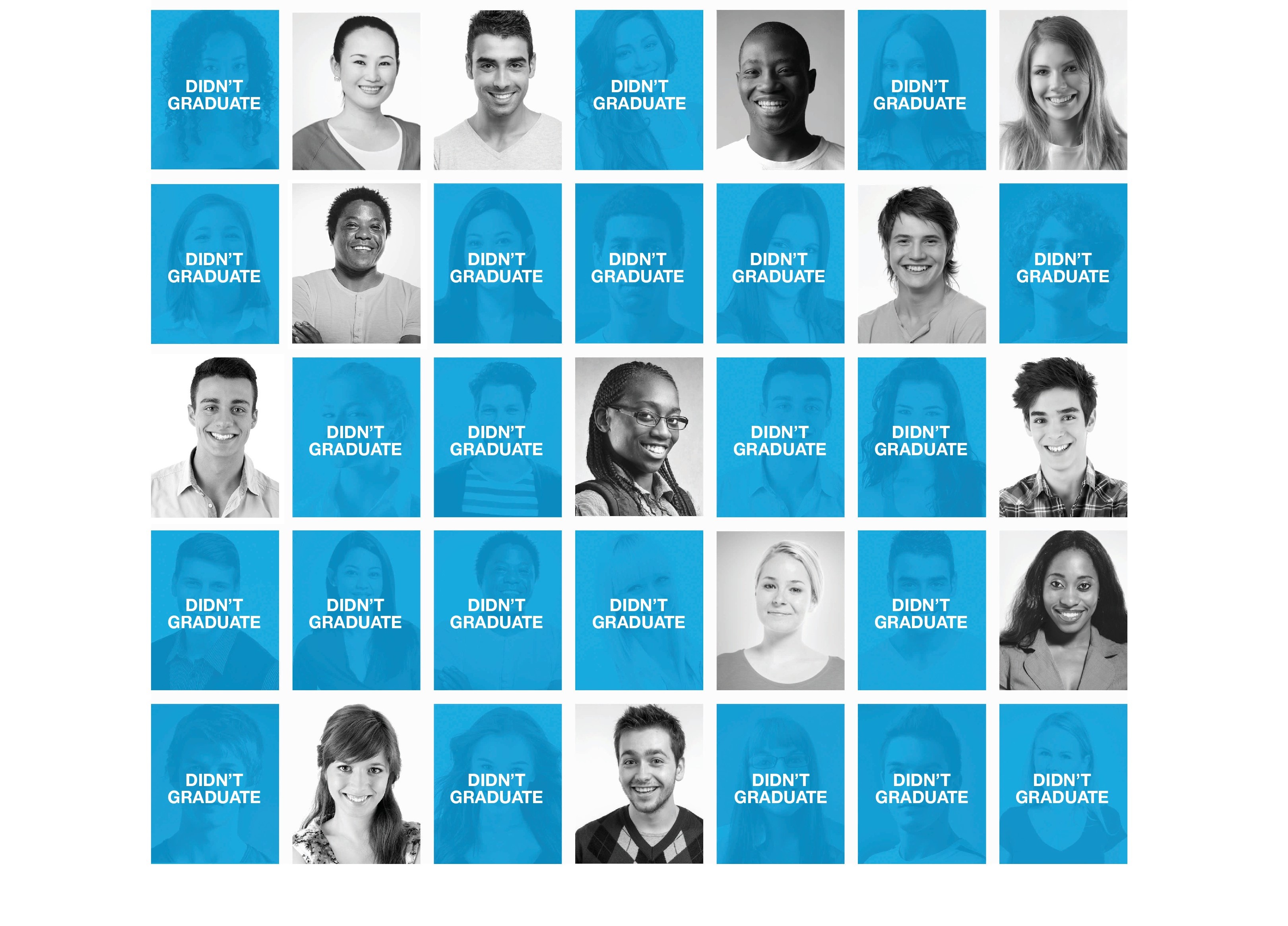 We can help you help your students.
The one simple act of assuring that a student is aligned with the right major can improve college retention rates and help them stay on track to graduate.
Helping Students Find an Academic Home is Critical for Retention and Graduation Rates.
Students matched with their best-fit major and degree plan on your campus
are more likely to succeed, return sophomore year and graduate in four years.
Try the Sample Assessment
Why Proactive Recruitment and Retention?
Percent of students change their Major at least once. Students are not seeking help.
Billion dollars is lost each year from 30% of students not returning freshmen year.
Percent of starting freshmen are graduating in four years. Many are left without a degree.
Higher Education Services
A program that can be utilized across multiple departments as
students advance at your institution.
Enrollment Management
Recruiting students more likely to enroll, retain and graduate from your institution. Improve conversion rates with engaged students.
Retention
Providing unique, simple and easy to implement program to impact retention rates on campus and student success.
Graduation
Preparing your students with a clear direction towards degree requirements for graduation. Selecting the right courses and consistent tracking.
Advising
Provides a proactive advising tool that empowers students with a clear direction before meeting with Advising. Through self-assessment, students are prepared to discuss plans with your team.
Career Services
From declaring their degree to career placement. Helping students realize their potential based on their academic achievements, interests and personality.
First-Year Experience
Engaging students on campus in their best-fit major to improve student success. Leverage freshmen orientation and intro to college courses with activities for students.
National Science Foundation
awarded MyMajors two SBIR grants to improve college completion and student advising.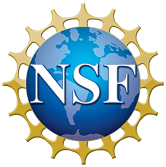 "It actually costs a university more-in lost tuition-to allow a student to drop out than it does to pay for the support needed to help retain that student."

Bill Gates
Private Label
Customized Program for Colleges and Universities
This flexible, unique and adaptive program leverages a knowledge-based algorithm to match students to their best-fit major and degree program on your campus. Only specific programs you offer, resources on campus, career information, all customized for your institution.

Help your students find their academic home today.
Get Started

Powerful and Effective
Tool for Students
Why are colleges leveraging our program for their student success strategies:
15 Minutes

Students today are extremely busy. They do not have time for a 30 minute to an hour assessment. Our program can be completed in 15 minutes.

Academic Achievement & Interest

Algorithm measures academic achievement (courses, grades, GPA, interest in specific courses), interest and personality. Other tests that only measure personality or inventory questions fail to calculate a student's ability to succeed.

User Friendly

Assessments are important for students to understand their strengths and weaknesses. Our mission is to make it as fun, clean, easy and simple for students to self-discover their best-fit program on your campus.
Mobile Responsive

Providing access to students if they are on their laptop, mobile device or tablet on the go or in a classroom exercise.

Your Custom Majors and Programs

We recommend only your programs and the exact naming convention at your institution. Not Department of Education general program names. Career data is customized based on recent student graduates for local results.

Ease of Access

We create a custom web address for students to access the program. No access codes, no required institution passwords required. Providing students the resouces they need when they need them.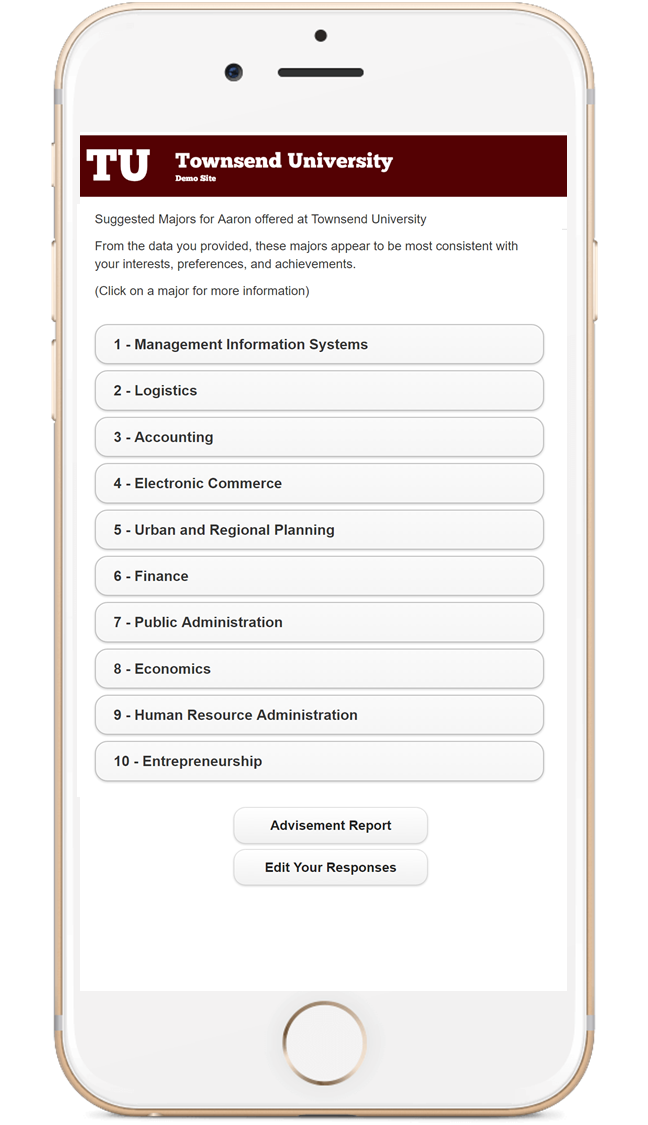 Sample Advisement Report
Proven Results of Student Success
MyMajors students had a 13.8% higher retention rate than the national average. Students completed their degree in four years at an 11.3% higher rate.

Hispanic (11.6% higher) and African American (20.9% higher) both had higher four year graduation rates than the national average.

Executive Summary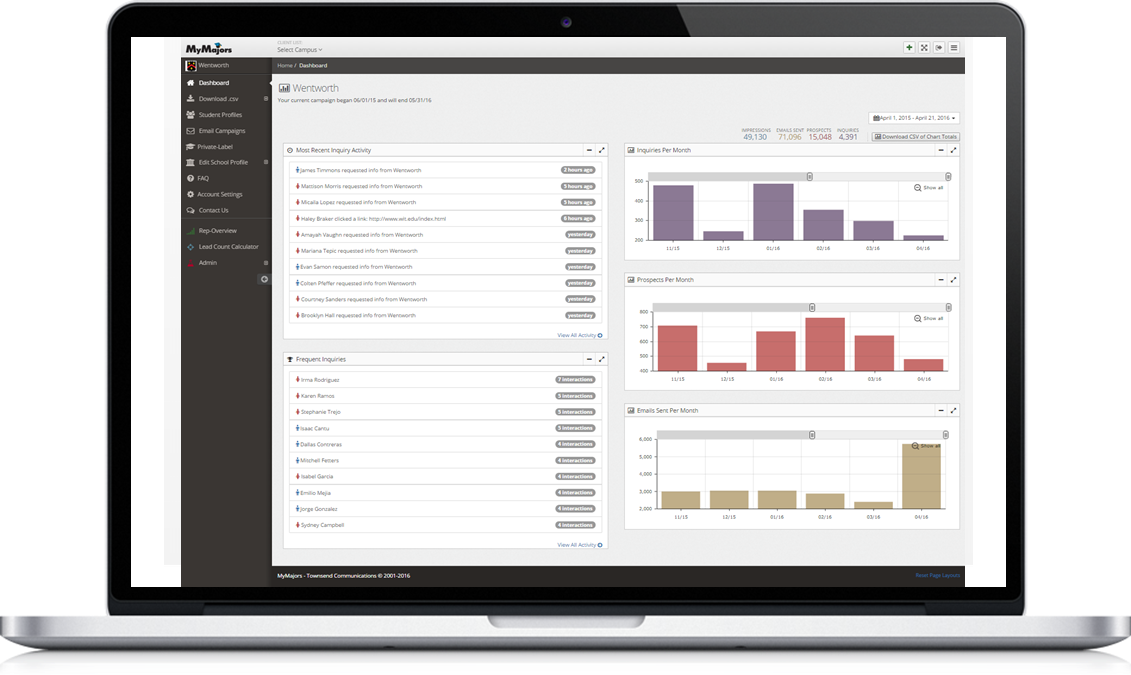 Dashboard for Data
Providing a responsive dashboard for your staff to find key information and data for actionable intelligence to improve your student's success on campus.

Our data can be utilized and imported into your CRM or student management service. We pride ourselves on our flexible system based on your needs. We have the ability to setup from auto-import, custom field setup for CSV access, API integration, SSO, custom email delivery of student results based on your departments.


Learn More
Impact at
Colleges and Universities
We focus our efforts on reaching your recruitment, retention, advising and graduation goals.
"Students find MyMajors easy to use and highly accurate and their academic advisors rely on the results to guide their students through the most important decision they will make in college."




Dr. Kathleen Shea Smith

University of Oklahoma
"The addition of the career assessment tool MyMajors provided a form of exploration to 1,147 students. 47% of the students reached were virtual students that previously had NO access to career resources."

FHSU Division of Student Affairs

Fort Hays State University
"Admissions will probably see the biggest difference, since students are making decisions about where to attend college and your site now directs them back to FSU Majors."

Linda Burns

Florida State University
Ready to Get Started?
We are the experts in helping students find their academic home on your campus. Contact us for more information about the program, rates and how we can help make an impact at your institution.