It's a Major Decision.
Help prospective and current students make their major decision on campus. The customized Private Label matches students to their best-fit major and degree program at your institution.
A National Science Foundation initiative to improve college access, student success, retention, and graduation rates.
Learn More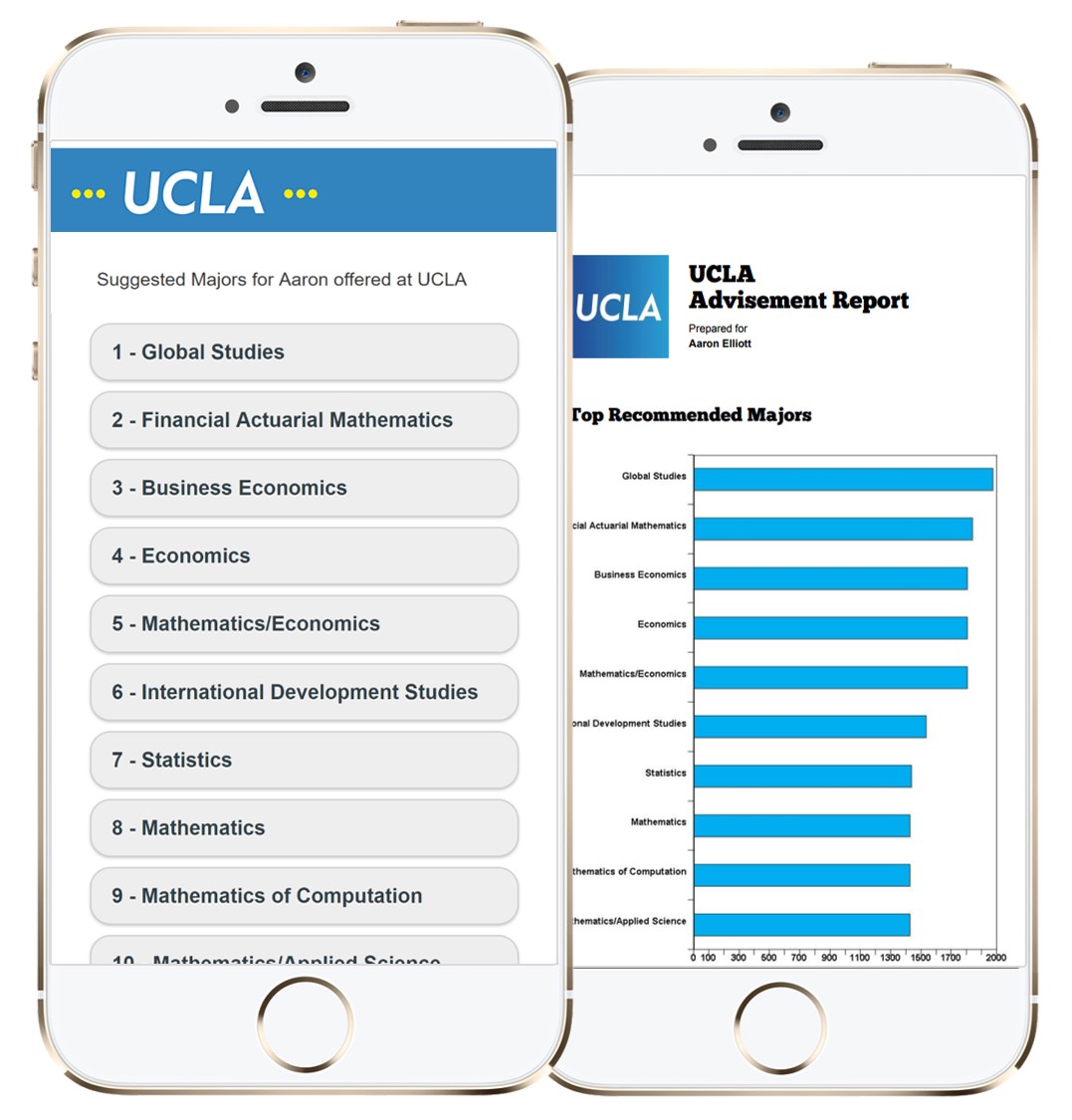 "I was undecided what I wanted to do with the rest of my life. After completing the assessment, I was able to find my list of majors to talk with my advisor. We were able to sign up for classes, found a student group to join, and discussed what I needed to do to graduate in 4 years."
So...What's Your Major?
80% of students change their major at least once in college. A majors assessment can make a major difference.
For too many students, finding the right major on campus can be difficult and can hinder their ability to succeed and persist to graduation. MyMajors helps your students find their pathway on campus.
Request a Demo
Webinar Series
Learn how institutions across all departments are leveraging the Private Label Majors Assessment to build student confidence in their degree planning and helping campus staff build relationships with students. See client examples and case studies of student engagement.
The Importance of Major Selection
More than 50% of students enter college unsure if their intended major is the right choice. Students who follow the wrong path or change majors need additional assistance to ensure they return sophomore year and stay on track to graduate.
About us
An Innovative Approach
A National Science Foundation project to find a smarter way for students to select a major. Based on knowledge-based research, this expert system was built by Advisors for Advisors. The 15 minute assessment is the only program that measures academic achievement, aptitude, interests, and personality. Students are recommended a list of majors only offered on your campus, so they can make better decisions and talk with their advisors about their degree plan.

Sample Report
Sample Assessment
How are universities utilizing
their Majors Assessment?
"MyMajors is the most effective online assessment available for undecided college students! The recommendations are based on valid and reliable data collected on a full range of academic options."

Dr. Kathleen Shea Smith

The University of Oklahoma
How can MyMajors help your students and staff?
By helping students find the right fit, you are improving their chances of succeeding on campus. Students receive a valuable resource that eases their frustrations and builds relationships with campus staff. Faculty and staff can access our online dashboard to access students' results and reports.
Help Undecided and Exploratory Students
80% of students change their major and career plan at least once in college. MyMajors takes the guess work out of the decision making process with a knowledge-based algorithm to match them to a list of majors offered at your campus.
Identify At-Risk Students Proactively
Many students are pressured by parents, family, media, or job reports when they select a major. MyMajors opens students' eyes to other opportunities that are the right fit. Our mission is to help students understand their strengths and weaknesses to discuss with their advisor.
Engage Students in Conversations
Students with a motivating goal are more likely to enroll and engage with your institution. Provide an innovative and new way to engage students by helping them find their major and academic home on campus. Data can be accessed by admissions and advising to work with students about their customized student experience.
"The report helps our advisors by easing them in to the difficult conversations about a student's declared plan and future endeavors."

Ahmad Sims

Lincoln University
The Major Difference
Many programs, assessments, and student software programs are available for students and faculty to improve success, what makes MyMajors unique?
National Science Foundation
NSF SBIR Grants Awarded to MyMajors
MyMajors is the only assessment recognized by the National Science Foundation to improve student success, advising, and degree completion.
Competitive Analysis
Through competitive market research by the NSF, MyMajors was found to have a unique stance in the market as an expert system that recommends specific majors on your campus in 15 minutes.
Research Based Expert System
NSF invests in high-tech small businesses and collaborations between academia and industry to transform discoveries into innovative commercial technologies with societal benefits.
Academic Achievement Weights
"I want to be a doctor but couldn't pass biology."
MyMajors considers students grades, GPA, achievement test with interests and personality to recommend specific majors. If a student hated chemisty and received C's in biology, a pre-med path might not be the right fit, the report will help students find other programs to consider and help them talk with their advisor about their goals. The report helps students understand what it takes to be successful in certain majors and can work with their advisor on how to reach those goals.
A New Approach to Major Selection and Career Plans
Dr. Fritz Grupe, Principal Investigator and founder of MyMajors, worked with and interviewed 315 discipline advisors, campus-wide advisors, and other experts from 120 campuses. The interviews outlined questions advisors asked and how they assessed student answers to make recommendations. From these, we assembled a rule base and derived weightings to evaluate student backgrounds in relation to areas of study the system recommends.
Getting answers advisors need to know about their students.
MyMajors is not a personality assessment, it asks questions that you would ask your students in an advising session. Leveraging the report can help streamline a student appointment about their intended major and goals on campus.
Helping students find an academic home by recommending your majors.
Other assessments focus on personality types or career clusters and relying on students to find a list of related majors in alphabetical order. MyMajors recommends down to your specific majors in ranked order of fit.
Custom Major Names
The assessment recommends your specific major names. We pull your list of majors and map them to the algorithm. The customized experience makes a difference in easing students in major exploration.
Program Descriptions
We pull your custom descriptions not the DOE descriptions. Our partner institutions showcase their degree uniqueness, degree requirements, or even Advisor contacts by major.
Career Crosswalks
Help students complete their degree. We help make that connection from a major to career after they graduate. Provide BLS data, O*Net, OOH, or specific alumni outcomes from Career Services.
Student Next Steps
After students find their major, we connect them back to your institution. We link programs back to department pages, catalog links, degree requirements stats, or videos about your majors.
Major Return On Investment
We have data that backs our results for our clients. To request examples please click "contact us" at the bottom.
Admissions Results
"MyMajors students converted at a higher ratio than other lead generating tools we were utilizing" - Fisher College Admissions
Graduation and Retention
Leveraing the program in an exploratory advising department at a public institution in Florida, students who completed the assessment had a 15.6% higher 4-year grad rate than their peers.
"MyMajors considers elements of skills, abilities, and proven past performance (grades/test scores) that the interests and personality assessments do not provide. The program has little time investment on the user end and directly matches with CSU majors."

Colorado State University Career Services
Best Practices
The Majors Assessment can be utilized across campus. From Admissions, Marketing Communications, Advising, FYE, Orientation, Upward Bound, TRIO, Career Services, to Academic Affairs, students on your campus need help finding a major. Don't believe us, check out some best practices and usage examples below.
Prospective Student Examples
Current Student Examples
Major Effect on Retention and Graduation Rates
Students who complete the MyMajors assessment have higher graduation and retention rates than the national average. Helping students find a major can help recruit the right student and help them stay on track to graduate.
Helping Students Find an Academic Home
Program that supports retention and graduation initiatives.
Nationally, only 39% of students receive a degree in four years.

Students with the right academic plan will select the right college and complete their degree on time. A study conducted through the National Student Clearinghouse found that MyMajors students had a 13.8% higher retention rate than the national average. Students completed their degree in four years at an 11.3% higher rate.

Hispanic (11.6% higher) and African American (20.9% higher) both had higher four year graduation rates than the national average.
Download White Paper
Make a Major Difference
Become an innovator on campus by changing the way your institution looks at degree planning. Join our partner colleges and universities to help students find a major and graduate from your institution.
Contact Us
We're ready to help your students find their major on campus and assist your faculty and staff in engaging students. With the National Science Foundation SBIR grant, we are a sole source provider and can provide a justication form.