15 Minutes

Students today are extremely busy. A 30 to 60 minute assessment can be overwhelming. Our full program can be completed in 15 minutes in any classroom or event and completion rates average at 80%. Other programs have eliminated modules in their assessments to shorten the length of time, but that also jeopardizes the accuracy of those results.

Academic Achievement & Interest

You have course and GPA requirements to enter your institution and for students to complete their degree. MyMajors evaluates these components to find programs that students can complete. The algorithm measures academic achievement (courses, grades, GPA, interest in specific courses), interest and work preferences. Other tests that only measure personality or interests only tell one side of the story.

Direction Not Reflection

Understand students strengths and weaknesses are vital to their success on campus. The results given to students are simple and they have a clear direction of next steps. Students do not need additional appointments or assistance to interpret their results and advisors do not need special training, making the process efficient and easy for everyone.
Customized to Your Institution

This is not a cookie cutter program. Each program is uniquely customized and developed around your programs, philosophy, and processes. Only your majors and pathways will appear to students. Custom registration page, algorithm weights, major data, career information, branding, reporting, and access is provided.

Not a Buzzfeed or Picture Quiz

"Do you like to build shelves" should not be the way you decide your major. The National Science Foundation invested two grants to MyMajors to build around the expert system that utilizes knowledge-based research from academic advisors, career counselors, and student feedback. The most important questions are asked, the program is interactive with students, and the results are accurate.

Ease of Access

We create a custom web address for students to access the program. No access codes, no required institution passwords required. Providing students the resources they need when they need them. Easily link the program to your website, social media, direct mail, and email campaigns. Identify stealth visitors to your website, and help the students who do not reach out for assistance on a request info form.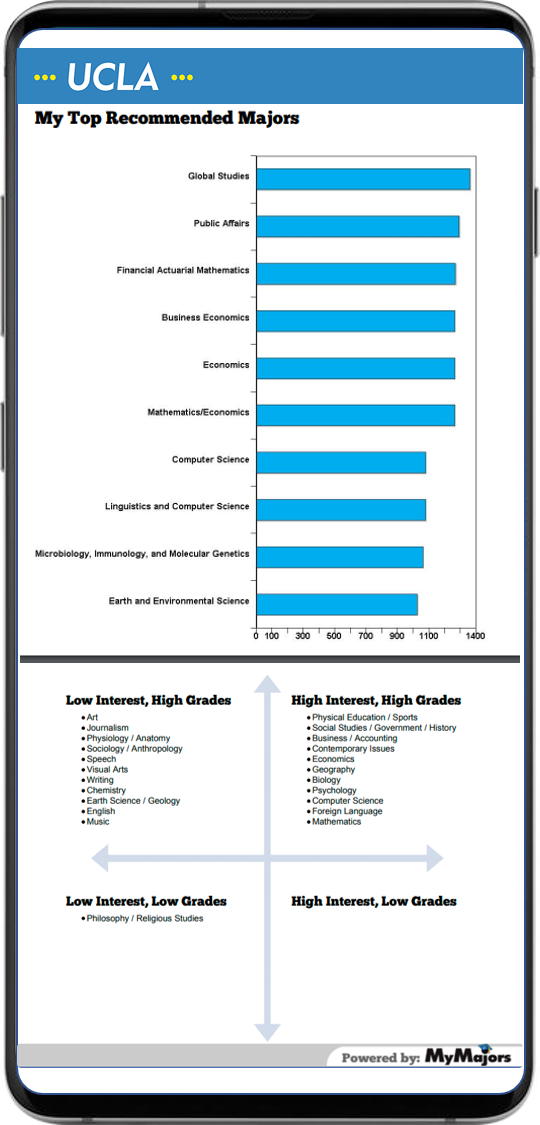 Sample Advisement Report
"MyMajors considers elements of skills, abilities, and proven past performance (grades/test scores) that the interests and personality assessments do not provide."

Colorado State University

Career Services
Frequently Asked Questions
Client Feedback
Meet our happy clients and find why our Agency is the preferred choice.
"Baker College was searching for a solution to assist our prospective and current students in an analysis that provided both an interest and aptitude survey to aid students in a program selection."

Dr. Denise Bannan

Baker College
"Major indecision is a significant cause for early departure and this tool can prevent this from happening."




Dr. Kathleen Shea Smith

The University of Oklahoma
Having dealt with many other companies that sell products to the higher ed industry, this company stands out as an exemplary company that delivers.



Dr. Patricia Sobecky

The University of Alabama