Accounting Major #MajorMonday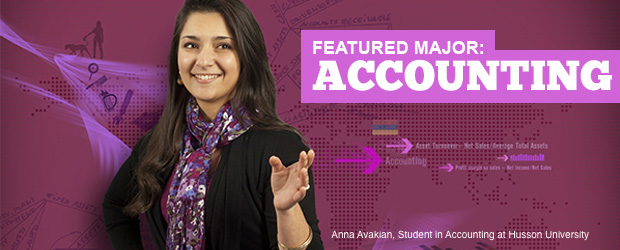 Accounting Major Can Be Stimulating
What does Ultimate Fighting champion Chuck "The Iceman" Liddell, wrestler D-Lo Brown, novelist John Grisham, jazz artist Kenny G., Home Depot co-founder Arthur Blank, songwriter Tim DuBois, and FBI second-in-command Thomas Pickard have in common? They are or were all accountants. As a matter of fact, nearly 1,400 of the FBI's special agents are accountants.
So do the above names like Liddell and Brown make you think of geeks crunching numbers and being antisocial? No, and you shouldn't … because Professor Dewey Martin, director of the School of Accounting at Husson University at Bangor, Maine, wants students to know that if you might be shy or introverted and you can't modify that to talk to people, accounting is not for you. "One of the basics is the need to talk to people," he says.
Many would-be accounting majors like math; others thrill at the structure and the chance to be detailed to a laser-pointed sharpness, Martin says. "Students who do well thrive on challenges. They have taken rigorous courses in high school and they are hard-working people who are also extremely organized. However, some of the best auditors I have known are right-brained people."
A couple of cool professions in accounting are forensic accounting and IRS special agents. The first is to investigate financial crimes and insurance fraud. The latter is to investigate criminal violations of the Internal Revenue Code and related financial crimes, often working closely with the Department of Justice, FBI, Drug Enforcement Administration, and Department of Homeland Security, to name just a few federal agencies.
For fourth-year student Dustin Dubay, accountants aren't stuffed shirts and dull men and women. "Many great CEOs and heads of companies started as accountants. The stigma of accountants being boring is not the case. I have met some eccentric and wild accountants. There are lots of options as far as jobs that can are available to accounting majors."
At Husson, accounting classes are taken in the first year. Internships are required, paid and easily acquired. Martin says he could use more students to fill available internships. "Students can receive up to 18 credits for their internships. The norm is to take the eighth semester and go into an accounting firm," Martin says. There is a 95 percent job placement rate over the past five years and the starting salaries are between $40,000 and $75,000. "We build a pipeline for the students to find firms for internships and careers. If our students have a successful internship, it becomes basically a three-month long interview and many of our students have a job waiting for them when they return to the campus."
Learn more about the Accounting Program
Career Services Director James Westhoff says Husson students need to visit the office early in their college career. "I get into all the first-year success classes that we call the Husson Experience. From the beginning, I can work with students to help them decide on majors. I am a trained career counselor so I can help students move through career development. We can talk about personal assessments, discuss where they want to head, what possible internships may be available and part-time jobs. We do a little bit of everything; we work with students in developing their resumes, cover letters, sharpening their interviewing skills with practice interviews. It's a team approach at Husson."
Still looking for a major? Take the College Major Quiz.
Dubay, from Fort Kent, Maine in the northern most part of Maine, is part of the five-year MBA program. "I explored a lot of schools and Husson has always been part of the discussion. My grandmother and father graduated from Husson. Husson's price was hard to beat and after meeting faculty and admissions, I knew it was a good place for my education. Then everything kept pointing back to accounting as a major."
Dubay's father is a certified public accountant. "When I took the SATs, my test results showed that I am strong in math. I was fortunate to have good math classes and the ability to take business classes in high school. I even had a few accounting courses. I also took some AP and college courses in high school. None were accounting, but I am glad that I took English. We all have to know how to communicate."
He already has his first internship under his belt. "I interned with the Defense Finance and Accounting Service. They take care of money for the military and defense of the nation. I learned about governmental accounting and I discovered it was not for me." In January, he will begin an internship at PricewaterhouseCoopers in Boston. "I want to go into public accounting. I like dealing with clients; there's a broader appeal to public accounting."
And Dubay believes he is ready for his internship and his career. "The opportunities at Husson from the mentors to the clubs and organizations, my peers, the faculty have definitely prepared me. The coursework is rigorous and challenging. Also because of the size of Husson, you can have one-on-one relationships with professors. They can put a face and name to you."
For more information, visit www.husson.edu or call (800)-4-HUSSON to speak to an admissions counselor.

Learn more about the Accounting Program at Husson University
With 95% job placement rate over the past 5 years, you can start your accounting career at Husson University. Internships are required, paid and easy-to-find.  Schedule a visit to campus now.