Hello everybody!
This month I'm talking about the top five colleges I applied to and some reasons why. My college journey has been pretty ridiculous to say the least. When I started out doing PSEO, I was definitely planning on going out of state. No question. I wasn't even going to apply to the University of Minnesota.. or any Minnesota colleges. My top colleges at that time were places such as Colorado College, Pomona, Brown… Boy oh boy did that ever change. I think it's for the best, though! It really opened my eyes to some great colleges that I would've looked past.
Top FIVE Colleges That I Applied to:
1. University of California: Berkeley
2. University of North Carolina: Chapel Hill
3. University of Minnesota: Twin Cities
4. Carleton College
5. Tulane University
University of California: Berkeley
PROS
The Weather + Location
Coming from a native Minnesotan who has withstood negative temperatures for the last 17 years, experiencing warmer winters would definitely be a plus! California has a wide-range of opportunities as fair as jobs, attractions, restaurants, music, nightlife, etcetera. It's about 26 minutes away from San Francisco, and Berkeley itself is an urban location with parks, recreation, coffee shops, cafes, restaurants, thrift shops, culture, and much more. The campus has many entertainment and recreation options, some of which can be found here: http://www.berkeley.edu/life/ent.shtml.
The Prestige
I tend to use the rankings on U.S. News (http://colleges.usnews.rankingsandreviews.com/best-colleges/rankings/national-universities) to compare colleges. UC Berkeley is ranked 21st out of all national universities, and 1st out of all public universities, with a 21.6% acceptance rate. UCB currently ranks 3rd nationally among all institutions for the number of freshmen who are National Merit Scholars.
• Research Opportunities
Some ideas can be found here: http://berkeley.edu/research/
• Golden Bears: PAC Ten School!
http://www.calbears.com
• High Diversity: 0.66 Ethnic Diversity Index
http://colleges.usnews.rankingsandreviews.com/best-colleges/rankings/national-universities/campus-ethnic-diversity/spp+50
• Student Organizations
http://lead.berkeley.edu/orgs
• Campus Dining
Dining has been given an A- on College Prowler! According to the Students' Guide to Colleges, the campus is one that hasn't been run down by fast food chains and offers many healthy options.
• Peace Corps Central
UCB is the only school in the country to have produced more than 3,000 Peace Corps volunteers since 1961.
• UC Education Abroad Program
The UC system offers 250 options in 40 countries.
• Accepts AP/IB Credits, Other Credits May be Transferred
Details: http://admission.universityofcalifornia.edu/counselors/ap-credits/berkeley/index.html
• Transportation
Transportation was given an A on College Prowler, although it was also given a C- for parking.
• Large Student Population
UCB has about 25,000 students. Coming from the U, I wouldn't mind this at all. I'm constantly meeting new people, while also bumping into people I know.

MAJORS
Berkeley has a great variety of majors, and has many options for engineering, biological sciences, and natural resources, as well as unique programs like peace and conflict studies and social welfare.
* Link to Majors & Minors by College: http://admissions.berkeley.edu/majors
University of North Carolina: Chapel Hill
PROS
• It's Beautiful!
The winter months average at about 30 degrees, which is just fine with me. Anything above 30 feels amazing to me! Chapel Hill is a small city with a population of almost 60,000. There is a vibrant music scene and business community, and is said to have that Southern charm. Bon Appetit Magazine chose Chapel Hill as "America's foodiest small town." Sounds great to me!
• Highly Ranked: 30th Best National University with a 31.4% Acceptance Rate
http://colleges.usnews.rankingsandreviews.com/best-colleges/unc-2974
• The Sports
UNC has won 40 NCAA team championships in six different sports (as of 2011), which is the 8th highest of all-time! http://www.goheels.com
• Accepts AP/IB Credits, Evaluates Dual-Enrollment Credits
Details: http://www.admissions.unc.edu/Academics/Credit/#ALevel
• Public Service, Research, Study Abroad, & Cultural Resources
UNC has a Presidential Honor Roll for Community service, along with Buckley Public Services Scholars and many alumni volunteering for the Peace Corps. UNC is a top research institution and offers many study abroad opportunities. Performing arts, the planetarium and science center, art museum, and the botanical garden show a range of cultural resources available at Carolina.
• The Diversity: 0.49 Ethnic Diversity Index
• Student Organizations
http://uncstudentorgs.collegiatelink.net/organizations
• Dining
Dining has been given a B+ on College Prowler, which I think is pretty decent!
• Decent Size
UNC has about 18,430 students, which is still smaller than the U of M by about 15,000 people.
• Rich History and Traditions
http://www.unc.edu/about/history-and-traditions/
MAJORS
UNC offers many common majors (e.g. economics, biology, psychology) but there are also a few that I haven't seen nearly as often, such as marine sciences, dental hygiene, and writing for the screen and stage.
*Link to a List of Majors: http://admissions.unc.edu/Academics/Majors/default.html
*Link to Academic Departments: http://www.unc.edu/academics/depts-a-z/
University of Minnesota: Twin Cities
PROS
• No More Generals
Having done PSEO at the U of M, I will have over 60 credits by high school graduation this year. My generals will be complete, and I will be able to focus entirely on my major(s). I won't have any issues with transferring credits or worrying about if my credits will count for certain things. They also accept AP/IB credits (http://transfer.class.umn.edu/AP_IB_and_CLEP.html)
• Close to Home
For me, the U is extremely convenient for transportation purposes. I would be able to see my parents and pets whenever I want!
• Excellent Location
The U is close to a lot of local attractions, such as the Target Center, Target Stadium, Mall of America, Mall of America Field (the Metrodome), the Guthrie, and many delicious restaurants and theaters. The East and West Bank campuses are split between the Mississippi River, so if you have a class on the other campus, you get to walk the Washington Avenue bridge across the river!
• Handy Dandy Transportation
The Twin Cities has many transportation options. There are buses that go everywhere! The U also provides shuttles in between campuses. There is a lightrail that can take you anywhere from Target Field to the Mall of America, and another lightrail that goes right through the middle of the campus will be opening up sometime within the next year, making transportation between campuses and other prime locations much easier.
• Top Research Institution
It's amazing what UMN researchers have discovered. UMN researchers recently discovered the enzyme behind breast cancer mutations (http://www.health.umn.edu/media/releases/Breast-Cancer-Enzyme/index.htm). Twin Cities is ranked 9th among U.S. public research universities by the National Science Foundation, the Academic Ranking of World Universities, and Newsweek's top 100 Global Universities.
• Many GREAT Programs
The U has something for EVERYBODY. They have tons of majors, an honors program, 300 study abroad opportunities in over 70 countries, internship placement and career planning support, constant fairs, events, and info sessions (pre-med, job & internship fairs, multicultural events, etcetera), student groups for pretty much everything, a very wide variety of people, award-winning professors, Big Ten traditions, and its sticker price is really not bad, even if you're an out-of-state student. The U also has a 13-credit policy, so students pay a flat-rate for 13 credits but anything beyond that is available at no additional charge.
• A BIG TEN University
http://www.gophersports.com
• Student Organizations
800+ student organizations: http://sua.umn.edu/groups/
• Food everywhere!
There is pretty much any type of food you want on campus. Three of my absolute favorites are Raising Canes, Wally's, and Mesa Pizza (the mac & cheese pizza is the best!) Many ethnic restaurants are near campus as well. Dining was given a B+ on College Prowler.
• Student-produced Media
The Minnesota Daily is the U of M's own newspaper run by college students. It's one of the largest student-run newspapers in the United States. The Society of Professional Journalists named it the #1 best daily student newspaper in the country for the 2nd year in a row (2010). The U also has many media opportunities, such as Radio-K, an award-winning student-run radio station at the U.
MAJORS
According to the UMN catalog, there are 179 undergraduate baccalaureate options. Not to mention, 141 minor degrees! If you click on any one of the degrees in the link below, you will be able to see information such as prerequisites, courses, program requirements, number of credits to graduate, etcetera.
* Link to Catalog: https://webapps-prd.oit.umn.edu/pcas/viewCatalogSearchResults.do?campusId=UMNTC&userDefinedSearch=true&keywords=&careerId=UGRD&programType=BACC
In case anybody is looking ahead into graduate school, here are the graduate programs the U offers.
* Link to Graduate Programs: https://apps.grad.umn.edu/programs/select_program.aspx?l=t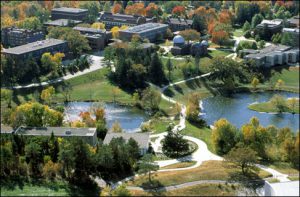 Carleton College
PROS
• The Small Size
This can be a pro and a con: after attending the U with 33,600 undergrads, I'm not so sure I would like being on such a small campus with just about 2,000 students. Then again, it might be a nice change. I would be able to make very close connections to many people, as well as have more one-on-one interaction with professors.
• The Rural Location
Carleton is out in Northfield, Minnesota away from the busy cities, which can be very nice for a change. It's also just about 45 minutes away from the Twin Cities; including the Mall of America, Downtown Saint Paul (Ordway, Landmark Center, Science Museum of Minnesota, Xcel, etcetera), and Minneapolis (Target Center, TCF Bank Stadium, tons of good restaurants and nightlife).
• Safe Campus
Carleton was given an A- for health and safety on College Prowler. Driving around the area myself, it seems like a very safe town. There are many small neighborhoods, and "downtown" Northfield, which is pretty much a street with some cute, small shops.
• Jesse James Days
One of Northfield's most historic events was when Jesse James tried to rob the First National Bank of Northfield. The weekend after labor day is known as the Defeat of Jesse James Days, which is an outdoor heritage festival.
• 8th Best National Liberal Arts College with a 31% Acceptance Rate
http://colleges.usnews.rankingsandreviews.com/best-colleges/carleton-college-2340
• Variety of Student Organizations: 130+ with 20+ Arts Organizations
http://www.carleton.edu/student/tostudent/orgs/

• Community Service and Studying Abroad
74% of students study abroad during their college experience, and in 2010 Carleton students contributed 10,000+ community service hours.
• Different Kind of Sports
Carleton may not be in the Big Ten, but they do still have varsity sports and intramurals, in fact, 80% of students participate in at least one intramural. St. Olaf is just down the street from Carleton, and there is always a fun competition between these two colleges.
• Campus Dining
Dining has been given an A- on College Prowler!
• Accepts up to 36 Credits from AP/IB/PSEO
Details: http://apps.carleton.edu/campus/registrar/catalog/current/prior_credits/
MAJORS
Carleton is the only liberal arts college on this list, and has a solid list of basic majors (to name some: chemistry, mathematics, environmental and technology studies, political science, studio art). Instead of minors, Carleton has concentrations. Many students at Carleton choose to have a concentration in addition to having a major.
* Link to Departments & Programs and Majors & Concentrations: http://apps.carleton.edu/academics/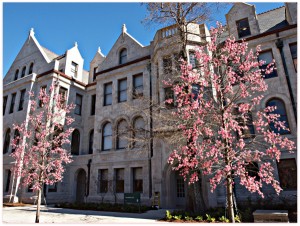 Tulane University
PROS
• Southern Food Anybody?
New Orleans is WORLD-FAMOUS for its food. Need I say more!?!?
• Large City: New Orleans
New Orleans is known for having quite the intense nightlife. I'm not sure if that would be for me, but at least I have a variety of options (rural, laid-back Carleton vs. urban, party-central Tulane). New Orleans is home to an abundance of rich culture, including entertainment and performing arts. I'd have the chance to experience the real Mardi Gras! It's been nicknamed "Hollywood South" due to the number of films shot around and in New Orleans.
• The Gulf of Mexico!
It's a bit of a drive from New Orleans to the Gulf, but the fact that it's a little over 100 miles away is still nice! The Mississippi is also nearby, along with Lake Pontchartrain.
• Easy Access to Streetcars!
There are three lines: St. Charles, Canal Street, and the Riverfront, which can each take you to different parts of the city as well as downtown.
• Other Transportation
There are shuttles to the nearby airport, to shopping and entertainment locations, as well as commuter connections among campuses.
• Weather
New Orleans has very mild winters, although very hot, humid summers (I would probably be back home by then! Minnesota summers are great!)
• Highly Ranked: 51st Best National University with a 24.9% Acceptance Rate
http://colleges.usnews.rankingsandreviews.com/best-colleges/tulane-university-2029
• Size
Tulane has about 7,100 students, which is the most medium-sized school out of all five of these. It would be nice to not be around too many different people, but also not know everything about everyone on campus.
• Many Opportunities
Research, artistic, and cultural institutes throughout Tulane's campus, requires students to participate in public service projects, international study abroad (80+ programs in 40+ countries), TIDES seminars for freshmen, honors program, average class size of 24 students, and more!
• Student Organizations: Over 200 Student-led Clubs
http://tulane.edu/studentaffairs/studentprograms/adviser-list.cfm

• PSEO Credits Considered, AP/IB Credits Accepted
Details: http://tulane.edu/advising/transfer_credit_new.cfm
http://tulane.edu/advising/ap_ib_credit.cfm
MAJORS
Tulane offers another solid list of majors, some of the more unique majors being social policy and practice, digital media production, psychology and early childhood education (both together as an area of study) and international development.
*Link to List of Majors: http://tulane.edu/academics/majors.cfm
Of course, this isn't an exhaustive list of pros. There are MANY more for each college. And yes, many of the pros are the similar, such as student organizations, but each college has their own unique groups. I left out a separate list of cons for each college because many of the cons are the same. First of all, college is expensive. We all know this. It's unfortunate but not an issue that I'm making a big priority when deciding between colleges. I say just go to the college that YOU want to go to. If money is what's keeping you back, don't sweat it. There are so many options for receiving scholarships and aid. Unless you're planning on going to one of your in-state colleges where the tuition may be well below the private, out of state college you're looking at, the price will be similar across the board.
For me, a huge con is when a college doesn't accept my collection of PSEO credits. Before enrolling in PSEO, I didn't even consider the issue I would have with applying to colleges. Keeping my credits became extremely important to me during the college hunt. I applied to colleges that should accept some to most of my credits, although they won't transfer over perfectly. This gives the U of M a significant advantage over the rest of the colleges.
Other than money and credits, majors can be a downside. If the college doesn't offer one of the majors I'm interested in, that can be a deal-breaker. I want to make sure I have the option there just in case I change my mind. These five colleges do have quite a variety of options, but some have more than others.
MyMajors and My Top Five Colleges
As talked about in a previous blog, my latest MyMajors Assessment results were:
1. Media Arts : Very Strong Fit
2. Environmental Studies : Very Strong Fit
3. Animal Science : Strong Fit
4. Film, Cinema, & Video : Strong Fit
5. Geography : Good Fit
6. Economics : Some Fit
7. Political Science : Some Fit
8. Fashion : Some Fit
9. Urban & Regional Planning : Some Fit
10. Journalism : Some Fit
My top three majors from this list are animal science, environmental studies, and journalism. The U of M would definitely be the best option for an animal science major (or pre-vet). Along with the major, there is a VetFast program which allows students to graduate early (http://www.cvm.umn.edu/education/prospective/VetFAST/home.html) and dual-degree program earning a DVM and PhD (http://www.cvm.umn.edu/gradprog/programs/cmb/dualdegrees/home.html). UNC offers marine science, which is comparable to animal science. Tulane, Carleton, and Berkeley don't offer an animal science major in particular.
Each college in my top five offers an environmental option, some more extensive as others. For example, looking at Berkeley's list, they offer environmental science, environmental economics and policy, energy engineering, conservation and resource studies, sustainable design, and toxicology just to name some of them. The U of M is also very big on conservation and offers an environmental sciences, policy, and management major with program sub-plans to choose from: corporate environmental management, conservation and resource management, environmental education and communication, environmental science, and policy, planning, law, and society. The U also has majors such as forest resources and fisheries and wildlife. Biology, society, and environment is a major that pulls the knowledge of biology together with social and environmental issues.
The U has a separate School of Journalism and Mass Communication within the College of Liberal Arts. When accepted to the U, there is a separate application process to enter into this school, which allows more competitive students to be together in smaller classes. When pursuing the journalism major, you have to choose one of three tracks: professional strategic communication, professional journalism, or mass communication (http://sjmc.umn.edu/ugrad/admitted.html). UNC does offer a journalism major. Berkeley has a Graduate School of Journalism, but doesn't offer journalism as an undergraduate major, although they offer media studies. Tulane doesn't offer journalism, but has a communication major. Carleton doesn't offer journalism either, but has a cinema and media studies major, which can be similar.
So to summarize: the U clearly has all three top majors, as well as some great programs for the majors. If I was to go into animal science/pre-vet, the U would be the place to go (unless I decide marine science is the right path). Berkeley has a wide-range of environmental options, but each college offers at least one type of environmental degree. The U and UNC offer a journalism degree, but each college offers some sort of communications/media studies major. Each college offers something that another might not, so it just depends on what I choose to study! Maybe it'll end up being something completely out of the blue, who really knows.
My advice is to make your own top five list and write down some pros and cons. Doing this, I was forced to do some deep research into these colleges. I was able to realize how much or little I knew about some of these schools, and it gave a very clear idea as to what college I'm leaning toward. It's never too early to start researching; you definitely don't have to be a senior to do so! Another word of advice: when possible, take some college visits! Unfortunately I was only able to visit colleges around Minnesota, but it still gave me a much better idea of the overall environment and "feel" of the campus. Good luck!
Fun Question of the Month: What kind of car do you drive?
I drive a used, red 2003 Audi A4! I picked it out myself this past summer and loooove it. The only downside was that I lost my little bumper sticker collection on the back of my dad's old Volvo. Right now I just have three: a Minnesota Nice sticker, a Boundary Waters sticker, and a 9/11 Memorial sticker from the latest mission trip I took last summer.
I hope you're all having a fantastic semester, just a few more months until SUMMER!!!
-Anna 🙂
Photo Links:
http://archrecord.construction.com/projects/building_types_study/universities/2011/durant-hall.asp
http://en.wikipedia.org/wiki/File:The_%22Old_Well%22,_center_of_campus,_University_of_North_Carolina,_Chapel_Hill.jpg
http://cse.umn.edu/faculty/bem/
http://www.frenchquartercondotrends.com/?tag=tulane-universiity-in-the-movies
https://virgo.physics.carleton.edu
Links I Received Info From (other links are in blog content above):
http://www.neworleansonline.com/tools/transportation/gettingaround/streetcars.html
http://tulane.edu/studentaffairs/tom/transportation/airportshuttle.cfm
http://admissions.tc.umn.edu/opportunities/whychoose.html
http://onestop.umn.edu/registration/guidelines/credit_load/13_credit_policy.html
http://www.studypoint.com/admissions/unc/
http://admission.tulane.edu/about/ataglance.php
http://apps.carleton.edu/admissions/parents/carleton_101/
http://uncnews.unc.edu/content/view/30/97/#Key%20Statistics
http://studyabroad.unc.edu/studyabroad.cfm
http://www.berkeley.edu/about/fact.shtml
http://studyabroad.berkeley.edu/find-a-program
https://collegeprowler.com
http://www.mndaily.com/about
http://www.visitchapelhill.org/mini#
http://www.visitingnorthfield.com/history.html
http://visitberkeley.com/about-berkeley
http://www.ranker.com/list/all-pac-10-schools/sportsyeah
http://apps.carleton.edu/athletics/
http://www.filmneworleans.org/2012/uncategorized/film-industry-turning-new-orleans-into-hollywood-south/