Majoring in criminal justice doesn't link strictly to serving as a police officer. The job field is vast. Parole officer? Counter-terrorism researcher? Fish and game warden? Crime scene investigator? The United States Bureau of Labor Statistics projects higher than average growth for occupations in the field of Criminal Justice between now and 2018.
At Felician College, Lodi, N.J., Dr. Gina Robertiello serves as the chair for the criminal justice program. "It's not just law enforcement. There are jobs from the county level to the federal with the FBI (Federal Bureau of Investigation) and the DEA (Drug Enforcement Agency). With an experience in theory, the career may be in research, but as a helping profession, it's not only about getting the bad guys off the street. If incarceration or probation is necessasry, it might be counseling and parole. Other roles include wildlife preservation and protecting animals. It is so much more than just policing."
She constructed the major when she joined the Felician faculty in 2005. 'It was a great opportunity to create a program with a concentration in criminal justice within sociology." The major took a year to organize and is defined as an interdisciplinary major within the social sciences and includes taking a broad array of specialized courses drawn from the disciplines of sociology, psychology, and political science. There are four tracks within the discipline that students can choose: police track, pre-law, corrections and criminology.
Robertiello has a master's and doctorates from Rutgers University-School of Criminal Justice. Her concentrations are in criminal justice and corrections as well as administration. "The first thing I did was to split the introduction class over the first two semesters." Her background is not as a practitioner, but as a researcher. The program faculty does include former police officers and Secret Service. "Students experience the two sides with the sociology, the research methods along with the hands-on field work. It is the theoretical and the practice."
She teaches the theory courses including Victimology and Criminology, as well as the Senior Research courses, which require a thesis paper, analysis of data, and a full defense at the end of the term. She's also an active member of the College's Institutional Review Board, which is an asset for her Senior Research students when they are applying for permission to administer their surveys for their research projects.
"It's our strength that we can look at theory and practice. Our courses can aid students looking at political science, pre-law …" Robertiello says. "There are different tracks where students who are geared more for a helping profession might prefer probation work as it is similar to social work. There is a course that looks at crime in society so psychology is students may minor in psychology, head to law school … We have one of the largest majors at the school." There are about 100 students registered in the program, taking courses from three full-time and two adjunct professors.
For students interested in the major, the required science class is forensic science. "While chemistry and physics are great classes, students love forensic science," Robertiello explains. "This is their natural science and they enjoy the practical nature of the course. It is what they will experience in the field or lab. They get to look at blood splatter, the crime scene analysis … they will know what wounds look like or gun powder residue." The math course is statistics. "I am very specific with the major."
Along with the coursework, students are exposed to the teachings of St. Francis. "As part of the experience is to look at the Franciscan way which explores the idea that everyone is able to be rehabilitated. It adds a unique prospective to the classes. It adds to the diversity looking at ethical and moral issues which we do stress."
Students may arrange for internships with public agencies such as police departments, county or state prisons, local jails, circuit and municipal courts, or a prosecutor's offices, or with private corporations which deliver security products or services. This experience prepares criminal justice majors for careers as federal agents, insurance fraud investigators, forensic laboratory technicians, prison guards and administrators, loss prevention specialists, private investigators, and municipal, state, county, and federal police officers.
Senior Lizbeth Espinal interned with the DEA during the spring and early summer. She liked the sciences in middle school. Nevertheless, it took hearing about the major from representatives of Felician to make the decision. "Classes are always interesting. There are studies on investigation, forensics and handling evidence. The classes have really opened my eyes to the career possibilities." Fluent in Spanish, Espinal looks to bring her language skills to her career as well. "I would love to be a linguist for the DEA. That's really my main goal… I want to be a special agent."
Regarding the major, Espinal believes majoring in criminal justice allows her the chance to make changes in people's lives. "It is about making a positive difference."
[well]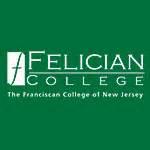 Founded in 1942 by the Felician Sisters, Felician College is one of the few Franciscan colleges in the country, and the only one in New Jersey. We've built our reputation with an emphasis on service and respect for humanity. We strive to represent those values in everything we do.
To learn more about the Criminal Justice program at Felician College, visit their website. If you are interested in attending Felician College, visit their school page to learn more about their campus and degree options.
[/well]