Real-Life Superhero Finalist for
School Counselor of the Year
By: Kellie Houx • Photos Courtesy: ASCA/Hill Signature Portraits
David Forrester | Olympia High School | Olympia, Wash.
When Peter Parker, the human who is bit by a radioactive spider and becomes Spider Man, determines his new-found gifts require some personal responsibility to bring about change. "Not everyone is meant to make a difference. But for me, the choice to lead an ordinary life is no longer an option," Parker says.
David Forrester, a school counselor from Olympia High School in Olympia, Wash., has been compared to Spider Man for his vast skill set as a counselor. Students and teachers call Forrester "Spider Man" for his ability to collaborate and establish a web of student support services. One of Forrester's achievements is developing a multi-year mission and action plan for his school's career center. After incorporating input from the district's career and technical education director as well as OHS's career center director and principal, Forrester obtained a grant and resources to develop websites and tools to strengthen the center's mission. He was honored as one of the five finalists and the only high school counselor to place in the American School Counselor Association annual award presentation.
As a result, the career center now offers resources to all students, including those who are interested in non-traditional careers and technical education. Forrester also has testified before the Washington state legislature in support of both school counseling and dropout prevention efforts and serves as cochair of the data committee for the Graduation: A Team Effort group for the state of Washington.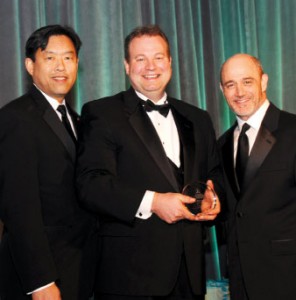 "I suppose the Spider Man motif fits because I am a systems sort of thinker. When I was teaching, my world was around 150 kids a day My networking was around the classroom, the parents and of course, my students. When I became a counselor, I went from 150 students to 500 students. That network has grown to 100 teachers and administrators. Locally, I am now working with foster care and the juvenile court system. I volunteer at the state level to work on dropout prevention. That puts me in collaboration with state leaders. The scope grows from a few hundred to affecting thousands of kids in Washington as we work with the juvenile court and foster care. I create a big web and I design it as such because I want to connect with the kids. Sure there are different layers in that web – the building, the district, the state and the national level. It is about building the bridges and links with parents, students and state agencies. I am a connector."
Another portion of Forrester's philosophy is to go the extra mile. "That's where the magic is. I want and enjoy going that extra mile for students. I may be somewhat unique as a school counselor with the background in technology. I use the technology, the data, for my practice and in that way, I am providing a more comprehensive counseling." Through this data and technological resources, Forrester advocates for school counseling especially in light of budget cuts and program belt-tightening.
Initially, Forrester taught career and technical education such as web design. Now, he is tackling dropout prevention at the district and state level. Even nationally, Forrester is discovering his voice and highlighting how dynamic counseling is. "Counselors are at the hub of the wheel of the educational system. We are usually picking up the pieces, but now we are doing more. Counselors have become content experts, encouraging students in math and science, aiding them in decisions about college and career readiness. We are networkers. We guide people, both students and faculty in learning the system."
Those interconnections are relevant to his future as a counselor. "We are bridge builders. We are involved in the entire school system. We are aiding teachers and increasing their scope in how they can help kids. They are with their students more than counselors. That is reality, but as counselors, we can help these teachers look at strengths within students and they can continue the work we, as counselors have done, such as college and career planning. The world is more complicated because there are so many choices."
Forrester is quick to dispel his super qualities. "While I might be called Spider Man, the counselors here include Superman, Wonder Woman and more. Each of the counselors brings in their own super powers to the mix. My job is to help families and students navigate these waters."
"[Forrester] is a leader, innovator, model counselor and significant contributor to the school counseling profession," says Diana H. Gruman, Ph.D, Washington School Counselor Association president. "We respect his skills, including a collaborative style, technological vision and a warm demeanor, which enable him to make significant changes with a coalition of supporters. However, what we admire the most is [Forrester's] singular focus on improving the life changes of his students."
At OHS, Forrester also used the skills acquired from his technical background to develop cutting-edge school counseling tools. One of these tools, developed in conjunction with the developer of EZAnalyze Software, is a data-tracking tool that links student data with school counseling intervention results data to present a link between school counseling and student achievement. The system, now known as Time Tracker, has been utilized by many school counselors and educators across the country. Forrester continued to use his technical skills as technology chair for the Washington School Counselor Association to manage an online professional networking community called the Washington SCENE, as well as the Washington School Counselor Association's website.
Forrester continues to learn as well. An assistant superintendent taught him that things take time and that real change can come slowly. "Something that will be sustainable for kids will take time. Over the past few years, dropout prevention has been a prominent issue at the state level. However, the issues change. The advice I give to counselors is to take a take a risk and challenge yourself. Create a vision and take risks to make the accomplishments; stay true to the vision. Counselors know the job can be demanding, but setting small goals leads to bigger goals and more successes."