It is now all too common to see parents 'forcing' their children to do something they want instead of what the children want for themselves. Ask any Asian kid and more likely than not you are going to get the answer that their parents do indeed force the children to do what they want of them.
In this post, I will briefly explore the mindsets of pure – as in, not Westernised; not having lived in a Western community before – Asian parents regarding children's – primarily boys – education and future. Note: all of these are written based from my own experiences and by no means objective! Comments are welcome.
****
In the Asian mindset, there are three major classes of professions.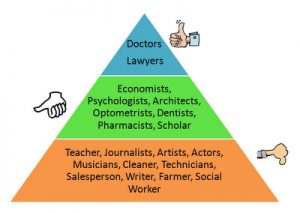 The first class consists of doctors and lawyers. These are the two jobs that are highly appreciated due to the distinction results necessary to pursue them. Doctors and Lawyers are regarded as the top professions of a society because they are the 'smartest'. Oh, and not to mention they pay well.
The second class – not as good as the first class but still acceptable to certain levels – consists of science-based jobs such as engineers, dentists, optometrists, pharmacists, psychologists, and architects. These jobs require slightly lower academic results compared to the first class but they are still competitive. The second class also includes commercial jobs in the fields of finance, accounting and economics due to their good pays.
The third and last class simply consists of the remaining jobs available. Teachers, artists, musicians, actors, journalists, salesperson, event organizer, cleaner, technicians, you name them. These are the jobs that do not require a high standard of education and results to get into. According to most Asian parents, these are the jobs that are 'common-sense' and that anybody can do well, regardless of whether they go to university or not. As a result, it has no value.
This stereotype of professions could have originated from the poor background history of many Asians – compared to the Westerns. Being poor, many couldn't afford to go to school. Going to school was a privilege as it opened the path to becoming famous and rich.
Although the world we live in has changed considerably, this mindset still hasn't. If the parents could afford it and the kid's results are good enough, the kids do not have much of a choice except to go to university. And in university, the kids must study something either in the first or second class as the third class was simply just 'common-sense' that non-university graduates can also succeed in.
And as the first and second class are mostly science-based, almost all Asian communities promote the natural science subjects (math, biology, chemistry, physics) and logical (left-brain) learning. A Western coming to Asia and will most likely see students who are better than them in maths but much worse in the languages or the arts.
*****
Now while there are three classes of professions, there are also three types of parents.
The first type parents are parents who are really forceful in their children's pursuit of first class professions – doctors or lawyers. They do not hide their expectations. They pressure the children to do well in school and unless results are stellar, they are punished. They need their children to be the best in their community to preserve their name and reputation. That was more important than the children's happiness or satisfaction. No, their excuses are always the same: 'I know what's best of you and that is to be a doctor or a lawyer and earn lots of money.' And gradually, this teaches the children to be competitive in their approach to life, which is detrimental to their abilities to find peace and work cooperatively in the future.
The second type parents are slightly less forceful. These are the parents who are usually more exposed to the Western world than the first type parents. They want their children to be happy, or that's what they say. They push instead of force their children to achieve high standards. And when the times come for the children to go for universities, they let them choose – or so they think. If the child chooses something in the first class or second class professions, they would be more than happy to support him emotionally and financially. However, if the child chooses something in the third class profession, they will tell the child to think again. To the second type parents, any third class profession that the child chooses are not the profession that the child really wants. They don't express their expectations out clearly, but in their head they are quite similar to the first type parents. The only difference is their approach towards the child. While the first type parent will get it out of their child by force, the second type parent will talk it out of child by subtle manipulation. When accused to force their child into studying first or second class professions, they will deny it.
Now, the last type of parents are the ones who allow their children to do anything they like, regardless of whether it is a first class, second class, or third class profession. To the typical Asian mindset, these kinds of parent are bad parents because they are not thinking about their children's future welfare. But to the third type parent, as long as their children are raised up to think ethically, they have done their job well. What the child does when he grows up is not the parents' choice. The child's life does not say anything about the parents. All they want is for their children to be happy and satisfied with their jobs. And to do that, they as parents will support the children all the way in the children's pursuit for happiness.
Sadly, most Asian parents nowadays are still in the first and second categories. I believe it to be a fact based on my personal experience but there is nothing I can do unless the parents themselves start to change.