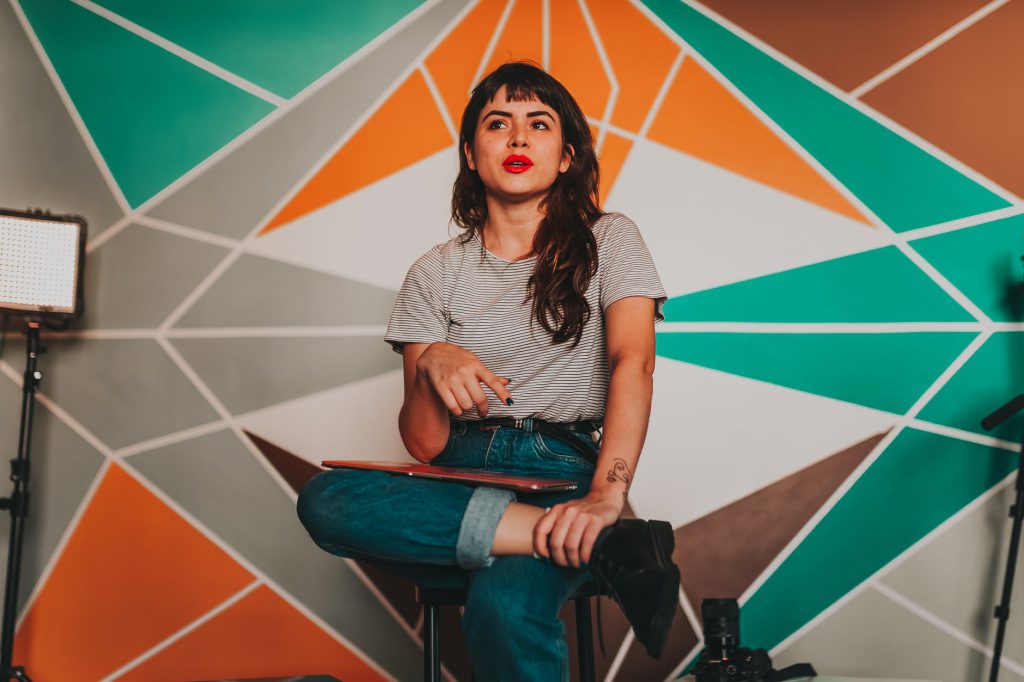 Your creativity is a big part of who you are. And where you're going. To take it – and your future – as far as you want, you need an education that's focused on developing your talents and putting you on the path toward the creative career that stirs your imagination. A collaborative education that's all about the work. The students who create it. And the instructors who guide them every step of the way.
The first step is to explore these areas of study. And think about where you fit in, in an industry that runs on ideas.
Who will create tomorrow's designs?
You can see opportunity in the web ads, magazine covers, logos, movie posters, and product packages created by graphic designers. In the TV, print, outdoor, and web ads of advertising professionals. In the aesthetic and practical work of interior designers. And in the new products that spring from the minds of industrial designers.
Tomorrow's media?
It takes a combination of creativity and technical savvy to deliver the new smartphone apps, video games, audio and visual experiences, and all the other digital developments consumers can't get enough of. You could join them in fields such as audio production, animation, game art & design, web design, photography, and visual effects.
Tomorrow's styles?
The world of fashion is full of career possibilities for people on the cutting edge of style, whether it's creating your own line of apparel, connecting with consumers, forecasting trends, drawing shoppers to the store, or managing a retail operation.
Tomorrow's dining experiences?
Consumers have an insatiable appetite for something different – and a growing interest in cuisines from around the world. It adds up to an opportunity to turn your passion for food into a career. You could work in the kitchen as a culinary artist, or in culinary management as the one who blends all the ingredients – from the food to the ambience – to bring customers in the door and keep them coming back.
A focused education can help you prepare for a career in any of these professions, with advantages that include:
• Learning that is designed to parallel as closely as possible what you'll find in the real world.
• Professional-grade technology. In many cases you'll have the opportunity to learn on the same hardware and software you'll use on the job.
• Experienced, talented faculty, many who work in the fields they teach.
• A collaborative, supportive learning environment with instructors who guide and mentor you as they help you develop your talents.
• The support of a career services staff committed to helping you build the interviewing and networking skills, along with the professional portfolio, to market yourself to potential employers.
No matter which opportunity you choose, there's never been a better time to follow it to a creative career – starting with the right creative education. One that gives you the guidance and the tools to create your tomorrow.

To find your next creative career visit: create.aii.edu
About The Art Institutes
:
You'll find those answers at The Art Institutes schools. It's our mission to take your talent and passion and help channel that energy into a productive and fulfilling career. That means giving you the education, skills, and experience so you're prepared for the world of opportunity that exists for creative thinkers like you.
Learn more: The Art Institutes Website | Get Matched Now!