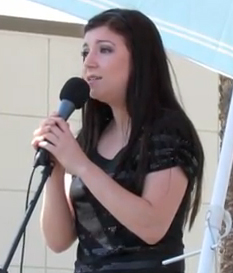 Well, here we go again! This time, I am going to offer up a look and a listen to Gilbert High School senior Brittany Howk. Brittany submitted a song for the Creative Outlook contest. The post is on our website at http://mymajors.com/blog/creativeoutlook/2012-performance-contest/somewhere-over-the-rainbow/
So Brittany took a few minutes to answer my questions about her young academic life and her unique rendition on a standard. "I go to Gilbert High School in the growing town of Gilbert, Arizona. My school is the oldest in the town of gilbert, with about 3,000 students. I have gained such a great high school experience there. All of the performing arts are top notch, winning awards around the state, giving me lots of opportunities to work on some great projects! My heart is with the theater program though. The theater department is amazing. We are one big happy family and we put on some amazing productions. This year my Performance Theatre's class took the state title at the One Act Festival!"
While many of us know the iconic piece, Somewhere Over the Rainbow, sung by Judy Garland for Wizard of Oz, but Brittany spins her own flair and gives the selection a little soul that comes from her.
"I sang Somewhere Over the Rainbow because I wanted to do something that would show a different side of my voice, as well as a different take on the song. The song also applies a lot to what I am going through in life, with my dreams being hard to reach and transitioning into a new phase of my life!"
While the contest is fun, Brittany has all the typical high school senior requirements as the year comes to an end. "Next year I will be attending Arizona State University for theater in hopes of training to eventually transfer to a musical theater program elsewhere," she says. And all we have to say is good luck.