So. I've started this entry about seven times now, and I'm having a difficult time deciding what I want to focus on. It may have something to do with the fact that about a million things have happened since the last time I blogged, and that I've thought about said million things in about a ka-gillion ways. That – my friends – is a lot of ways.
It is both strange and wonderful to finally be on the other side. Walking from class to class, through Washington Square Park or to my dorm, I see groups of hopeful high school students being lead around by admissions ambassadors. They are likely juniors and seniors, wearing purple stickers to indicate that they are indeed guests, that they can go into buildings and ask questions, that they can be lost and look at maps. It's mind blowing to think that it wasn't too long ago that I was in that position, and that my little brother is in it now!
Here's one of the million things I've thought about: I like kitchen noises. Weird, I know, but hear me out. I thought that in college I would spend a lot of time in my room studying or in the quiet lounges in my building, or at the library, of course. Though I do work in all of those places, the best place for me to get my work done turns out to be the cafeteria/café in my dormitory. Looking back, I always studied and did homework at the kitchen table while my mom cooked, and so the clanking of forks and knives and the searing sounds of vegetables in pans actually helps me stay more focused than silence.
It's crazy how I made lists upon lists of questions for the admission ambassadors at every school I visited last year, and now I see there was a whole list of questions they could never answer because only I would be able to.
Here's another something I've thought about. Before applying to NYU I read a lot about it on uncertified places on the internet. People wrote that it was a lonely place, lacking community. According to online blogs, sans the assistance of a quad or football team, NYU lacked spirit or any sense of family. The place was just 'too big.'
My personal experience, however, has been the complete opposite. I signed up to live on an explorations floor in my dorm; our theme is Healthy Living. Our RA puts together a ton of activities for us to participate in together, like rock climbing.
I've made friends in both my Art In the World and Introduction to Theater Studies classes because we decided to join one another for lunches and even for a homemade dinner once.
Being in Tisch School of the Arts is a whole other world in itself, because we spend eight hours with the same 18 people three days a week, and then we get along so we make plans to see shows or movies or watch SNL or have a meal or go to Union Square or something on the weekends or after class together. And we invite roommates or friends we've made from other classes and the network grows and grows.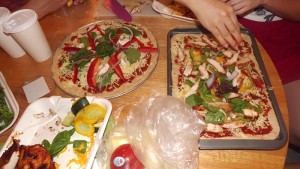 There is actually a heck of a lot of social life to handle and a big bucket of distractions by way of this amazing city – but what helps is having like-minded companions who understand the workload. I am doing my best to find a routine that works for me.
Speaking of priorities, I've met with my counselor 🙂 I'm so excited about the possibility of studying abroad, and by the looks of the classes I'm interested in taking, I might accidentally earn a minor in music.
So basically, hang tight! There are tons of things that will be impossible to know until you actually start school, and that's positively okay. Just follow your gut. Or your heart. I followed both to NYU, though some people even told me that the undergraduate program for the arts was no good. Turns out that this program is exactly what I need. And at the end of the day, that's what matters most!!
I haven't taken as many pictures as I wish since I've been here, but have a look see at these, and best of luck on your college visits!