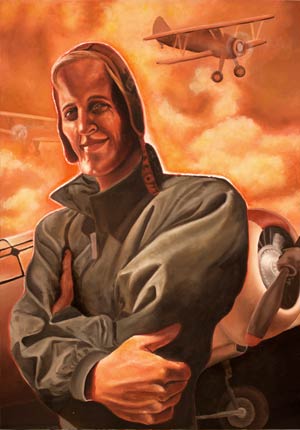 With the Creative Outlook Magazine cover contest in full swing, we have been featuring some artists from time to time. Kirbi Fagan is another artist whose single entry is a story that is ready to be told.
"When creating Air Boss, I wanted to create an image of a hero that had storytelling qualities. When paging through books on historical aviation I became very interested in the imagery. I wasn't as interested in the planes as I was the people who flew them. I am very enthusiastic about nostalgia and Americana images. I used vintage photos to helps me come up with the planes. I always use people I know in my paintings, Air Boss himself, is a good friend of mine who I distorted to add character. The title Air Boss was inspired by a conversation with my Grandpa, who has been building an airplane in his garage on Lake Michigan since I could remember," she says.
Kirbi is entering her senior year at Kendall College of Art and Design. She is studying illustration. "I chose illustration for my major because I liked to tell stories in my work. I like the idea of working for a client and having my work used as a commercial product. When I graduate I will be pursuing a job in creating art for book covers, greeting cards, magazine spot illustrations and illustrations for learning products."
However, Kirbi didn't start painting until college. She was that "crafty" and creative child and tween, but she didn't start drawing until her sophomore year in high school. "I was extremely lucky to be able to take many art classes. I was devoted to learning to draw and loved drawing! I learned to draw by drawing from observation and copying photos rather than drawing from my imagination," she says.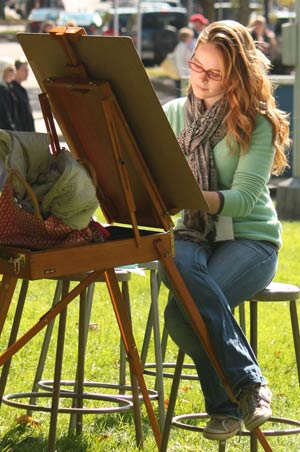 "Today, a strong drawing background removes any limitations on what I can create. Throughout high school, I exposed myself to other arts, like music and theater that still inspire me today. I looked at art in books, online and visited local galleries. I really struggled in math and science. Art class was the first place where I felt I fit in among other creative, like minded students. The greatest thing I gained from making art in high school was learning that I loved to make art. High school sparked my love for art and design and there, I was strongly encouraged to move forward in the arts."
To see more of her work, visit her site at www.kirbifagan.com.
Creative Outlook Magazine is accepting entries for the #CreativeCover and #CreativePerformance Contest until September 1, 2012. Submit your entry and VOTE for your favorites at http://www.creative-outlook.com
Get Matched with Kendall College of Art and Design