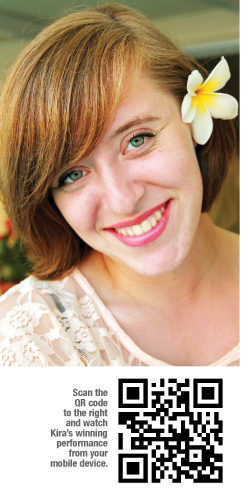 Kira Lindsay, a junior at El Segundo High School, near Los Angeles, Calif., scored the most votes in the Creative Outlook Magazine's performance contest with If Only You Knew.
"The song started out as a love song to a guy, but it turned into a song about people feeling accepted. I have been the weird theater kid. I see people who are lonely and I wanted to reach out. I wanted to let them know that they are not alone. Even as a child in elementary school, I was that weird theater kid. I get when people are lonely and feel left out. I want people to see how great they are and hope they can be appreciated, far above looking at the flaws," she says.
So Kira knew her original song had some strength and individuality even as she was writing it. "It took me a couple of weeks to write the lyrics. I had school and other activities. When I was happy with everything, my dad has the video and recording equipment to make the video." The video is full of images of isolation, but also of hope, she says. "I was determined to see this through. My dad plays guitar and my mom plays the flute. My older sister plays piano. It was only right to give this a try."
Kira says she has singing since she could speak and her mom says even before that. "I was Annie in my first musical. I think I was 10, almost 11. I was getting ready to go into fifth grade. Singing has always been my passion. So far, I have been in 16 musicals. They are definitely what I love most. I am aiming for a career in musical theater. I want to be on Broadway!"
Kira's musical career has been with the El Segundo Youth Drama Program, an active community theater program. "They are my family. Kristie Rutledge was my director for years and I really believe that without her guidance, I wouldn't be where I am today. She made sure we put on some amazing musicals."
Kira balances her courses at school along with her art. She is taking English 11 honors, pre-calculus honors, Spanish 3, U.S. History and Chamber Choir. "I spend time rehearsing for the plays. Plus I take jazz and ballet at Legacy Dance near us. At school, I am an orientation leader for freshmen. We help the freshmen connect to events so they are less afraid of high school. When I get a free moment, I also babysit." She recently won an essay contest and placed first in the 2011-2012 El Segundo High School PTA Reflection Contest in the literature category.
As for the future, Kira plans on attending a community college for two years and then transferring to a college or university known for its musical theater program. "Singing is my life and I couldn't imagine not being able to sing. I do it more than talking. Truthfully, I love everything artistic; I love writing, dancing, acting, writing poetry and songs. I even paint. I took an art class at high school for fun and fell in love with acrylics. I think I bought out an arts store and all the canvases. I like art deco and painting people, but not necessarily perfect. I even entered the cover contest."

Read Creative Outlook NOW! | Request info from these schools & enter to win a $500 Scholarship