What if you could attract the attention of a First Lady or some of the top tennis stars as a fashion merchandise management major? Two Mount Mary fashion design alumnae have done just that. Donna Ricco designed a dress worn by First Lady Michelle Obama on The View, and Eliza Audley designed athletic apparel worn by professional tennis player Lisa Raymond and other tennis stars during the 2012 London Olympics.
Mount Mary University's bachelor's degree program in fashion was the first four-year fashion degree program in the country; today it has a reputation as one of the top fashion programs in the country. The fashion department offers majors in both fashion design and merchandise management.
Department Chairwoman Sandi Keiser says the department has about 130 students in the two majors. The majors are part of the School of Arts and Design. "Both majors appeal to slightly different students. The merchandise management major appeals to students who are outgoing and  enjoy interpreting trends and putting looks together to match the personal style of their customers.  In merchandising, students must have an aptitude for math. There is a need for math in taking markdowns; the buying and assortment planning process; and scheduling and budgeting employees."
Fashion design majors are passionate about the ability to bring their ideas to life. They make decisions about color, fabric, silhouette, and details; they need to sketch, both freehand and on the computer, and they must know how to make patterns and put a garment together. "The aptitudes are different," she says. Both majors allow students to start their major courses right away.
"Spreading the major courses over four years helps in skill development. It means that each semester a student is taking something towards their liberal arts core as well as some of their major courses.  Fashion trends are inspired by what's happening in the zeitgeist. Taking core classes at the same time students are developing skills in their major helps them to make connections between the two." Merchandise Management majors get an automatic business minor as part of their degree. It's a real strength when we have students taking financial accounting rather than merchandising math. The business minor is a unique feature of our program."
Each year fashion merchandise management students have the opportunity to travel to either New York City or Paris for a behind-the-scenes look at the fashion industry; destinations alternate each year. "The month-long Paris program gives design students the opportunity to work with designers and artisans who work in the ready-to-wear and couture industries. They hone their draping skills, learn to work with lace, make a felt hat, and do shibori dying and nuno felting.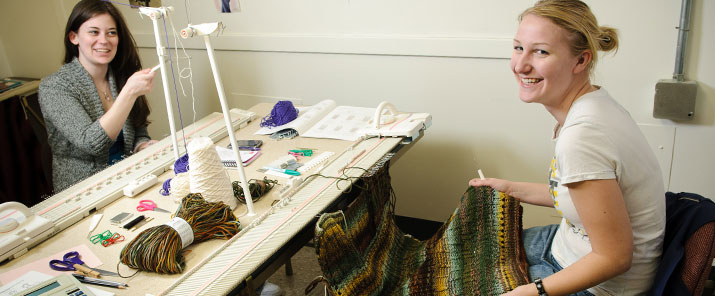 Merchandise Management students focus on trend analysis. They have classes on trend forecasting, blogging and photo styling. All participants visit Paris's major art museums and Versailles; a day-trip to Antwerp, Belgium is also included. The trip is timed to be in Paris for the menswear ready-to-wear collections and the couture shows where students volunteer to work behind the scenes."  These opportunities are facilitated by the University's Paris partner, The Paris-American Academy.
The five-day New York City experience occurs in October. Students visit trend forecasting companies, costume exhibitions, and design studios and showrooms. On both trips there is time built in for students to shop and explore these fashion capitals on their own terms.
Technology plays a large role in both majors. Merchandising majors learn Adobe Photoshop and Illustrator as well as Plan-o-gram software which allows them to design store layouts.. "Stores use this software to ensure a feeling of continuity for their retail brand. No matter which of a retailer's stores a customer shops, they will find merchandise in a similar location. Design majors learn Adobe Photoshop and Illustrator to create color palettes, technical drawings, and mood boards.  They also learn Kaledo software for textile design and Optitex software for computer-aided patternmaking.  Keiser says the Kaledo software helps students create weaves, knits and other patterns.   "It's important for students to know how to use these industry-specific software when they enter the job market."
Students need to maintain a 2.5 cumulative and major grade point average; all majors are required to complete a two credit internship. "Students work with their professors and the career development office to develop job seeking skills, hone their resumes, and practice interview skills. A professional development class is a capstone class for both majors." Students have had internships at Kohl's, BonTon, Jockey International, and Harley-Davidson Motor Clothes locally; some opt to find internships in New York, Chicago, or LA.  Throughout the curriculum students are exposed to numerous industry professionals who collaborate with us by offering fieldtrips, internships, speakers, and real-life fashion projects.
The CREO fashion show each May celebrates student accomplishments says Keiser. The Fashion Show Coordination class plans the event doing everything from coming up with a theme, selecting the invitation and program design, to auditioning models.  They work with the area's best production professionals to plan staging, choreography, and music. It's a top-notch event drawing an audience of almost 1,500 to the three performances. The CREO fashion show is a live, runway production staged in the Harley-Davidson Museum's urban, chic garage. "All garments in the fashion show must be designed, patterned and constructed by the student. Sophomores get to have a piece in the show. The juniors and seniors design entire collections," Keiser says.
In addition to academic scholarships, fashion design majors at Mount Mary may qualify for one of 11 fashion scholarships. Incoming freshmen and current students majoring fashion, fashion merchandise management, and other art-related majors can apply each year for these scholarships of up to $3,000.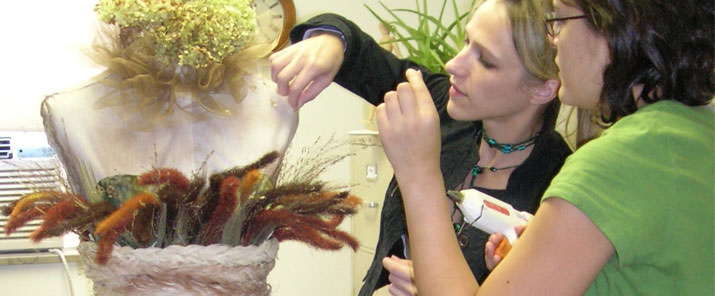 [well]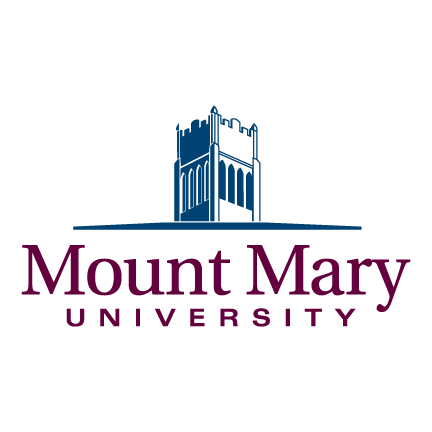 Mount Mary fosters creativity in all its students. It doesn't matter if you're an artist or a business manager, a scientist or a counselor; it's something we've done for 100 years.
To learn more about the Fashion Merchandise Management program visit Mount Mary University's website. If you are interested in attending Mount Mary University, visit their school page to learn more about their campus and degree options.
[/well]