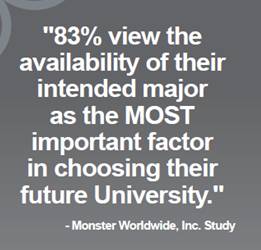 After receiving your results from MyMajors and now that you have a goal in mind for your future, you may want to delete or cancel your free account. But before you do, keep a couple things in mind!
If you delete your account you will not be able to access your recommended majors and be able to view colleges and careers that match your interests and academic achievements. You can always re-take the assessment or login to change your previous answers, which will give you completely new results!
You may also want to keep your account open if you are a junior in high school and want to update your information after your senior year. You may have thought you would love to work with kids the rest of your life, but one daycare summer job later, you decide that is not your cup of tea! You can always log back in and update your grades, and classes you have taken instead of starting over from scratch!
If you are unhappy with your results, or you are thinking MyMajors didn't pick the major(s) I am thinking about…check out this advice to help you along your way: http://mymajors.com/blog/index.php/mymajors-didnt-pick-the-majors-i-am-thinking-about-should-i-forget-them/
Delete your account here:
http://www.mymajors.com/delete-my-account.cfm
Best of luck to you in the future!
The MyMajors Team