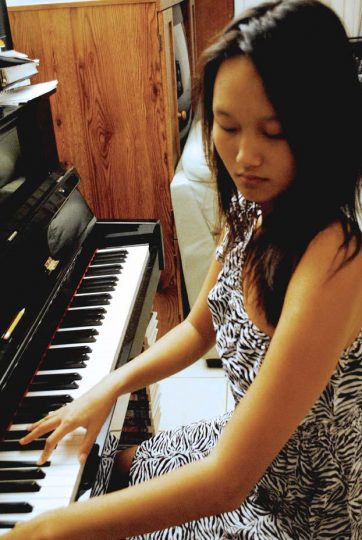 Yuan Chang, a senior at Cape Coral High School, Fla., is a sort of late bloomer to the world of piano, but she has made up for her late entry into music with great zeal. She joined her school orchestra to learn the violin and plans on being part of the music teacher's rock band class. Yuan plays guitar and keyboards.
"I started out playing by ear and I personally like to play by ear, but I knew I needed lessons so I could learn to read music. I have been playing for four years now," she says.
However, anyone who visits Yuan's YouTube channel will not hear the classical pieces her piano teacher enjoys. Rather viewers are going to see Yuan sit at her family piano and play covers that many high school students would not know such as Ozzy Osborne's 1980 hit, Crazy Train or Guns N' Roses' Welcome to the Jungle. There are a few more contemporary band covers. She is currently working on a cover of the Red Hot Chili Peppers' Especially in Michigan from the 2006 album Stadium Arcadium.
"I like the idea of covers that people don't normally try on the piano. I also like the harder song or the pop tune to see if I can create that piano cover," she says. "For more lessons, I am learning the first prelude from Gershwin. It's jazz and I rarely play any jazz so it's good for me."
After three years in the International Baccalaureate program at school, Yuan stepped away, but continues rigorous classes including four Advanced Placement courses — 2D design, English, European history and psychology. She is also taking more art and writing courses, along with orchestra.
She is a member of the Tri-M Music Honor Society, an international music honor society for middle/junior high and high school students. It is designed to recognize students for their academic and musical achievements, reward them for their accomplishments and service activities, and to inspire other students to excel at music and leadership. Yuan says the high schoolers have worked with some of the middle school music classes. She is also part of the photo club. With the creative writing club, Yuan is helping put together the high school literary magazine. She designs floats and works on them. Her design skills include creating logos and T-shirts for other clubs. Yuan tied for first in the high school division, instrumental, in the Stars of Tomorrow Scholarship competition. She took first in the 11th grade poetry contest.
Yuan wants to attend University of Southern California and the University of California, Berkeley to study music business or seek out a composition degree. "I don't want to go into performing, but I want to be part of scene, perhaps a band or two. Of course, I also have to add the graphic design. I simply like every aspect of art, performing, visual and literary."