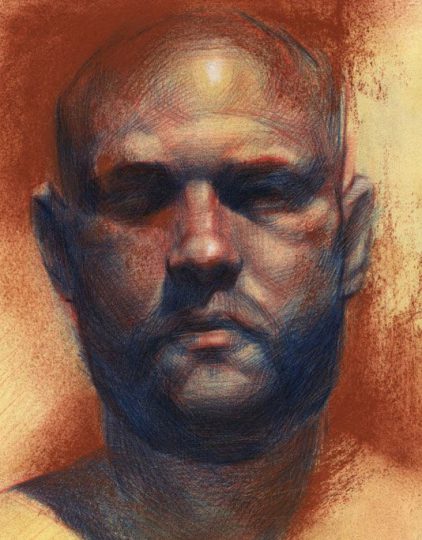 Evan Kitson splits his time between New York, N.Y., and Lancaster, Penn., where he lives and works. Evan graduated from Pennsylvania College of Art & Design in 2010 with a BFA in Illustration. He then attended the New York Academy of Art, where he earned his MFA in Fine Art with a focus in Drawing. Evan has participated in numerous group exhibitions in Lancaster and New York.
Recently, his work could be found in the exhibition "We're In This Together," curated by fellow PCA&D Alumni and Faculty Matt Chapman, which showed at Sunshine Art+Design in Lancaster and the Demuth Museum's Annual Invitational Exhibition. His exhibition, "Inspired By The Masters," showed at Red Raven Art Company in Lancaster. "Beyond The Surface," a survey of contemporary drawing, an exhibition that Evan is curating, will be on view at Red Raven Art Company Spring 2016.
During the summer of 2011, Evan studied with the painter Odd Nerdrum at his home in France. His work can be found in the recently published book The Nerdrum School: The Master and His Students. Evan's work has appeared in PoetsArtists Magazine, Manifest Gallery's International Drawing Annual, theNewerYork and in the soon-to-be released publication The Figurative Artist's Handbook.
Kitson currently teaches at the New York Academy of Art, Harrisburg Area Community College, The Teaching Studios of Art and the Pennsylvania College of Art & Design.
Evan's subject is twofold – his chosen symbols, drawn exclusively from observation, and his own perception.
"In my work, I chase a profound level of clarity through honest observation of my subject," Kitson said. "I'm constantly adding and subtracting media on the surface, carving out the atmosphere to find the form that exists within it. It's through this practice that I begin to knock back the noise and reveal a timeless silence. Through my years of study, I've come to find that no two subjects are alike, even the same subject in the morning will have changed by night, if only through our observation and new-found understanding. Each look at my subject affords greater insight and I find what I have placed on the surface of my work often isn't true and must adapt. My work becomes a balancing act of clarity and mystery, form and atmosphere. It's through this push and pull that my surface becomes a worked record of struggle and gains its own history, its own life."