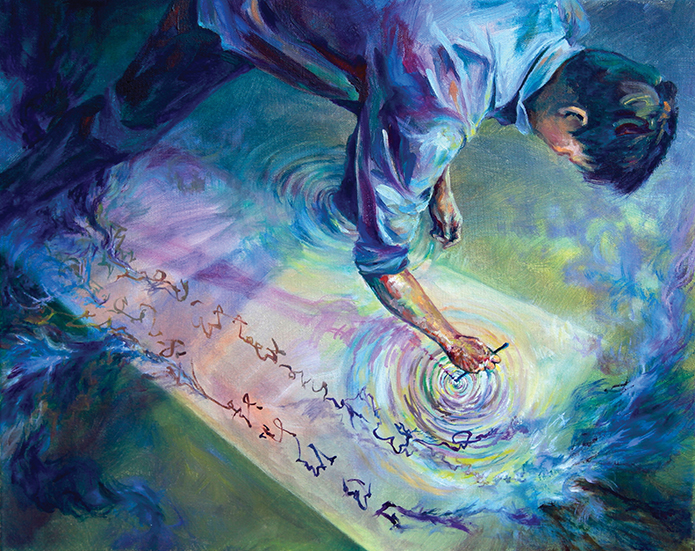 Michelle Huang, a junior at Dulles High School in Sugarland, Texas, about 20 minutes from Houston, has already earned a few awards for her art, but she doesn't let any of these accolades go to her head. During middle school, she placed at the Houston Livestock Show and Rodeo. In her first year of high school she received a Gold Seal, the highest rating given at the Visual Art Scholastic Event (VASE), sponsored by the Texas Art Education Association, and her oil painting, Call of the Plains won the annual Congressional Art Show Competition and will be on display in the U.S. Capitol for the year.
Her works submitted to the Creative Outlook Magazine cover contest not only appealed to the voters, but the panel of judges. Calligraphy unanimously rose to the top of the list. "I have competed in many competitions. Winning or losing, it is pretty even. My honor is my own and I respect those who win or place in these events. My art means a great deal to me. I also know my art will mature and grow as neither it nor I are static."
The piece titled Calligraphy was originally part of her AP art class. The piece depicts her father working on the very ancient and traditional art form of Chinese calligraphy. "My dad Xin taught himself Chinese calligraphy and he has been working on this art form for about 40 years," she says. "I admire him so much. He majored in physics and earned a doctorate in the science. When we moved to Texas, he ended up with a small home studio. He finds time to work on his calligraphy every day."
Michelle not only shares a love of math and science with her father, her mother Li Li Huang is a chemist. "My parents are my inspiration. I enjoy math and science, just as they do." She is part of the high school's Math and Science Academy. "When my father was in China, he was directed to math and science and art was set aside. Here I can explore the worlds of science, math and art."
When Michelle was 7, Xin signed her up for art lessons. Her private art teacher, Xinsheng Wang, introduced her to acrylics first and then to oils around the age of 9. "He is so absolutely brilliant, especially in the way he mixes Eastern and Western art styles. I learned from him, much like an apprentice learns from a master artist."
Once she learned the fundamentals, Michelle knew she had to continue to advance her skills. Amanda Freeman taught Michelle in Dulles High School's Advance Placement Art class during her sophomore year. "She is so passionate and supportive. I have learned more perspective and I can articulate what I want. Ms. Freeman has helped me with composition and so much more. She's a favorite teacher."
Michelle is currently taking Calculus BC, AP Statistics, AP Physics, AP Chemistry with a lab that meets twice weekly, AP English, AP Design and a class called Scientific Research and Development which pairs a student with a mentor through the year. With school organizations, she is also the co-president of the high school's Red Cross Club and an officer with TASK (Teens Assisting Special Kids). "We have a great special education program at the school and in the district. We throw a prom for the students. It's great!" She is also part of the Spanish Honor Society.
Michelle describes her artistic style as "very dynamic" and, for now, oil paintings are her favorite thing to create.
"With oils I'm able to capture things in a way that I want to," Michelle says.
She also helps set an example for her two brothers and sister, triplets in the seventh grade. "I know I have to do well in school. That is important. I know I can make all As. I can see that I am not painting as often as I would like, but I don't have the time with preparation for the SATs and looking at colleges and careers. I am not sure about my future and whether or not I look at the medical or computer science fields. I really want to go into a college with a good art program."