GIANNA MANGICARO – Paper Lion
Gianna Mangicaro, a senior in upstate New York, took her first art class as a junior and created Paper Lion Sculpture. "The project came to be because I didn't want to do the normal. I wanted to do something out of my comfort zone. It took me about a whole week to do this significant art piece." Gianna says she also wanted a larger piece and she estimates the art to be about three feet by four feet.
"I am pleased that I had such success in my first art class," she says. The piece is white paper cut and designed to make the lion's face and mane. Each strand of the mane was placed individually. "I am still making art, but with all the classes for college preparation and several AP courses, I couldn't take an art class. I do whatever pops into my head. I may find something on the computer that inspires me. I taught myself how to crochet because I was bored one day." She learned she dislikes charcoal as an artist's medium. "We were doing a self-portrait where we had to draw half our face and the other half was the skeleton underneath the skin. It was so messy. I really like paper sculptures. It's my favorite."
Along with school work and art during her free time, Gianna is also involved in her school's drama club and DECA (Distributive Educational Clubs of America), an organization that looks at marketing, finance, hospitality, business management or entrepreneurship. During the musicals, she has served as a dance leader to teach the cast the steps to dances for the school musicals. Along with school and art, Gianna is also a black belt in karate and is an avid horseback rider. "I sometimes volunteer with children who have disabilities and enjoy a therapeutic horseback ride."
Her college could take her into the world of nursing. "I am still looking at college but I am interested in neonatal care or intensive care nursing," she says. "I like math and science and math is my favorite subject. During a visit to a NICU, I saw that the nurses made colorful and well-designed name tags for the babies and I realized I could bring my art to work too."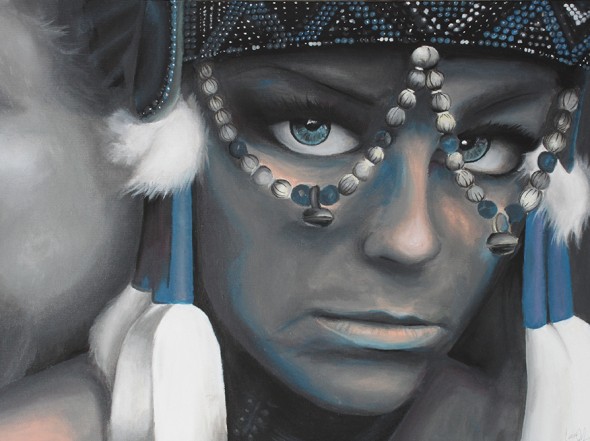 CAMERON JENKINS – Hysteric Blue
Cameron Jenkins, 17, a senior, North Farmington High School, in Farmington Hills, Mich., calls his art mostly mixed media as he uses acrylics and colored pencils to draw, but then manipulates colors in Photoshop. He submitted four works for the Creative Outlook Magazine cover contest. Hysteric Blue rose to the top, not only in online voting, but also with the panel of judges.
"I have been working on a series and practicing painting people," he says. "Hysteric Blue was a painting that came from an image that inspired me and did the work and then changed the mid-tone colors in Photoshop. It brought on unique colors with the blues, grays and pinks. The title happens to come from a song I listened to while I was painting."
Cameron says the series was for his drawing and painting class. "The teacher wanted us to do four paintings. The subjects were our choice, but definitely they turned out well." In high school, he is also involved in leadership development programs. One specifically titled POWER pairs younger students with older ones to be peer mentors. "The goal is to close the achievement gap for African-American students. We look at younger students and help them through school. I try to get them into art. I want them to see that art is cool especially if they see me doing art." He also sings in his church choir.  As for the future, Cameron is exploring the possibilities of fine arts and entertainment arts. "I love cartoons, animation and illustration," he says.
As a matter of fact, one of his heroes happens to be Japanese artist Akira Toriyama, a cartoonist known for his manga series Dragon Ball as well as for being the character designer for the Dragon Quest series of video games. "Cartoonists can create worlds and characters that are both nostalgic and modern. Akira's work inspires me in that way." The two colleges he has been exploring are the College for Creative Studies in Detroit as well as the International Academy of Design & Technology, also in Detroit.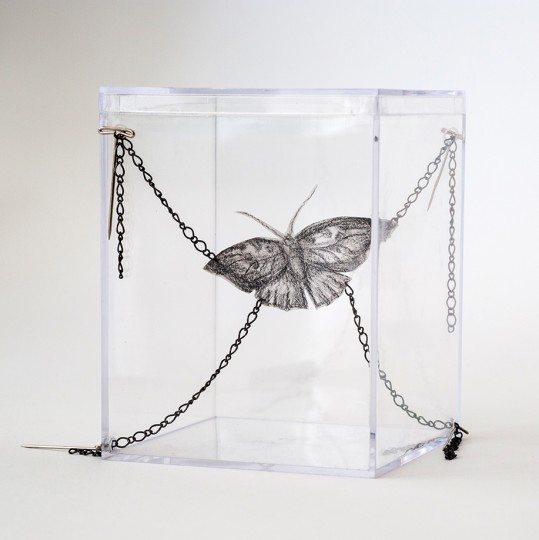 ALEXA ECONOMACOS – THE PEOPLE'S CHOICE – Chained Dreams
Alexa Economacos, a senior at Carrollton School of the Sacred Heart, Miami, Florida, submitted two pieces of art for the Creative Outlook cover contest. Facade and Chained Dreams both landed in the top 10 as far as most votes. As a matter of fact, Chained Dreams took the People's Choice award with the most votes.
Chained Dreams is a mixed media piece Alexa says brings awareness to the plight of those who are affected by human trafficking. "The butterfly represents those who are brutally forced into lives of servitude and oftentimes stripped of their innocence. The butterfly is still beautiful in its fragility, but its beauty is disregarded. The transparency of the box symbolizes the fact that these victims live among us, but we may not take the time to notice their metaphorical chains." At school, there is a human rights club that tackles a different theme each year. Last year happened to be about human trafficking.
Even in her International Baccalaureate Visual Arts 2 HL (higher level) class, the environmental issues of coral bleaching will be part of their work, she says. "Our 3D clay works will end up looking like coral reefs." The IB program for art will give Alexa at least 18 pieces to present to the IB organization. "We continue to create, research and work in our sketchbooks."
Alexa has been an artist for as long as she can remember. Her parents are both in the banking industry, but they also share art with their daughter as her father sketches and her mother paints. "I guess I inherited both talents," she says. "When I was about 8 or 9 years old, I started taking art lessons from Puerto Rican artist Ximena Perez. She had me start with acrylics, but by the time I was in sixth grade, I moved to oils. I still visit Ximena when I get stuck."
While art has seemingly been part of Alexa's life, her high school career started in her junior year when she was evaluated to join the IB art program under the watchful eye of teacher Kari Snyder. During her freshman and sophomore years, she did policy debate. "I wanted to try something new, but art has always been my true passion." She has been part of exhibitions around the Miami area.
Along with her art, Alexa is a National Merit Scholar semifinalist. She competed in the 2013 National French Contest and she is the French Honor Society president. She also received an honorable mention as part of the 2013 Scholastic Art Exhibition at the Miami Art Museum. She is also a member of the National Honor Society, National English Honor Society and National Science.