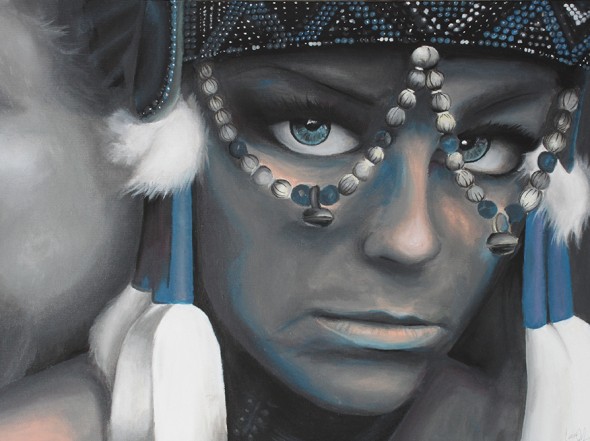 CAMERON JENKINS – Hysteric Blue
Cameron Jenkins, 17, a senior, North Farmington High School, in Farmington Hills, Mich., calls his art mostly mixed media as he uses acrylics and colored pencils to draw, but then manipulates colors in Photoshop. He submitted four works for the Creative Outlook Magazine cover contest. Hysteric Blue rose to the top, not only in online voting, but also with the panel of judges.
"I have been working on a series and practicing painting people," he says. "Hysteric Blue was a painting that came from an image that inspired me and did the work and then changed the mid-tone colors in Photoshop. It brought on unique colors with the blues, grays and pinks. The title happens to come from a song I listened to while I was painting."
Cameron says the series was for his drawing and painting class. "The teacher wanted us to do four paintings. The subjects were our choice, but definitely they turned out well." In high school, he is also involved in leadership development programs. One specifically titled POWER pairs younger students with older ones to be peer mentors. "The goal is to close the achievement gap for African-American students. We look at younger students and help them through school. I try to get them into art. I want them to see that art is cool especially if they see me doing art." He also sings in his church choir. As for the future, Cameron is exploring the possibilities of fine arts and entertainment arts. "I love cartoons, animation and illustration," he says.
As a matter of fact, one of his heroes happens to be Japanese artist Akira Toriyama, a cartoonist known for his manga series Dragon Ball as well as for being the character designer for the Dragon Quest series of video games. "Cartoonists can create worlds and characters that are both nostalgic and modern. Akira's work inspires me in that way." The two colleges he has been exploring are the College for Creative Studies in Detroit as well as the International Academy of Design & Technology, also in Detroit.