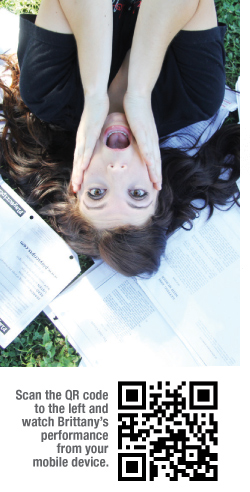 When Brittany Howk uploaded her performance of Somewhere Over the Rainbow for the Creative Outlook Magazine performance contest, she was finishing her second semester as a senior at Gilbert High School in Gilbert, Ariz. In early September, she was entrenched in the world of college freshman at Arizona State University.
During that last semester, Brittany was one busy young woman. She was one of the lead spellers, Olive Ostrovsky, in 25th Annual Putnam County Spelling Bee, for a local community college production and then Olive Madison (the female Oscar Madison) in the female version of The Odd Couple at Gilbert High School. She even donated her hair as part of the Pantene Beautiful Lengths program.
"I sang Somewhere Over the Rainbow because I wanted to do something that would show a different side of my voice, as well as a different take on the song. The song also applies a lot to what I am going through in life, with my dreams being hard to reach and transitioning into a new phase of my life!" She credits her high school drama teacher Rachel Rosen and her voice teacher Traci Jones for her skills and ability to perform.
Now as a freshman at Arizona State University, she is involved in the theater program. She has even added ballet at the university and jazz at CounterPoint Studio of Music and Performing Arts. "The dance is newer. I have been told I am a strong mover, but this is different." Outside of school, she is in two glee clubs. "Performing is an experience and a feeling you don't get anywhere else."

Read Creative Outlook NOW! | Request info from these schools & enter to win a $500 Scholarship