[blockquote]Biology: A general program of biology at the introductory, basic level or a program in biology or the biological sciences that is undifferentiated as to title or content. Includes instruction in general biology and programs covering a variety of biological specializations.[/blockquote]
What are some of the jobs that biology majors can pursue? How about a biology technician helping with research? A conservation or environmental scientist employed by an advocacy group? A nutritionist or food scientist with a career designed to improve overall health? Then there are the many biology majors who continue on to graduate school. They go to medical school and train to become a doctor, veterinarian, pharmacist and more.
At Ave Maria University, Ave Maria, Fla., biology majors not only receive a rigorous coursework in the biological sciences, the students also receive the breadth of more specialized courses in environmental science, biochemistry, or molecular biology. The mission of the Department of Biology and Chemistry is to provide a comprehensive introduction to experimental biological and chemical sciences. Along with the traditional studies, "science at Ave Maria University testifies to the Catholic Church's confidence in human reason and in its ability to know the truth about God's creation even apart from the illuminating power of grace."
The program faculty is made up of dedicated teachers and scholars, each with their own independent research programs in areas ranging from ecological studies to molecular and cellular biology to mechanistic biochemistry. Students are provided with the opportunity to participate in these research efforts alongside the faculty mentor.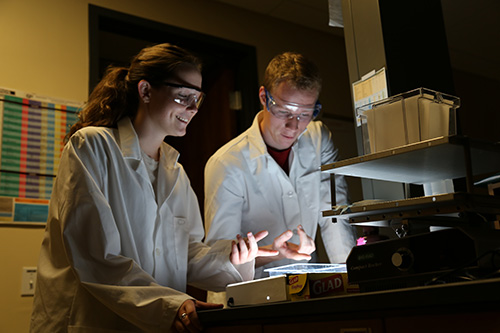 [blockquote source="Dr. Thomas Smith, associate professor and department chair of Biology at Ave Maria University"]"Typically students who do well simply love to learn. They have stepped up to the next level and dig a little deeper. The students who want to do extra projects, including research."[/blockquote]
Dr. Thomas Smith, associate professor of biology, department chair, whose research areas include ecology and environmental studies, is in his sixth year at the school. The department makes up almost 25 percent of the campus. "Labs are small with none larger than 20 students. It's so important to have the hands-on time and the more personal setting. There is no TA; the instructors teach all the labs." Smith says the campus is about an hour from the ocean so many experiments can be based on the ocean. "We dissected baby sharks," he says.
Due to the increased interest of students, one of the new majors is environmental sciences. "We are in the Florida Everglades and it is a natural teaching laboratory. We are only an hour away from the oceans and the Gulf … and two hours from the Florida Keys … we are in a great location. In working in southern Florida, we have so many areas of interest to the students with fresh water and terrestrial, bigger habitats."
For students interested in biology, the courses that will help in high school include physics, biology, chemistry and math, plus more of the natural sciences courses. "Typically students who do well simply love to learn. They have stepped up to the next level and dig a little deeper. The students who want to do extra projects, including research."
As a freshman, study skills and time management are critical, Smith says. "College comes with a lot of distractions. They need to be focused and remember the reason they are at a college." In biology, the two most popular areas are health sciences and exercise science as degrees.
In college, biology majors learn many skills that directly translate to the working world, even when their jobs aren't directly related to biology at all. For example, students gain experience running experiments, analyzing results and formulating hypotheses.
Kendra Posch, a biology major from Minnesota, is now a junior. She remembers a science class in seventh grade where she made a model of a plant cell and an animal cell. "For some reason, it all clicked," she says. "I really enjoy puzzles and much of science is that ability to solve puzzles. The human body is an intricate puzzle. I had anatomy and physiology as a high school sophomore. We visited a local college where I got to hold a human brain, kidney stones and lungs. I was so convinced then that I had to go into medicine." She is still contemplating whether to study to be a physician's assistant or doctor of osteopathy.
While choosing a major was ancillary for Posch, the paramount decision to attend Ave Maria was based on faith. "I explored the top 50 colleges that embrace faith and that also had strong academic programs. Ave Maria shared my views. On top of it, they offered substantial educational scholarships," she noted.
"Others who are on fire for their faith are fun to be around. At the end of my sophomore year, I knew I wanted to take advantage of the opportunities on campus. I got involved with the Mother Teresa Project where you can bring in the service component. You realize you are receiving so much. I went to Haiti for a week with seven other classmates. It was such a different world, but an extraordinary experience. We played games, music and told stories. I would wash, clean and comfort. We did it all with smiles and gentle touches. When you can see the person as a person, there is an intimate connection. It's the relationship between the body and soul."
Already having taken the Medical College Admission Test for medical school, Posch will also take the GRE (graduate record exams) for graduate school. "I have always enjoyed science," she says. "I know this broad field will be part of my future. I have always enjoyed science the most, but I am a well-rounded individual in different courses and subjects."
She has shadowed doctors, including a gastroenterologist, in the health field, which she did not care for, but she is glad to be exposed at many opportunities. Posch is seeking internships for the summer. "I enjoy being involved and being a servant . . . I plan on another year of research with Dr. Peliska." His research looks at projects encompass a broad range of study in bio-organic reaction mechanisms, organic synthesis, biophysical chemistry, protein chemistry and advanced enzyme kinetics."
Posch recommends that others learn from her challenges. "Be less of a procrastinator. I am prone to putting things off and my sleep suffers. I have more of an appreciation for advanced reading such as Paradise Lost and Aristotle. It forces me to stay focused."
[well]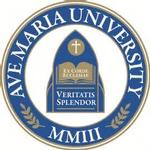 Ave Maria University is a vibrant University located in beautiful Southwest Florida. It is an academic institution that pledges faithfulness to the teachings of the Catholic Church and is committed to offering one of the finest classical liberal arts curricula available, as well as opportunities for specialized study in all of the sciences and humanities.
To learn more about the Biology program at Ave Maria University, visit their website. If you are interested in attending Ave Maria University, visit their school page to learn more about their campus and degree options.[/well]