The Advanced Manufacturing Design Technology program provides the skills and technical knowledge needed for a career in the machining industry as a mold maker, a tool and die maker, computer-aided design/computer-aided manufacturing designer-programmer, machinist or computer numeric controlled (CNC)  machinist.
Despite projecting a lower-than-average growth of seven percent from 2012 to 2022, the U.S. Bureau of Labor Statistics said many companies struggle to find skilled workers and apprenticeship candidates with the abilities necessary to fill job openings. Workers with computer skills who can perform multiple tasks in a machine shop will have the best job opportunities, according to the Labor Department.
Two of the three campuses with Central Community College, Neb. – Columbus and Hastings – offer the degree. Program options are Advanced Manufacturing Design Technology associate of applied science degree; Advanced Manufacturing Design diploma; CNC Manufacturing Machinist diploma; Plastic Mold Making diploma; Tool and Die diploma; CAD/CAM technology certificate; CNC manufacturing machinist certificate; Electrical Discharge Machining EDM certificate; General Manufacturing certificate; Jig and Fixture certificate; Plastic Mold Maker certificate; Plastic Mold Processing certificate; and Tool and Die certificate.
Request information from Central Community College.
Leon Finecy at the Columbus Campus has been an instructor for 25 years and understands that the number of students he and instructor Bruce Bartos at the Hastings Campus produces is far less than the current demand. "We really don't have enough students. We know that 100 percent of our students are employed and most of them are offered employment before they finish their coursework here. Our students are pretty much guaranteed jobs. I know in searching around the Midwest, I have located jobs all over. Some of the requests are for CNC machinists and tool and die workers."
Finecy believes the influx in job openings comes from a retiring work force. "I really believe that in 2008, with the economic downturn, many in the work force hung on to see if things bounced back. They opted not to retire and now they are exiting with part of an economic upturn. Plainly said, there are not enough students to place in the open positions. A lot of students I have had went to work before graduation and they have a tough time returning because of the quality salaries and benefits. When I look at openings, just around the Midwest … it appears the jobs are plentiful." Bartos leads the program at the Hastings Campus and currently teaches 38 students. He estimates, conservatively, that there are nine jobs waiting per graduate. "We bring in companies and they interview students. Many of the students get sponsored and these companies pay off college loans. Our students are getting phenomenal jobs."
Graduates have found employment all over the Midwest. "We took a tour of Midwest Machines and found two graduates who basically had their own departments. They had little supervision as the company clearly allowed for self-direction. They make the programs, set the machines up and monitor. A few years ago, I met up with a graduate who worked for a company in Lincoln. He was at a product show and essentially was serving as a company representative," says Finecy.
What sorts of students prosper in this career?
"Students who like working with their hands, but also enjoy computers can find a place in the program," he explains. "Students who enjoy creativity as well will thrive with us." The program is regimented with lessons on safety and basic concepts. Bartos says by the third semester, students are designing their own projects. "As instructors, we have been in the industry. We can talk solutions and troubleshoot. We have walked that path." Finecy agrees that someone who can be envision projects in their heads, including having a good idea of placement. "Motivation is essential as well as good math skills. It's a field where sharp people run machines."
Students are encouraged to seek out internships. Several students find internships for the summer and job offers as well, Bartos says. "Even some of our students who will graduate in May are already working part-time and being offered good wages and benefits already. Point of fact, the success rate for our students is 100 percent. They are moving into careers and we give them a good foundation."
Bartos owned his own business and knows the importance of helping others get a foot in the door. "We are part of a hidden occupation. Just look around at what you feel and see. Someone had to think it up. I sometimes tell my students that I wish they could see the world through my eyes. We are teaching students for jobs that haven't been created yet. Technology is equally important and we know they will get the chance to be in the forefront of advanced manufacturing."
A recent success story comes from drafter Kyle Brozek. He toured the Hastings campus as a high school senior and initially thought he would study welding. On his campus tour, he saw the advanced technology and design department. He liked the smaller classes and individual time with instructors.
"My favorite part about CCC was the opportunity to see a product go from a design on a computer to being built on a 3D printer as a prototype and then the product would be finished with a CNC mill," Brozek says. "I grew up on a farm, taking things apart and putting them together in a more beneficial way to help make our lives better on the farm."
He completed his associate of applied science degrees in both drafting technology and advanced manufacturing design. He said having degrees in both areas is beneficial because he understands the manufacturing process from design through finished product. Brozek was hired as a drafter by Snyder Industries in Lincoln, which manufactures a wide range of products including agriculture water and industrial chemical tanks and many other types of containers. He spends about eight hours a day on a computer.  "It was an amazing experience at CCC and I'll definitely hold onto what I learned there for a lifetime," Brozek says. "I know there is more to learn as 3D work becomes more popular. I know there is room to grow." He graduated May 9 and started his job May 21.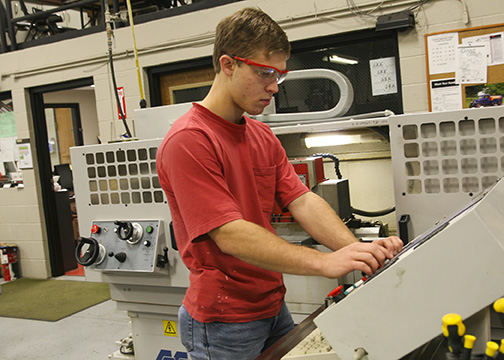 [well]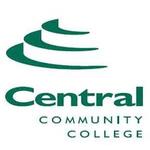 To learn more about the Advanced Design Technology program visit Central Community College's website.  If you are interested in attending Central Community College, visit their school page to learn more about their campus and degree options.
[/well]