Astronomy Major Description
Astronomy Major focuses on the planetary, galactic, and stellar phenomena occurring in outer space. Includes instruction in celestial mechanics, cosmology, stellar physics, galactic evolution, quasars, stellar distribution and motion, interstellar medium, atomic and molecular constituents of astronomical phenomena, planetary science, solar system evolution, and specific methodologies such as optical astronomy, radioastronomy, and theoretical astronomy.
Is Astronomy right for you? Take the free College Major Quiz – Start Now
What kind of students major in Astronomy?
Astronomy Major is generally recognized as a sub-field within physics. In order to be successful in this field a student must be very strong in physics, mathematics and the sciences, generally. This calls for a mind that can deal with conceptual frameworks and ideas readily, especially since the objects of study are seldom within reach.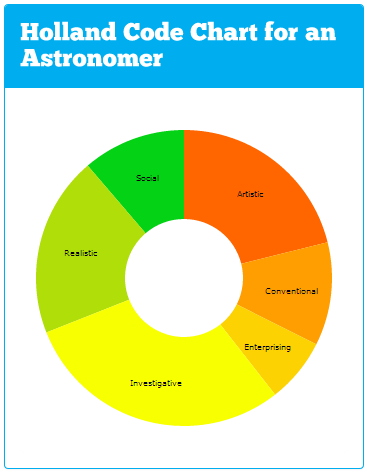 Colleges offering a program in Astronomy:
There are over 69 colleges and universities that offer an Astronomy Major in the United States.  Search for your college here





Post-Doctoral Training or Doctoral Degree is usually needed for a career in Astronomy.
What courses do most students take in college?
The required and elective courses you would take for an Astronomy Major vary considerably among institutions. Courses are listed here that are illustrative of the breadth of topics you are likely to experience were you to major in this field.
The Solar System
Astrophysics
Galaxies and the Universe
Introductory Astronomy
Mathematics Courses
Physics Courses
Planetary Astronomy
Stellar Astronomy
The Search for Extraterrestrial Life
Related Majors to Astronomy?
What are your future career options as an Astronomy Major?
As of May of 2013, there were 1,750 Astonomers in the U.S. with mean annual wage of $110,440.  Astronomers saw a 9.9% increase in employment and 2% rise in wages. Most are employed at Colleges, Universities and Professional Schools, Scientific Research and Development Services, or the Federal Executive Branch (Data provided by BLS).
What does an Astronomy Major do in their day to day career?
Analyze research data to determine its significance, using computers.
Collaborate with other astronomers to carry out research projects.
Develop and modify astronomy-related programs for public presentation.
Measure radio, infrared, gamma, and x-ray emissions from extraterrestrial sources.
Raise funds for scientific research.
Develop instrumentation and software for astronomical observation and analysis.
Develop theories based on personal observations or on observations and theories of other astronomers.
Direct the operations of a planetarium.
Present research findings at scientific conferences and in papers written for scientific journals.
Review scientific proposals and research papers.
What work activities are required of most Astronomers?
| Importance | Astronomy Major Activities |
| --- | --- |
|   | Interacting With Computers – Using computers and computer systems (including hardware and software) to program, write software, set up functions, enter data, or process information. |
|   | Getting Information – Observing, receiving, and otherwise obtaining information from all relevant sources. |
|   | Analyzing Data or Information – Identifying the underlying principles, reasons, or facts of information by breaking down information or data into separate parts. |
|   | Thinking Creatively – Developing, designing, or creating new applications, ideas, relationships, systems, or products, including artistic contributions. |
|   | Processing Information – Compiling, coding, categorizing, calculating, tabulating, auditing, or verifying information or data. |
Required skills for most Astronomers:
| Importance | Astronomy Major Skills |
| --- | --- |
|   | Science – Using scientific rules and methods to solve problems. |
|   | Critical Thinking – Using logic and reasoning to identify the strengths and weaknesses of alternative solutions, conclusions or approaches to problems. |
|   | Active Learning – Understanding the implications of new information for both current and future problem-solving and decision-making. |
|   | Reading Comprehension – Understanding written sentences and paragraphs in work related documents. |
|   | Writing – Communicating effectively in writing as appropriate for the needs of the audience. |
|   | Mathematics – Using mathematics to solve problems. |
|   | Speaking – Talking to others to convey information effectively. |
|   | Active Listening – Giving full attention to what other people are saying, taking time to understand the points being made, asking questions as appropriate, and not interrupting at inappropriate times. |
|   | Judgment and Decision Making – Considering the relative costs and benefits of potential actions to choose the most appropriate one. |
Required knowledge for most Astronomers:
| Importance | Astronomy Major Knowledge |
| --- | --- |
|   | Physics – Knowledge and prediction of physical principles, laws, their interrelationships, and applications to understanding fluid, material, and atmospheric dynamics, and mechanical, electrical, atomic and sub- atomic structures and processes. |
|   | Mathematics – Knowledge of arithmetic, algebra, geometry, calculus, statistics, and their applications. |
|   | Computers and Electronics – Knowledge of circuit boards, processors, chips, electronic equipment, and computer hardware and software, including applications and programming. |
|   | English Language – Knowledge of the structure and content of the English language including the meaning and spelling of words, rules of composition, and grammar. |
|   | Education and Training – Knowledge of principles and methods for curriculum and training design, teaching and instruction for individuals and groups, and the measurement of training effects. |
|   | Engineering and Technology – Knowledge of the practical application of engineering science and technology. This includes applying principles, techniques, procedures, and equipment to the design and production of various goods and services. |
Work styles for Astronomers:
| Importance | Astronomy Major Styles |
| --- | --- |
|   | Analytical Thinking – Job requires analyzing information and using logic to address work-related issues and problems. |
|   | Initiative – Job requires a willingness to take on responsibilities and challenges. |
|   | Persistence – Job requires persistence in the face of obstacles. |
|   | Achievement/Effort – Job requires establishing and maintaining personally challenging achievement goals and exerting effort toward mastering tasks. |
|   | Innovation – Job requires creativity and alternative thinking to develop new ideas for and answers to work-related problems. |
There are many professional associations to further your career based as an Astronomy Major:
Images to grow your interest in Astronomy:
"To infinity and BEYOND!!!" – Images: NASA
Learn more about the research and day to day tasks of an Astronomer from Dr. Janice Lee:

Do you have any tips for students who want to pursue an Astronomy major and a future career in astronomy and physics?  Add a comment below with your advice.